U.K. 'COVID Dogs' to Cost $600,000 in Trial Research Aimed at Sniffing Out Coronavirus in Humans
Trials are to take place in Britain to see if specially trained dogs will be able to detect the coronavirus in humans before symptoms occur.
As part of the research, so called "COVID Dogs"—a mixture of labradors and cocker spaniels—will be used to see if they can detect the virus through scent alone. The dogs will be trained to detect the virus through odor samples collected from people diagnosed with the disease.
The research, backed by £500,000 ($605,000) from the British government, will be conducted by the London School of Hygiene and Tropical Medicine (LSHTM), Durham University and the charity Medical Detection Dogs.
Medical Detection Dogs said that specially trained bio detection dogs, which have already been found to detect diseases and conditions such as cancer and malaria, could screen up to 250 people in an hour.
Researchers say the dogs are adept at detecting the odor of diseases at an equivalent dilution of one teaspoon of sugar in two Olympic-sized swimming pools of water.
Professor James Logan, the lead researcher for the work and Head of the Department of Disease Control at the London School of Hygiene and Tropical Medicine, said: "Our previous work has shown that malaria has a distinctive odor, and with Medical Detection Dogs, we successfully trained dogs to accurately detect malaria.
"This, combined with the knowledge that respiratory disease can change body odor, makes us hopeful that the dogs can also detect COVID-19."
Dr. Claire Guest, co-founder and CEO of Medical Detection Dogs, added: "We are sure our dogs will be able to find the odor of COVID-19 and we will then move into a second phase to test them in live situations, following which we hope to work with other agencies to train more dogs for deployment.
"We are incredibly proud that a dog's nose could once again save many lives."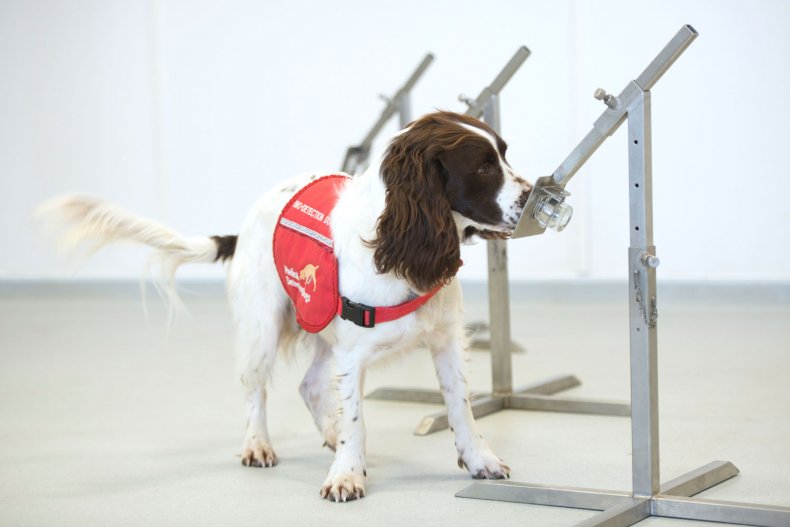 The dogs will only be deployed if there is enough scientific evidence to say they could help combat the spread of the coronavirus. The trial's are part of the British government's approach to "explore all possible options" to tackle the novel coronavirus.
The U.K. has the third highest number of confirmed COVID-19 cases in the world with 280,004 cases, according to Johns Hopkins University.
Britain's Minister for Innovation, Lord Bethell, said: "Bio-detection dogs already detect specific cancers and we believe this innovation might provide speedy results as part of our wider testing strategy.
"Accuracy is essential so this trial will tell us whether 'COVID dogs' can reliably detect the virus and stop it spreading."
This chart, provided by Statista, shows the countries with the most confirmed COVID-19 cases.