Americans Agree COVID-19 Will Have 'Major' Impact on U.S. Economy, According to Poll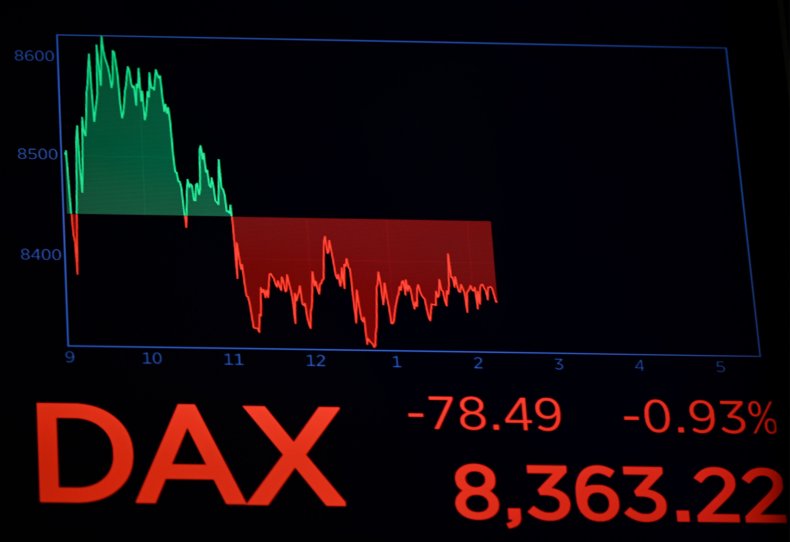 As the COVID-19 pandemic spreads throughout the United States at a frantic pace, the American public is aware of the damage the disease may wreak across the economy.
In a recent survey conducted by the Pew Research Center, 70 percent of Americans said the outbreak poses a "major threat to the nation's economy." (Democrats were 15 percentage points more likely to think this.)
An additional 25 percent of Americans view it as a "minor" economic threat, meaning that virtually all Americans agree the disease caused by the novel coronavirus will impart at least some impact on the economy.
Fifty-four percent of workers said that if the virus caused them to miss work for two weeks, they would no longer get paid.
This economic devastation is most keenly felt among low-income employees. Among those earning between $30,000 and $50,000 annually, 65 percent said they would not get paid if the virus put them out of commission for two weeks. A majority of this group—69 percent—said that it would be difficult to keep up with expenses.
For those earning less than $30,000, the employment consequences of the virus are even more dire. More than three-quarters of workers in this income group who indicated they would not be paid if they couldn't work for two weeks also said it would be challenging to keep up with expenses.
The Department of Labor reported that 281,000 workers applied for jobless benefits last week, up 70,000 claims from the prior week. Last week represented highest amount of jobless claims since September 2017.
According to a New York Times tracker, nearly 18,000 people have been infected with the novel coronavirus in the United States as of Saturday morning.
In order to mitigate some of the worst economic harm, Congress passed two initial relief packages, and the White House has asked for another, trillion-dollar plan that would involve sending checks directly to cash-strapped households.
Americans are less pessimistic in their estimations of the pandemic's effects on their personal lives. Only about one-third of U.S. adults think the COVID-19 outbreak will post a "major threat" to their day-to-day community life or personal financial situation. Meanwhile, about one-quarter think that it will pose a "major threat" to their personal health.
Tom Frieden, a former director at the Centers for Disease Control and Prevention (CDC), said that it is possible up to half of the U.S. population could be infected by the disease.
The survey was fielded from March 10 to 16, as governors nationwide began to implement lockdown protocols and declare states of emergency.
The later in the survey respondents were queried, the more likely they were to view the disease as a threat.
Pew found widespread confidence in how the federal administration is handling the crisis, though that did not necessarily extend to the president and vice president themselves.
Eighty-three percent of U.S. adults are at least somewhat confident in the CDC, and 73 percent are at least somewhat confident in their state and local elected officials. These trend held true, generally, across partisan lines.
A majority of Americans—54 percent—do not have confidence in President Donald Trump's management of the outbreak, and half of Americans feel the same way about Vice President Mike Pence.
Confidence in the CDC's stewardship appears to translate directly from their education of the public about the crisis. Almost two-thirds of Americans, holding true across political affiliation, think that the agency presented the risks of the outbreak accurately. On the other hand, both Republicans and Democrats tended to agree that the news media has been exaggerating the risks. Seventy-six percent of Republicans thought so, and a 49-percent plurality of Democrats thought so.
The greatest, single partisan consensus came from Democrats, 79 percent of whom believed that Trump has not been taking the risks of the disease seriously.