The Coronavirus Effect on American Sports Could Be Empty Arenas During Busy Time of Year, Including March Madness
Spring time is always a busy one in the American sports world, with March Madness to the Stanley Cup playoffs, from the NBA to the Boston Marathon and the NFL Draft to baseball's opening day.
Not to mention golf tournaments and auto races every week, and three Triple Crown races thrown in the mix. Sports fans from all over the country—and some from all over the world—typically travel great distances to these events.
With the spread of the coronavirus and its rising death toll, COVID-19 has fear escalating, and it could lead to sparse stadiums—even if the sports governing bodies themselves do not call for empty arenas.
COVID-19 has affected 92,000 people worldwide and is responsible for nearly 3,100 deaths worldwide, mostly in China. The virus is starting to spread more rapidly within the United States, and the first few deaths have already been reported in the U.S. The virus has led to less people traveling through airports, or aspiring to be among large crowds.
Despite fears, the NCAA said it would continue with its popular NCAA tournament as planned, according to a statement on Tuesday by Donald Remy, the chief operating officer of the NCAA.
"The NCAA is committed to conducting its championships and events in a safe and responsible manner," Remy stated. "Today we are planning to conduct our championships as planned, however, we are evaluating the COVID-19 situation daily and will make decisions accordingly."
The NCAA men's basketball tournament begins March 17 with two days of games called the First Four, and the full tournament schedule begins March 19 with 16 first-round games followed by 16 more games on March 20. The tournament draws nearly a billion dollars in revenue from ticket sales, corporate sponsorships and TV contracts.
Three of the four largest cities in America—New York City, Los Angeles and Houston—will host regional sites for Sweet 16 and Elite 8 rounds (Chicago is the third-largest city and will not host any games this tournament). The Final Four will be in Atlanta, home to the busiest airport in the country.
A big influx of travelers passing each other in airports is one way COVID-19 can move from one person to another. Being in large crowds, like big arenas, is another way of contracting the virus.
Dr. Brian Hainline, the chief medical officer for the NCAA, said his department will make recommendations on competition after reviewing medical protocols and listening to the Centers for Disease Control (CDC).
"We are actively monitoring COVID-19 in the United States and will make recommendations on competition based on the evolving medical protocols established by the CDC, NIH and state and local authorities," Hainline said. "We are in daily contact with the CDC and are advising leadership on the Association's response to this outbreak."
A group that advocates for the well-being of collegiate athletes, the National College Players Association, has insisted the NCAA do whatever it takes to protect its student athletes. That includes having its athletes perform before stands with no fans.
"Precautions should include cancelling all auxiliary events that put players in contact with crowds such as meet and greets, and press events," Ramogi Huma, executive director of NCPA, said in the Denver Post. "Athletic programs should also take every possible measure to sanitize buses and airplanes used to transport players.
"In regard to the NCAA's March Madness Tournament and other athletic events, there should also be a serious discussion about holding competitions without an audience present. ... The NCAA and its colleges must act now, there is no time to waste."
That means no fans at the games, or those going crazy during the madness of March.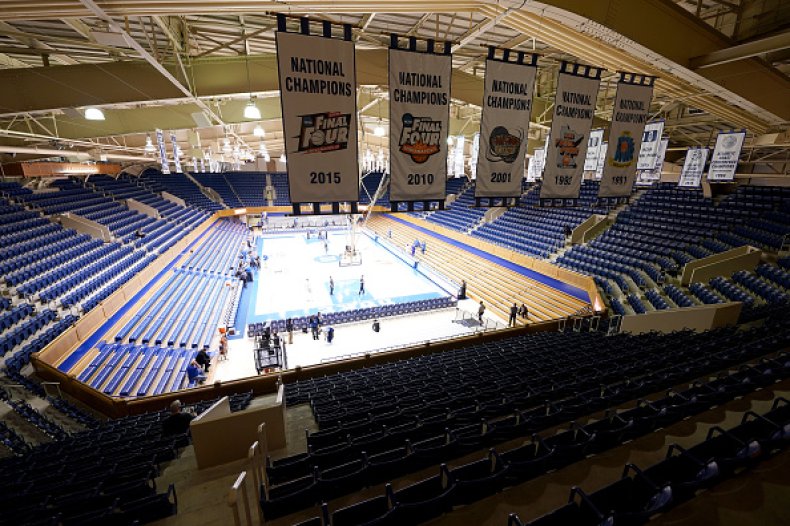 Playing sports events before empty venues because of coronavirus would not be unprecedented, according to the Wall Street Journal.
Japan took a bold, extreme stance by suspending nearly all of its sporting events for an entire month because of coronavirus. This includes postponing soccer and basketball national league games until the middle of March, and keeping preseason baseball games with no fans.
The biggie for Japan? Its spring sumo tournament will play out in an empty venue.
Meanwhile in Europe, Switzerland on Friday banned gatherings of more than 1,000 people. France has suspended large-scale events (of 5,000-plus) that typically attract a plethora of foreigners. The Paris Half-Marathon on Sunday, which expected more than 40,000 runners, was the first big event to take a hit.
Here are the big upcoming sports events in the U.S. through the first weekend in June:
March 26 Major League Baseball Opening Day
April 7 NHL Playoffs Begin
April 9-12 The Masters Tournament
April 19 NBA Playoffs Begin
April 18-19 XFL Semifinal Playoffs
April 23-25 NFL Draft
April 26 XFL Championship
May 2 Kentucky Derby (1st leg of Triple Crown)
May 4 - June 7 French Open (Tennis)
May 14-17 PGA Championship
May 17 Preakness Stakes (2nd leg of Triple Crown)
May 24 Indianapolis 500
June 5 NBA Finals Begin
June 7 Belmont Stakes (3rd leg of Triple Crown)