Coronavirus Identified in Seattle Patient Six Days After Death, Hospital Staff May Have Been Exposed
Six days after a 54-year-old man died, officials confirmed that he tested positive for the new coronavirus and hospital staff may have been exposed to the virus.
On Tuesday, the University of Washington Medicine confirmed to Newsweek that a male patient at Haborview Medical Center in Seattle, who died on February 26, was a presumptive positive case for COVID-19. The patient was transferred from the Life Care Center of Kirkland, where multiple people have tested positive, and admitted to the hospital on February 24.
"We have determined that some staff may have been exposed while working in an intensive care unit where the patient had been treated," UW Medicine told Newsweek. "We don't believe that other patients were potentially exposed."
The Employee Health Team contacted staff members who may have been exposed, and they are being monitored and screened daily.
Tuesday's announcement marks the seventh coronavirus death in the U.S., all of which have been in Washington state. Health officials confirmed two additional deaths on Tuesday, bringing the total number of deaths in the state to nine.
The majority of the deaths, including all three on Tuesday, were in King County and only one was reported in Snohomish County, where there have been four cases, according to the Washington State Department of Health.
King County has had 21 confirmed cases of the virus, including seven that were reported on Tuesday. Of the new cases, four were linked to the Life Care Center of Kirkland, a nursing and rehabilitation center, in King County.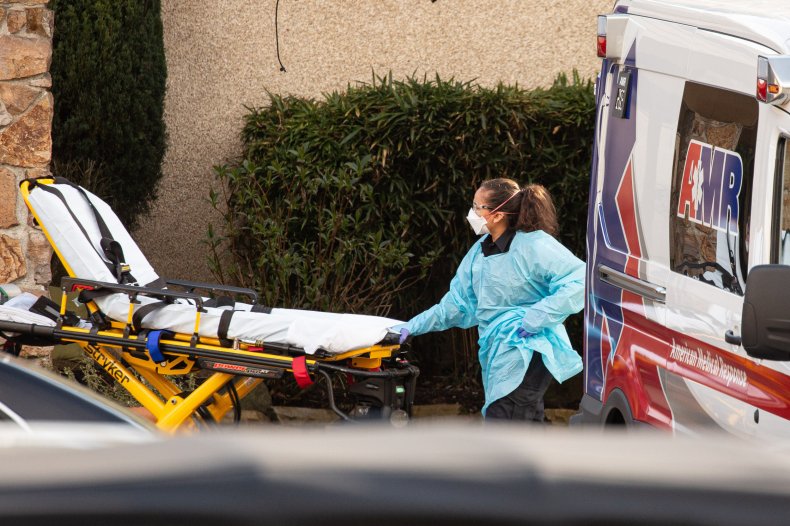 Nine people from Life Care—six residents, two employees and one frequent visitor—have tested positive for the virus, according to the King County Public Health Department. Four of the cases linked to Life Care, including Tuesday's, resulted in death, according to the King County Public Health Department.
To curb the virus from spreading further, Life Care said in a statement that they were monitoring residents and associates for fever, cough and shortness of breath. Those displaying symptoms would be placed in isolation and associates were screened before and after their shifts. Visits from family members, volunteers or vendors were also prohibited.
It's unclear when the patient was tested or why results weren't confirmed until six days after their death. Newsweek reached out to the University of Washington Medicine and King County Department of Health for clarification but did not receive a response in time for publication.
Washington identified its first case of COVID-19 on January 21, making it the first in the United States. The patient had recently returned from a visit to Wuhan, China, the epicenter of the outbreak, and has since recovered from the virus.
Since that first case, the Centers for Disease Control and Prevention (CDC) confirmed 108 total cases. Forty-eight of the cases involve people who were repatriated to America from the Diamond Princess cruise ship or on government-chartered flights from Wuhan.
Of the 60 cases not imported from outside the U.S., 22 tested positive after traveling to an infected area, 11 contracted the virus from another person and the cause of 27 cases remains unknown.
Along with the 60 cases reported by the CDC, the King County Public Health Department reported an additional seven cases on Tuesday. The CDC's reporting does not include the seven new cases in Washington state.