Partial Lockdowns Return to Europe As COVID Cases Rise 40 Percent in One Week
Several European nations, including the U.K., France, Italy, Spain, Germany and the Netherlands, have announced new restrictions and partial lockdowns following a recent rise in new infections.
Weekly new cases in Europe increased by nearly 40 percent (37.3 percent) in the week commencing October 5 from the previous week, according to the latest report Thursday by the World Health Organization (WHO).
The region reported 193,594 cases from October 5 to 11, bringing its current number of confirmed cases to 7,219,501, according to WHO.
Here we look at the latest lockdown measures announced in different parts of Europe.
London moves to "high" alert level
A new three-tiered COVID alert system, placing local areas of the U.K. into one of three alert levels (medium, high and very high), was introduced this week. Each alert level comes with tighter restrictions.
London, the U.K. capital, will move to the second tier (the high alert level) of the system from Friday evening at midnight. The new measures at this level ban people from socializing with anyone "outside of their household or support bubble in any indoor setting, whether at home or in a public place," the government stated.
"You must not socialise in a group of more than 6 outside, including in a garden or other spaces like beaches or parks (other than where specific exemptions apply in law).
"Certain businesses are required to ensure customers only consume food and drink while seated, and must close between 10 p.m. and 5 a.m," the government stated.
On Monday, British Prime Minister Boris Johnson said: "The majority of the country will, for now, be at medium [alert level]. Most areas currently under local intervention will be at high, and Nottinghamshire, including Nottingham itself, East and West Cheshire and a small area of High Peak will also move to this level."
On Wednesday, the Liverpool City region was moved to the very high level, while the Greater Manchester area is also expected to move to the same level, the BBC reported.
"Areas within the very high alert category will be reviewed every four weeks and nowhere will be shut down indefinitely," the government noted.
Weekly new infections in the U.K. have been rising since late August and more than doubled in the week commencing October 5 from the week prior, according to data from the WHO.
Around 20 million under curfew in France
On Wednesday, the French government declared a public health state of emergency, which was initially instated back in March and was lifted in July after infections were reported to be declining at the time.
In a televised interview Wednesday, French President Emmanuel Macron announced a curfew from 9 p.m. to 6 a.m. local time will be in effect in selected areas, including the French capital of Paris, from Saturday to tackle the recent rise in cases.
"We won't be leaving the restaurant after 9 p.m.," Macron said. "We won't be partying with friends because we know that that's where the contamination risk is greatest."
The curfew applies in the Paris region, as well as Marseille, Toulouse, Grenoble, Montpellier, Rouen, Lyon, Saint-Etienne and Lille. The areas under the curfew have a combined total population of around 20 million people.
The curfew will be in place initially for four weeks but Macron noted the government will ask for a two-week extension from parliament, which would keep measures in place until December 1.
The curfew aims to help curb "the parties, the moments of conviviality where there are 50 or 60 people, festive evenings because, unfortunately, these are vectors for the acceleration of the disease," Macron said.
"We are going to have to deal with this virus until at least the summer of 2021,"the president said.
Weekly new infections in France have been rising since early August, peaking in early October, with a record level of 26,675 new cases reported October 11, the highest daily case count since the outbreak began, according to data compiled by the WHO.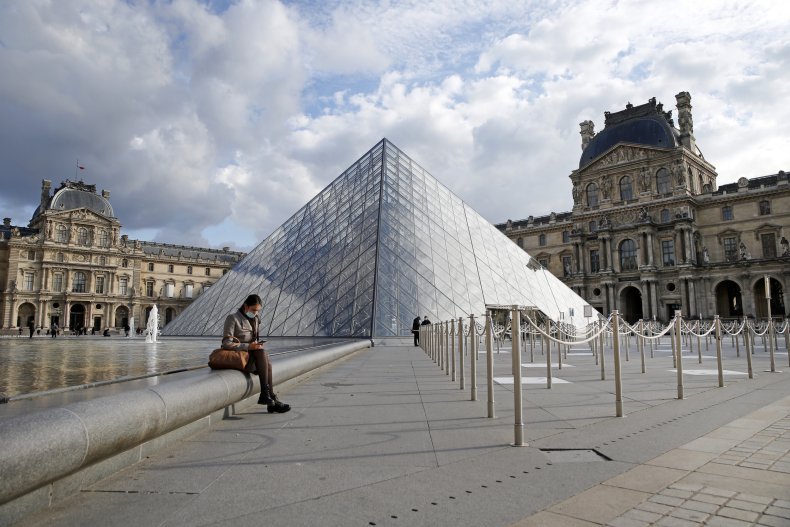 Limits on gatherings in Germany
German Chancellor Angela Merkel announced restrictions would be imposed in the country following talks with the heads of 16 German states on Wednesday.
"We can see that... infection rates are rising and that we have a very high infection rate in some regions," Merkel said. "We must therefore prevent an uncontrolled or exponential increase."
Facial coverings will be required at crowded places when new cases in an area hits 35 per 100,000 in seven days, earlier than under the previous threshold of 50 per 100,000 people.
The number of people allowed to gather in public places will be limited to 25 and to 15 in private spaces.
If an area reports more than 50 new infections per 100,000, tighter measures will be in effect. They will include a limit on private gatherings to 10 people or two households, while restaurants will be closed after 11:00 p.m. local time.
"We have decided on this prophylactic number of 35 because we have seen some examples of how fast the increase happens from 35 to 50," Merkel said.
Weekly case totals in Germany remained flat from late May before rising from early September, including a 56.5 percent increase seen in the week beginning October 5 from the previous week, according to the WHO.
Partial lockdown in the Netherlands
Dutch Prime Minister Mark Rutte announced "new and sturdy measures" on Tuesday, which saw the country enter a "partial lockdown" from Wednesday.
The new measures ban public gatherings of more than four people and the sale of alcohol at night, while masks are mandatory for those 13 and older in all indoor spaces. A maximum of 30 people will be allowed to gather indoors, while opening hours at retailers will also be limited.
Schools and public transport remain open under the partial lockdown, which will be in place for at least four weeks. Hugo de Jonge, Dutch Deputy Prime Minister and Minister of Health, Welfare and Sport, noted tougher measures could be introduced following a review of the impact of the lockdown in two weeks.
Weekly new cases in the country have been rising since early September, including a 56.4 percent increase in the week starting October 5 from the previous week, according to the WHO.
Tighter measures in Madrid and Barcelona
Last Friday, a state of emergency was declared in the Madrid region, which put a partial lockdown in place in the Spanish capital. All non-essential travel in and out of Madrid and nearby towns was banned earlier this month.
Spanish Prime Minister Pedro Sánchez said he isn't planning to extend the state of emergency beyond its two-week period.
Tighter restrictions are also expected in the Catalonia region, which is home to Barcelona, is expected to also be in place for 15 days. Specific measures have yet to be announced, Spain's El Pais reported.
"We will not get to the place where Madrid is right now if we implement measures, but if we don't, the virus will surely get out of control and in two to three weeks we will be in the same situation," Josep Maria Argimon, the Catalan health secretary, said in an interview with the Rac1 radio station.
New measures were also announced in the Navarre region, where gatherings are now limited to six people. Bars and restaurants must close at 10 p.m. local time and their capacity is limited to 50 percent, while the capacity for children's parks has also been reduced to 30 percent.
Weekly new cases in Spain have been declining since mid-September, after rising from mid-July, according to the WHO.
Italy's state of emergency extended
The Italian government extended the country's state of emergency through January 21, which would mark a year since it was first declared.
Last Sunday, Italy's Minister of Health Roberto Speranza noted new countrywide restrictions are being planned. The minister proposed a ban on private parties, involving both for children and adults, as well as limited opening hours at bars and restaurants in Rome, the Italian capital.
"Now we need a change of pace, and to intervene with measures, not comparable to those adopted in the past, which could allow us to put the contagion under control and avoid tougher measures later on," the minister said in an interview with Radiotelevisione italiana.
While Speranza did not rule out local lockdowns, he noted "at this time, I don't see such conditions in Italy."
Earlier this month, masks were made mandatory outdoors across all of Italy, while tighter measures could also be under way for cinemas, theaters, gyms, hair and beauty salons, Rome's Il Messaggero reported.
Weekly new cases in Italy nearly doubled in the week commencing October 5, from the week earlier, after flattening out for months since late May, according to the WHO.
The wider picture
The novel coronavirus has infected more than 38.5 million people across the globe since it was first reported in Wuhan, China, including over 7.9 million in the U.S. Globally, more than a million have died following infection, while more than 26.7 million have reportedly recovered as of Thursday, according to Johns Hopkins University.
The graphic below, provided by Statista, illustrates countries with the most COVID-19 cases.