Europe Imposes Tough New Restrictions as Countries Face 'Alarming' COVID-19 Surge
Fears over a second wave of the novel coronavirus in Europe remain, with at least 1,820,986 confirmed cases reported in the European Union/European Economic Area and the U.K., as of Monday, the European Center for Disease Prevention and Control (ECDC) reported.
Here we take a closer look at several European countries where new restrictions have been imposed in a bid to help curb the spread of infection.
Germany
German Federal Minister for Economic Affairs and Energy Peter Altmaier noted the country was seeing an "alarming" rise in cases following three consecutive days of over 1,000 daily new infections reported at one point last week, Germany's Deutsche Welle reported.
The country's seven-day rolling average of daily new cases began increasing from around mid-July, according to data from Worldometer.
On Sunday, the country reported 555 new cases, according to figures from Germany's Robert Koch Institute.
RKI noted: "Nationwide, there are reports of many smaller outbreaks in a number of administrative districts in various settings...in addition, COVID-19 cases are increasingly being identified among travellers entering Germany."
Those arriving in Germany from high-risk countries are required to be tested at airports.
Last month, local governments were authorized to restrict non-essential travel to and from areas reporting an outbreak of 50 new infections per 100,000 people over seven days, Reuters reported.
Hotels and bed-and-breakfast accommodations are banned from accepting guests traveling from virus hotspots who do not have updated tests that show negative results.
Children in some parts of Germany will be required to wear masks at all times upon their return to school later this month, the BBC reported.
France
The seven-day rolling average of daily new cases in France began increasing from around July 10, according to data compiled by Worldometer.
Wearing a face covering in closed public spaces has been mandatory in France since July 21. But from Monday, those aged 11 and above in Paris are also required to wear a mask in busy outdoor areas over the next month.
Violators of the mask mandate will be fined $159 (€135) and those who breach the order more than three times in a month face six months in prison, Reuters reported.
The mask mandate did not list tourist sites, such as the Eiffel Tower, the Arc de Triomphe and Champs-Elysees boulevard, among areas where masks are required outdoors.
Paris joins a string of other French cities, including Toulouse, Lille and Biarritz, where face coverings are compulsory in outdoor areas.
Last month, French Prime Minister Jean Castex said that while "the coronavirus is still here [in France]," there are no plans to "impose a lockdown like the one we did last March, because we've learned…that the economic and human consequences from a total lockdown are disastrous."
Spain
The seven-day rolling average of daily new infections in Spain rose on a sharp incline from around mid-July, according to Worldometer.
Restrictions were issued in several areas including Catalonia, where nightclubs were closed, while mask rules were also imposed in several regions, requiring face coverings in public.
Residents in Madrid are required to wear a face covering in public regardless of whether social distancing is possible. They have been urged to wear masks at home when they're joined by someone with whom they don't live, Reuters reported.
Madrid is also reported to be pushing for tighter restrictions at the Barajas airport, the city's international airport, after more than 70 infected passengers arrived in the country.
Last month, around 30,000 people in the town of Totana, Murcia, in the southeast of Spain, were prohibited from entering or leaving the town after 55 cases linked to a bar were reported in the area.
The Netherlands
The seven-day rolling average of daily new cases in The Netherlands rose on a sharper incline from around July 29, according to data compiled by Worldometer.
On August 6, several new restrictions were implemented, including the closure of cafes, cinemas, museums and amusement parks for 14 days in local areas seeing an outbreak. Local officials are authorized to impose curfews and additional measures, the BBC reported.
However, the government will not advise the public to wear masks, Dutch Minister for Medical Care, Tamara van Ark, confirmed at a press briefing in The Hague last month, following a review by the country's National Institute for Health (RIVM). The government will instead encourage better adherence to social distancing guidelines.
Van Ark said: "Because from a medical perspective there is no proven effectiveness of masks, the Cabinet has decided that there will be no national obligation for wearing non-medical masks."
In The Netherlands, masks are currently only required on public transportation and at airports, Reuters reported.
Belgium
The seven-day rolling average of daily new cases in Belgium increased on a sharper incline from around mid-July to early August before mostly flattening out in recent days, according to Worldometer.
The country paused all further reopenings last month, with mask mandates issued for customers who aren't seated at bars and restaurants. Customers are also required to leave their contact details for contact tracing.
A curfew was imposed in the northern city of Antwerp from the end of July, while a maximum of four people are allowed to sit at a table at restaurants, with the exception of larger households who are allowed to sit together, Reuters reported.
Residents living together have only been allowed to meet five other people since the last week of July, marking a large decrease from the previous 15-person limit.
The capacity for public events was also halved to 100 for indoor events and 200 for outdoor ones, while no events or festivals are allowed in Antwerp, Reuters reported.
Italy
Popular squares in Rome were closed at weekends in a bid to limit crowds after new infections were reported to be rising in the Italian capital and the surrounding Lazio region in July. Clubs not maintaining social distancing practices were also closed.
While the seven-day average daily case count in Italy has been mostly declining for months since around late March, it started to see a slight increase from around late July, according to Worldometer.
Greece
Greece imposed a mask mandate from July 29 requiring face coverings in supermarkets, shops, cafes, banks, government offices and hairdressers.
The country's seven-day average of daily new cases has seen a sharp increase from around late July, according to Worldometer.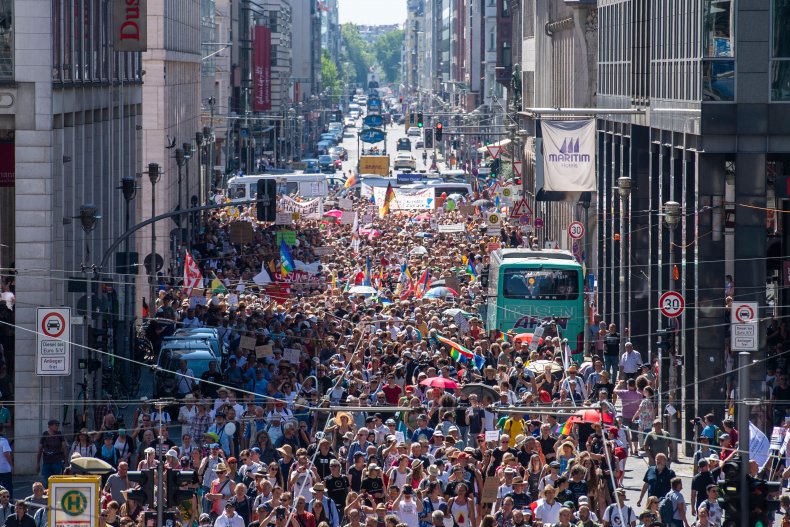 Over 19.9 million people globally have been infected since the virus was first reported in Wuhan, China, including more than five million in the U.S. More than 12.1 million globally have reportedly recovered from infection, while over 732,100 have died, as of Monday, according to Johns Hopkins University.
The graphic below, provided by Statista, illustrates a comparison of average new cases in the U.S. and the European Union.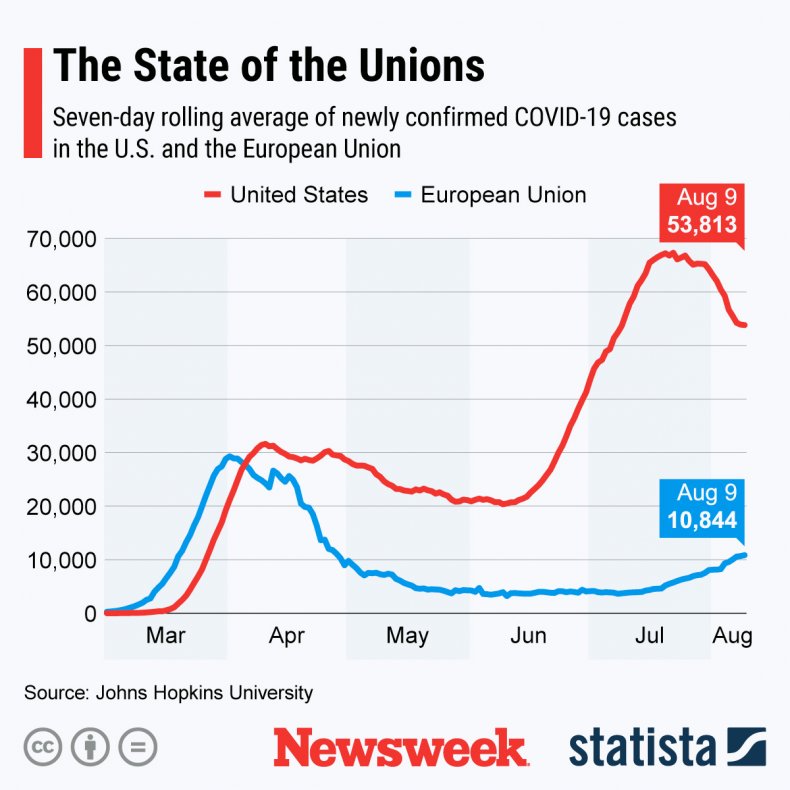 The graphic below, provided by Statista, illustrates countries with the most COVID-19 cases.