Woman Kicked Out of Bingo Hall for Refusing to Wear a Mask Over the Breathing Hole in Her Neck
An elderly woman was forced to leave her local bingo hall after failing to cover the breathing hole in her neck.
Elaine Arbeau, a 67-year-old Ontario woman, is currently battling lung cancer and now has a hole in the center of her neck which she uses to breathe. Her health ailment prevents her from using a facial covering, according to her son, who told local media on Sunday that the management at Delta Bingo's Pickering location still asked his mother to leave the casino's premises when she explained why she could not cover the breathing hole.
In a Facebook post Arbeau's son B.J. Gilbert elaborated on the situation and claimed his mother was treated poorly by the casino's staff.
"My mom has battled many types of cancers over the last 20 years. She is still here. Hell of a survivor. However, she, like any soldier, carries many wounds. One being the hole left in her neck. So because of that battle, she can't talk like us, or breathe like us. She breathes through the hole in her neck. My mom doesn't go out much unless its [sic] to play at a casino or bingo hall these days for her enjoyment with her friends. She's 67. But with COVID happening she was homebound for 6 months before they opened up a bingo hall," he wrote.
"Like most people she too was excited to go play and see her friends again. However, when she went to Delta Bingo Pickering, she was told to leave by management if she didn't cover up the hole on her neck. Well, she explained that was impossible to do so. That's how she breathes. But nevertheless Lucy the operations manager escorts her out to the parking lot," the post continued.
Gilbert said after the operations manager noticed how upset his mother was by the ordeal, she invited Arbeau back into the casino, but Arbeau refused. However, after later speaking with someone from the casino regarding her condition, Arbeau returned to the casino on Saturday with hopes of playing. Once again, she was denied the opportunity.
In a video included in Gilbert's Facebook post, a casino employee is heard telling Arbeau to leave the property if she would not cover her breathing hole, claiming that the casino has the right to "mandate any rules that they want."
In light of the coronavirus pandemic, Delta Bingo instituted a policy requiring staffers and guests to wear facial coverings at all its locations, and Durham Region—the county the casino is located in—mandates non-medical masks in all public settings. However, there are exceptions for people with health conditions in which masks can affect their ability to breathe.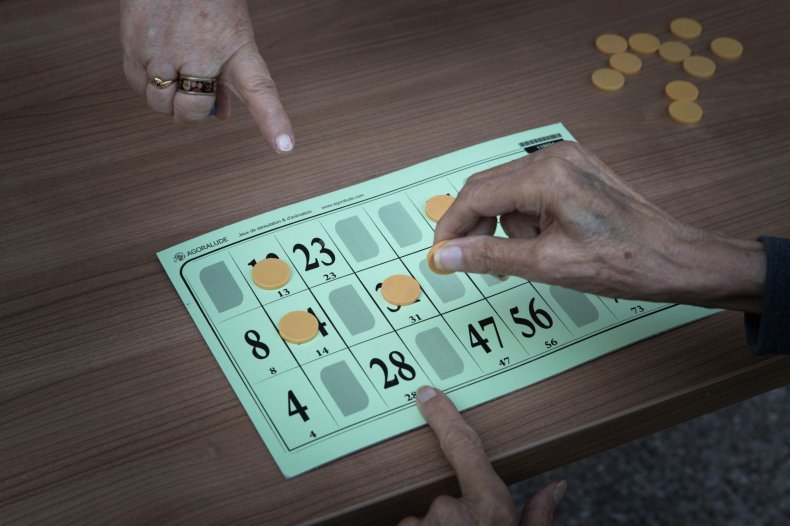 Delta Bingo is investigating the situation. The company's CEO Cam Johnston told Canadian news outlet CP24 that he empathized with Arbeau but discouraged people with conditions preventing them from wearing facial coverings from visiting the casino.
"We would prefer that people who are unable to wear masks do not attend. I think it's best for them," Johnston said. "We're trying to protect everyone but my first concern and first obligation is the health and safety of all our customers and staff."
Since the pandemic erupted in North America in early 2020, more than 127,000 cases of coronavirus have been confirmed. In Ontario, 42,195 cases have been documented.
Newsweek has reached out to Delta Bingo and Gilbert for further comment.