Coronavirus Could Infect 'Many, Many Millions' if U.S. Is Complacent In Its Response, America's Top Infectious Disease Expert Says
The number of people that are infected with the new coronavirus is entirely dependent on how America responds to the outbreak, according to Dr. Anthony Fauci, director of the National Institute of Allergy and Infectious Diseases.
"If we are complacent and don't do really aggressive containment and mitigation, the number could go way up and be involved in many, many millions," Fauci told members of the House Oversight and Reform Committee on Wednesday.
More than 1,000 people in 38 states have tested positive for the virus that causes COVID-19, and 29 people have died, according to a tracker maintained by Johns Hopkins University. Now that multiple states are experiencing community transmission of the virus, officials are implementing measures to reduce human interactions, including shutting down large gatherings and closing schools.
Large-scale coronavirus outbreaks have occurred in Italy, China, South Korea and Iran, but Fauci said it was too early to predict what will occur in the United States. When pushed for a number of cases he expects to see, Fauci told Representative Glenn Grothman of Wisconsin that he couldn't provide a "realistic number" without factoring in the response.
Without a significant, coordinated response, the number of cases could skyrocket, but if measures are taken to contain the outbreak, "we could flatten it," he said.
"It is going to be totally dependent on how we respond to it," Fauci went on. "There's no number answer to your question until we act upon it."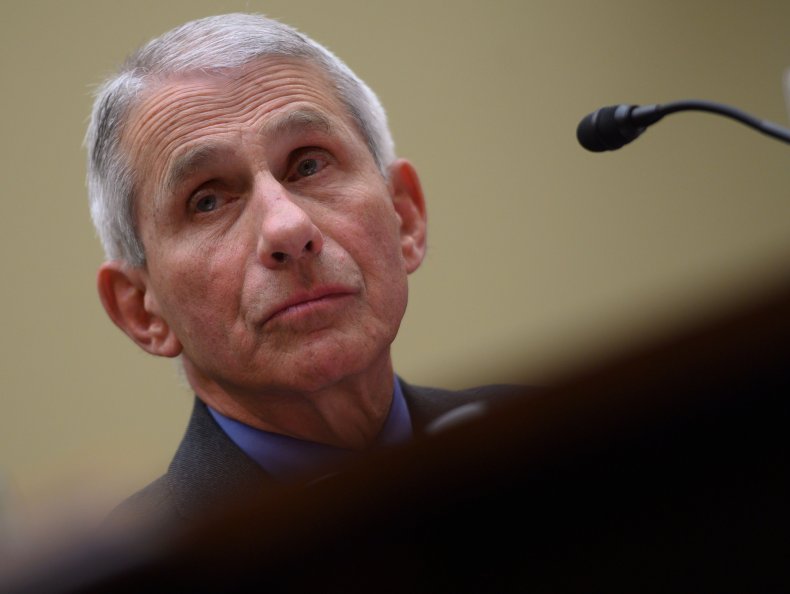 "Flattening" the curve refers to the need to slow the virus' spread, thereby giving key players, such as health care systems, schools and medical manufacturers, time to respond. When depicted in a graphic, cases are represented in an upward curve, and a horizontal dotted line across the curve shows where cases need to be to prevent overtaxing resources.
America's mitigation strategy is focused on protecting two main groups in particular: health care and critical infrastructure workforces and the most vulnerable populations. Achieving these goals, according to Fauci, requires an "all hands on deck" approach involving individuals, businesses, governments at every level and entire communities.
One of the most significant solutions to stopping any outbreak is to limit human interactions and large grouping of people in one area, which is known to foster the spread of a virus. Accordingly, conferences, music festivals, religious gatherings and sporting events, such as the Ivy League basketball tournament, have been canceled. And if public health officials were in charge of the NBA, people wouldn't be in the audiences for games.
"We would recommend that there not be large crowds," Fauci said. "If that means not having any people in the audience when the NBA plays, so be it."
In Italy, where the entire nation is under quarantine measures, sports events don't have audiences, which is one of the steps officials have taken. All games until April 3 can continue as planned, but they'll be played without fans in attendance.
NBA star LeBron James initially rejected the idea of playing games without fans. On Tuesday, he clarified that he would be disappointed to play to an empty arena but would still take to the court if people who are keeping tabs on the situation feel that's the best course of action.
Although the risk to the general public is low, Fauci stressed that everyone needs to be proactive in slowing the virus' spread, regardless of whether the state you live in has cases.
"If we wait until we have many more cases, we will be multiple weeks behind," he said. "We have got to change our behavior. We have to essentially assume we are going to get hit."