Georgia COVID-19 Outbreak 'Expanding' as Gov. Kemp Doubles Down Against Mask Mandate
Coronavirus cases in Georgia continue to rise, approaching nearly 228,700, while its death toll has hit nearly 4,600, according to the latest report Friday by Johns Hopkins University.
Concerns over the state's growing new cases have reportedly been raised by the White House COVID-19 Task Force, which warned of Georgia's "widespread and expanding community viral spread" in a report dated August 9 obtained by the Atlanta Journal-Constitution (AJC) from an unnamed source.
The White House Task Force reportedly noted that "current mitigation efforts are not having a sufficient impact" and that it "strongly recommends" a statewide mask mandate, among other measures, be adopted across Georgia, AJC reported.
Georgia Gov. Brian Kemp remains firmly against requiring residents to wear face coverings across the state.
At the end of last month, Kemp signed two executive orders which extended the public health state of emergency and COVID-19 guidelines until September 10. The order did not include a statewide mask mandate.
The latest report by the White House Task Force warned businesses, such as nightclubs, bars and gyms, which are currently open with some restrictions, should be closed in Georgia's highest risk counties.
The White House Task Force noted indoor dining at restaurants should be further restricted to less than a quarter of dining room capacity. The limit on social gatherings should be reduced from 50 to 10 or fewer people, the report said.
It also warned the state needs to ramp up its statewide testing and contact tracing efforts. It called for increased testing and the expansion of infection control measures in nursing homes and other long-term care facilities.
Speaking to Newsweek, a spokesperson for the Georgia Department of Public Health (DPH), said: "This is a report that is issued weekly by the White House/HHS (Department of Health and Human Services). It is sent to several people within DPH as well as other state agencies.
"There are daily discussions between Dr. [Kathleen] Toomey (Commissioner and State Health Officer at the DPH), Governor Kemp and others about guidance and recommendations. Both Dr. Toomey and Governor Kemp for months have recommended the use of face masks in public, along with social distancing and frequent hand-washing.
"The governor's (most recent) executive order outlines the guidance for restaurants and bars, entertainment venues and night clubs. Bars must operate at reduced capacity—35 percent of occupancy or 50 people—and the other business types have restrictions related to their operations. The executive order has been updated multiple times as recommendations and guidance have changed, and as more science about COVID-19 becomes available," she added.
The latest recommendations from the White House Task Force come as the state's seven-day rolling average of daily new deaths climbed to its highest level since the outbreak began, according to data compiled by Worldometer.
The average daily death toll in Georgia began rising from late March and mostly flattened throughout May. The figure peaked on June 15, before mostly dipping through early July and rising on a sharper incline from around July 9, according to Worldometer.
Last month, Kemp filed a lawsuit against Atlanta Mayor Keisha Lance Bottom, who issued a mask mandate requiring all those in Atlanta to wear a face covering.
Kemp has since withdrawn the lawsuit and a new executive order will be issued Saturday, the governor confirmed in a statement Thursday.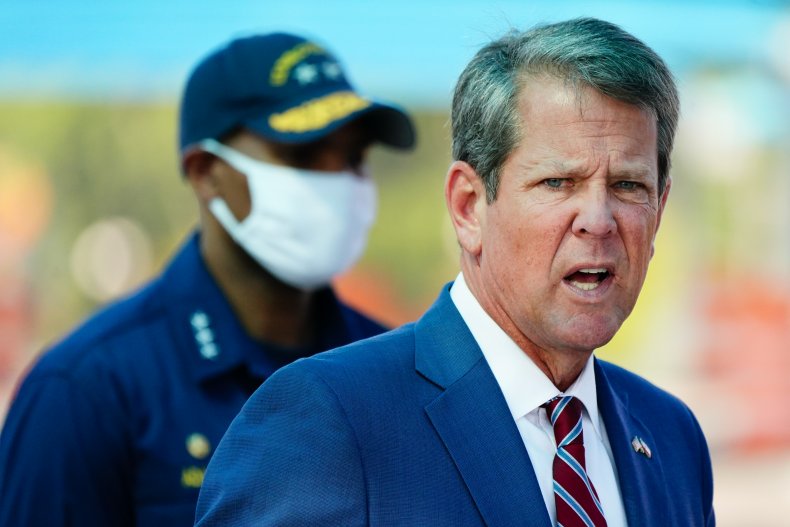 "In light of Atlanta Mayor Keisha Lance Bottoms' concession regarding the city's Phase One roll-back plan and following her refusal in mediation to further negotiate a compromise, the Attorney General's Office has filed to withdraw our pending lawsuit.
"I sued the City of Atlanta to immediately stop the shuttering of local businesses and protect local workers from economic instability.
"Unfortunately, the Mayor has made it clear that she will not agree to a settlement that safeguards the rights of private property owners in Georgia. Given this stalemate in negotiations, we will address this very issue in the next Executive Order," the statement confirmed.
In a statement to CNN, Bottoms said: "While it is unfortunate that the Governor seeks to intentionally mislead the people of our state by issuing a woefully inaccurate statement regarding our good faith negotiations and the City's reopening recommendations, I am grateful that this lawsuit has been withdrawn and the time and resources of our city and state can be better used to combat COVID-19."
Newsweek has contacted the White House and the governor's office for comment.
Over 20.9 million people globally have been infected since the virus was first reported in Wuhan, China, including over 5.2 million in the U.S. More than 13 million globally have reportedly recovered from infection, while over 760,200 have died, according to the latest report Friday by Johns Hopkins University.
The graphic below, provided by Statista, illustrates the portion of Americans who claim to wear a mask in public.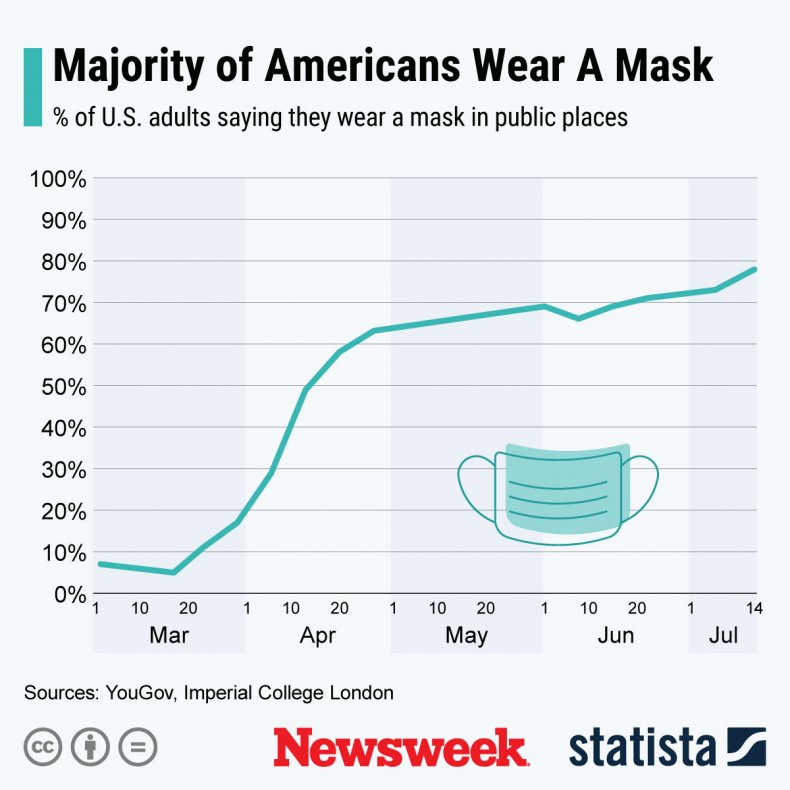 The graphic below, provided by Statista, illustrates the spread of COVID-19 cases in the U.S.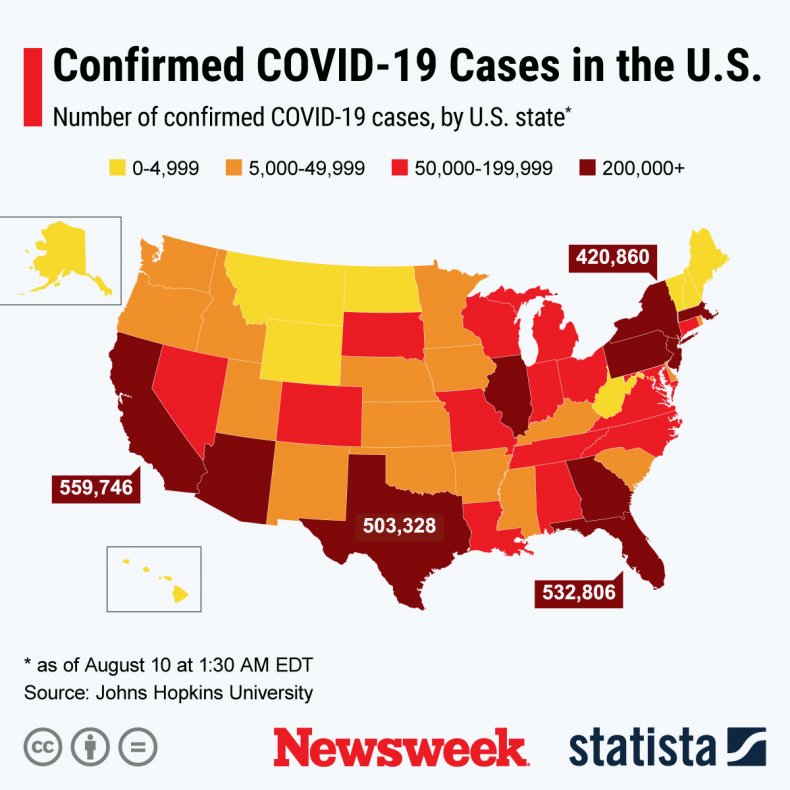 This article has been updated with comment from the Georgia Department of Public Health.