20 Students Get Coronavirus After Going on School Trip
Several students from a school in Düsseldorf, the capital of the North Rhine-Westphalia state in western Germany, have tested positive for the coronavirus following a class trip.
Twenty of the 55 10th grade students from the Freiherr-vom-Stein-Realschule school who attended the trip have been infected, German broadcaster WDR reported.
The four-day school trip, joined by four teachers, took place in the Aschau im Chiemgau municipality in the state of Bavaria in southeast Germany.
One student was reported to have shown symptoms of the virus upon returning from the trip, after which several others tested positive, city officials confirmed.
The students who attended the trip and others with whom they've been in contact have been quarantined. The school, located in the Düsseldorf-Oberbilk district, has not been attended by other students since the trip, according to city officials, WDR reported.
The latest incident follows weeks of rising infections in Germany. Weekly new cases in the country rose for seven consecutive weeks, starting from the week commencing July 13, according to data compiled by the World Health Organization (WHO).
The Robert Koch Institute (RKI), Germany's federal health agency, noted: "The increase in the number of cases reported since mid-July has stabilized in the last week and the seven-day incidence has fallen again nationwide," in its latest report Wednesday.
"The current development is positive, but must be further carefully monitored...it is noticeable that in the last few weeks more young people have become infected, thus the seven-day incidence is significantly higher in younger age groups than in older age groups.
"In addition, COVID-19 cases are identified to a large extent among travel returnees, especially in the younger age groups," the RKI noted.
Confirmed cases in Germany have surpassed 247,400, according to the latest report Thursday by Johns Hopkins University (JHU).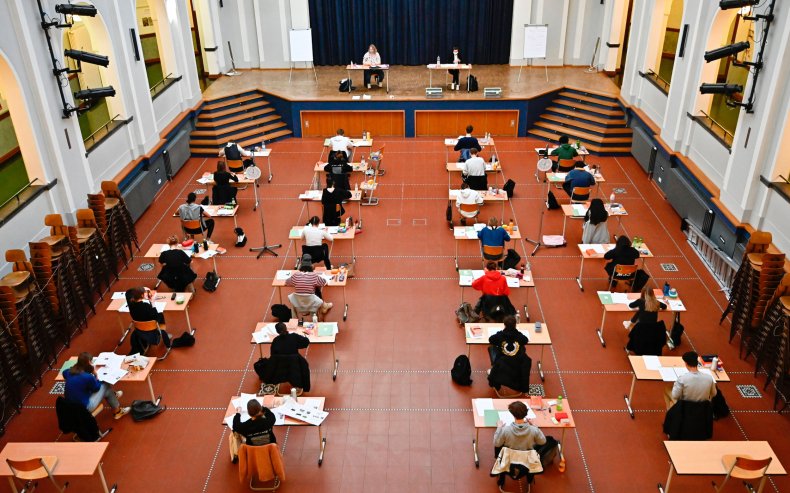 The seven-day average of daily new cases in the country steadily declined since April 2 when the average daily case tally peaked at 5,837. From then, it declined sharply and mostly flattened out from mid-May to mid-July, before increasing again through late August, according to data compiled by Worldometer.
Germany joins several other nations in Europe, such as Spain and France, where fears over a potential second wave of the outbreak have been raised in recent weeks following a rise in new infections.
The novel coronavirus has infected more than 26 million people globally, including over 6.1 million in the U.S. More than 863,700 have died following infection, while over 17.3 million have reportedly recovered, as of Thursday, according to the latest figures from JHU.
The graphic below, provided by Statista, illustrates countries with the most COVID-19 cases.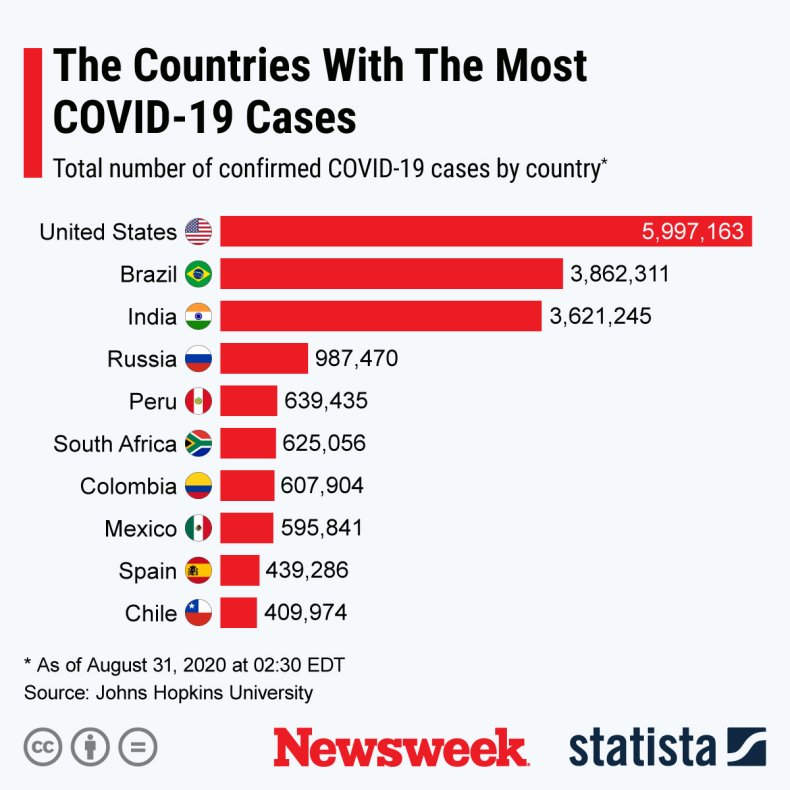 The graphic below, provided by Statista, illustrates the spread of COVID-19 cases in the U.S.