People Panic Buying Firearms Are 'Adding Gasoline to a Fire' Instead of Protecting Families, Gun Control Advocacy Groups Warn
Gun control advocacy groups have warned those seen panic buying firearms and ammunition amid the coronavirus outbreak that they are risking bringing in a "different danger right through their front door" and could potentially cause more harm to their families.
As the seriousness of the virus began to become clearer, images of huge queues of people outside gun stores in some of the worst affected areas such as California and Washington started emerging.
Earlier this week, ammunition website Ammo.com revealed they saw an unprecedented surge in the sales of bullets as COVID-19 started to spread across the country.
According to figures released by the company, the site witnessed a 276 percent sales surge on March 10, the day the number of confirmed cases in the U.S. reached more than 1,000.
Ammo.com said the sales continued to rise as coronavirus was officially declared a pandemic by the World Health Organization and the stock market saw its biggest one-day drop since the 1987 crash.
"Fear has been the motivation for much of the increases in firearms purchases," David Chipman, Senior Policy Advisor for gun control advocate group Giffords, told Newsweek.
"A small percentage of the marketing to gun owners has been to encourage preparation for end times scenarios and zombie apocalypses."
Chipman said the country's current gun laws allow people to hoard weapons in the same way they are able to mass buy toilet paper.
He described how there could be a disastrous knock-on effect for those who are purchasing a weapon for the first time amid the coronavirus outbreak.
"As a gun owner myself, I get how people instinctively think about their personal safety and that of their family.
"What concerns me most is not the responsible gun owners who decide to pick up a couple more boxes of ammo but the person who has never handled a gun buying an AR-15 who plans to bring a weapon of war into their home untrained and is already under an extraordinary amount of stress. It's adding gasoline to a fire.
"My fear is that in a race to protect themselves from this pandemic, some people might be bringing a different danger right through their front door."
Kris Brown, President of the Brady gun control campaign group, also said she is "very fearful" that the number of friendly fire incidents involving children could also dramatically increase as millions of children who are not currently at school will be present in their homes with these new weapons.
Brown said the feeling of short term security and safety that is provided by purchasing a weapon is masking the actual risk that will be dramatically increased.
"I understand in any time of crisis there is fear, the desire to do something to try and create a sense of security, and safety is paramount. The same instinct as fight or flight is what's kicking in here," she told Newsweek.
"The reality is the purchase of a gun is actually going right into harm's way."
According to Brady, eight children are unintentionally injured or killed every day in the U.S. as a result of an unlocked or unsupervised gun in the home. Brown said in order to stop this figure rising sharply, those purchasing guns must engage in safe storage and reconsider the role of the gun in the home.
"Parents are on the front line in ensuring their own kids aren't harmed by things they find in their homes."
Shannon Watts, founder of Moms Demand Action for Gun Sense in America, who were set up in the wake set up in the wake of the Sandy Hook massacre in Newtown, Connecticut, in 2012, also expressed concern about how the increased number of firearms in homes could have severe consequences for those who are trying to protect their loved ones.
"Right now, there's no question that everyone is worried about their family's safety. We know there are risks associated with having a gun in the home, especially when kids are involved, which is why responsible gun owners store their guns locked, unloaded and separate from ammunition."
Watts added the presence of guns in a house also increases the risks of suicide and domestic violence.
"The NRA has spent decades selling a myth that more guns make us safer, but if that were true, the U.S. would be the safest nation on earth," she said. "Instead, we have a gun homicide rate that's 25 times higher than the average of other developed nations."
Watts suggested if people truly want to protect their families during these unsettled times, they should "wash their hands and lock up their guns."
Chipman also gave some advice for those thinking about purchasing their first gun amid concerns about the coronavirus.
"If you care about your family, spend the $500 on groceries and stronger dead bolts for the exterior doors of your home."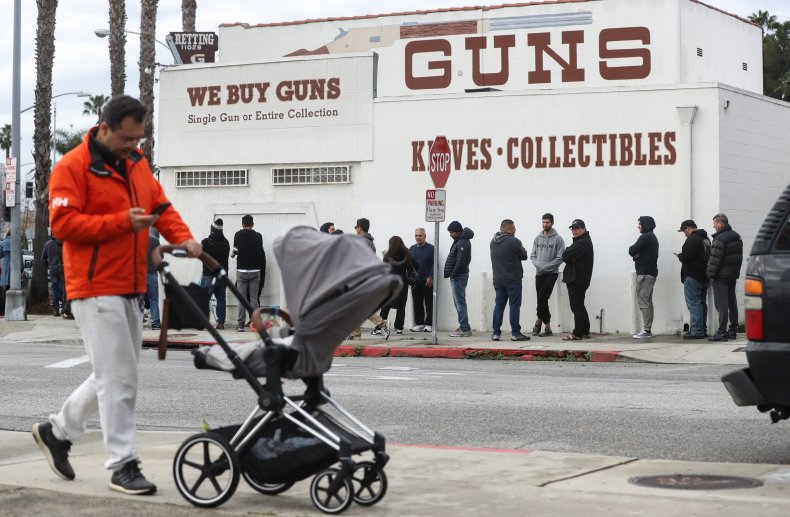 Anyone purchasing a gun in the U.S. must pass a criminal background check, which is submitted to the FBI's National Instant Criminal Background Check System (NICS).
As previously reported by Newsweek, the National Shooting Sports Foundation (NSSF), the firearms industry's trade group, revealed the NICS said the number of background checks processed on March 16 in the U.S. soared by 300 percent compared to the same date in 2019.
Gun store owners described how the increase in business is incomparable to any other time.
"I've been in the business for 10 years and I've never seen it like this," Mark Healy, the owner of a self-titled dealership in Tempe, Arizona, said. "Not even after the shooting at Sandy Hook when they were talking about taking guns away."
Earlier this week, Brandon Burns, who owns Spartan Arms & Range Supplies in Las Vegas, uploaded a video onto the store's Facebook page showing how his stock was almost entirely depleted as people rushed out to buy weapons.
"No handguns, no rifles, no ammunition, no 9mm, no 40mm, no .45, no 5.56, no .22, no twelve-gauge, no twenty-gauge, we don't have it....Things are not normal right now," Burns said in the clip which has since been viewed more than five million times online.
Speaking to Newsweek, Burns said he is still seeing waves of people entering his store to purchase weapons days later.
"We are not surprised honestly about the surge of firearms, people are worried what other people do when they are desperate, when they no longer have jobs, money, and food. Right now our message is to be patient and calm, we are processing things as fast as we can."
There are more than 14,250 confirmed cases of COVID-19 in the U.S. with 205 deaths, according to Johns Hopkins University. A total of 121 patients have managed to recover from the virus.
This graphic, provided by Statista, shows the global spread of the new coronavirus as of March 19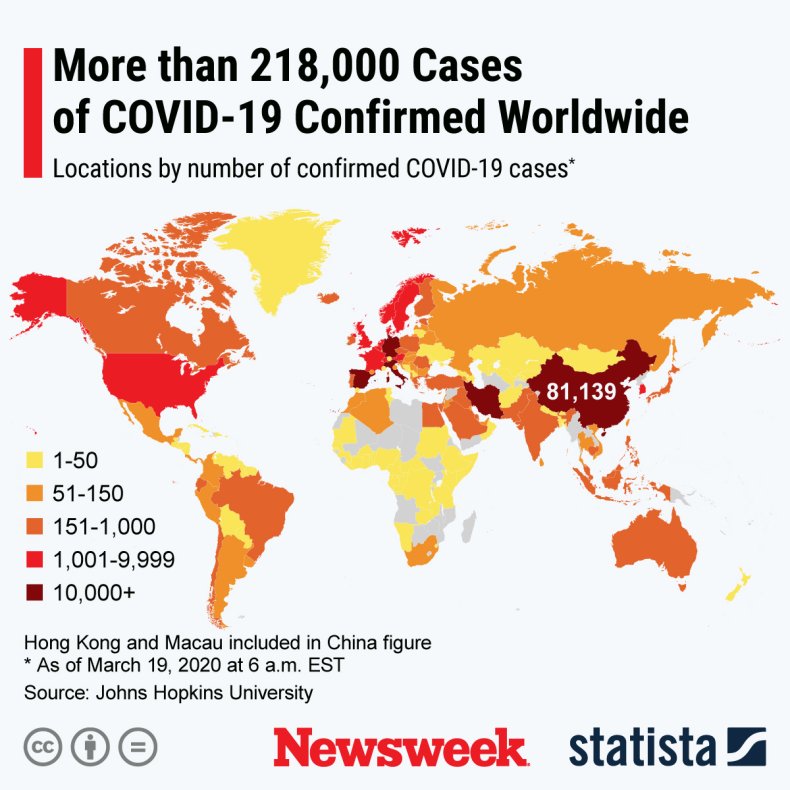 World Health Organization advice for avoiding spread of coronavirus disease (COVID-19)
Hygiene advice
Clean hands frequently with soap and water, or alcohol-based hand rub.
Wash hands after coughing or sneezing; when caring for the sick; before; during and after food preparation; before eating; after using the toilet; when hands are visibly dirty; and after handling animals or waste.
Maintain at least 1 meter (3 feet) distance from anyone who is coughing or sneezing.
Avoid touching your hands, nose and mouth. Do not spit in public.
Cover your mouth and nose with a tissue or bent elbow when coughing or sneezing. Discard the tissue immediately and clean your hands.
Medical advice
If you feel unwell (fever, cough, difficulty breathing) seek medical care early and call local health authorities in advance.
Stay up to date on COVID-19 developments issued by health authorities and follow their guidance.
Mask usage
Healthy individuals only need to wear a mask if taking care of a sick person.
Wear a mask if you are coughing or sneezing.
Masks are effective when used in combination with frequent hand cleaning.
Do not touch the mask while wearing it. Clean hands if you touch the mask.
Learn how to properly put on, remove and dispose of masks. Clean hands after disposing of mask.
Do not reuse single-use masks.