Gwyneth Paltrow's COVID Advice Not Supported by Evidence, Health Experts Warn
Gwyneth Paltrow has been following an "intuitive fasting" regimen and taking supplements after having "COVID-19 early on," she has revealed in her latest post on Goop, the lifestyle website she launched in 2008.
The Hollywood actress' remarks have been criticized by health experts who said there was a lack of evidence to support her suggested "healing" remedies.
Paltrow wrote: "I had COVID-19 early on, and it left me with some long-tail fatigue and brain fog. In January, I had some tests done that showed really high levels of inflammation in my body. So I turned to one of the smartest experts I know in this space, the functional medicine practitioner Dr. Will Cole.
"After he saw all my labs, he explained that this was a case where the road to healing was going to be longer than usual. So we've been doing a version of a protocol he outlines in his forthcoming book, Intuitive Fasting. It's keto and plant-based but flexible (I've been having fish and a few other meats), and I fast until 11 a.m. every day."
Asked whether any of Paltrow's suggestions could be substantiated from a medical or scientific perspective, Dr. Jane Orient from the American Association of Physicians and Surgeons told Newsweek: "Ms. Paltrow offers insufficient information to assess exactly what she is doing, or the rationale.
"Various dietary regimens and nutritional supplements are being tried, but I know of no systematic studies. Symptoms may persist after COVID-19, as they do for many viral illnesses, such as infectious mono. People do recover with time."
On Wednesday, Professor Stephen Powis, medical director of National Health Service England in the U.K., said: "Some of the solutions she's recommending are really not the solutions we'd recommend in the NHS." He added: "We need to take long COVID seriously and apply serious science."
As directed by Cole, the Oscar-winning actress has been taking supplements, most of which are aimed at having a "healthier gut," Paltrow said.
"There's butyrate, which Will says supports a healthy microbiome, and then in my daily Madame Ovary supplement, I get fish oil, B vitamins, some vitamin D3 (I add more, but there's 500 IU in there to start), selenium, and zinc, all of which Will says are critical for me right now.
"I get even more zinc and selenium, along with the antioxidants vitamin C and resveratrol, in my G.Tox Detoxifying Superpowder, which I mix with water. Will has me taking the G.Tox morning and night," Paltrow added.
Dr. Christian Sandrock, a physician specializing in emerging infectious diseases and critical care medicine, told Yahoo Life that "fasting can reduce some levels of inflammation," but added that there was no available data "specifically with acute post-COVID syndrome" and fasting.
Sandrock, who helped launch the Post-COVID-19 Clinic at UC Davis Health in Sacramento,said for COVID-19 patients, there was "no data that fasting improves your outcome" with the acute illness.
It could be detrimental, he added. "You can have fatigue and dizziness from not eating. We don't recommend fasting [for COVID-19 patients]. We recommend not overeating and eating non-processed foods."
Infectious diseases specialist Dr. Simone Wildes also said there was no data to show that Paltrow's regimen would cure long-term COVID-19 symptoms.
"There's no data to say that you know, the diet she's on, a particular regimen, is the prescribed way of treating patients who have long hauler syndrome," Wildes told ABC's Good Morning America last week.
"We just encourage supportive therapy, healthy diet, exercise, therapy, you know, whatever it is we can do to support you through this difficult time until you're able to get back to normal. That's what we're doing right now," she said.
Powis of National Health Service England warned: "Like the virus, misinformation carries across borders and it mutates and it evolves. All influencers who use social media have a duty of responsibility and a duty of care around that."
When Cole was asked to comment on the latest criticism and to verify the post COVID-19 healing remedies he suggested during his consultations with Paltrow, a spokesperson for Cole told Newsweek: "At this time Dr. Cole does not have any comments."
Newsweek has contacted Goop for comment from Paltrow. The American Medical Association and the U.S. Centers for Disease Control and Prevention have also been asked for comment.
While most COVID-19 patients recover and return to normal health, some may have symptoms that "can last for weeks or even months after recovery from acute illness," according to the CDC.
The most commonly reported long-term symptoms include fatigue, shortness of breath, coughing, and joint and chest pains.
Some of the more serious but less common ones include inflammation of the heart muscle, lung function abnormalities, neurological problems such as smell, taste and sleep issues, difficulty with concentration and memory problems.
"The long-term significance of these effects is not yet known," said the CDC.
This article has been updated with comment from the office of Cole.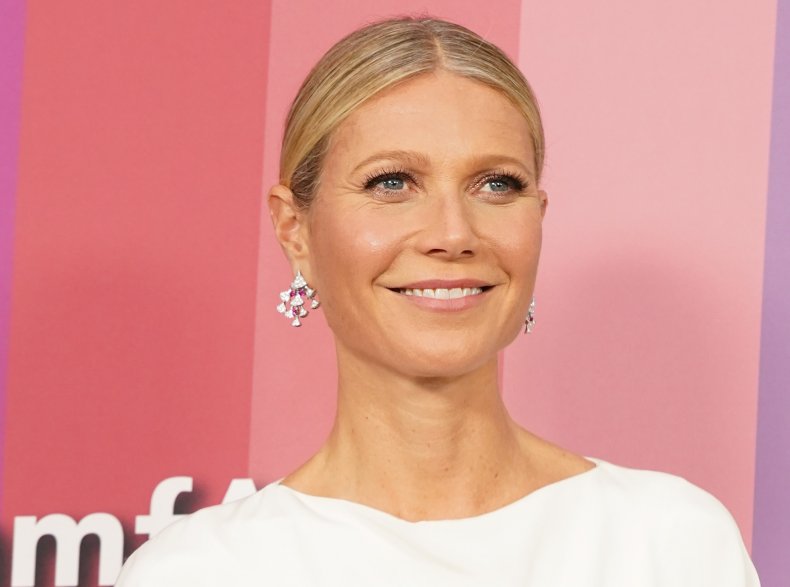 The wider picture
The novel coronavirus has infected more than 112.7 million people, including over 28.3 million in the U.S., since it was first reported in Wuhan, China.
Just over 2.5 million people have died worldwide and more than 63.5 million have recovered as of Thursday, according to Johns Hopkins University.
The graphic below, produced by Statista, illustrates the spread of COVID-19 cases across the U.S.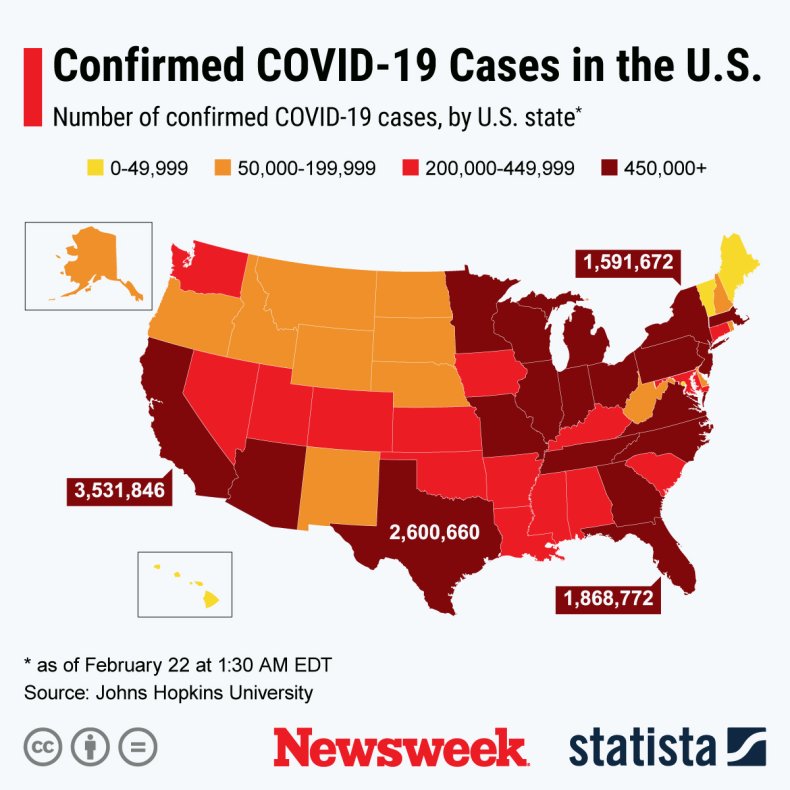 The graphic below, produced by Statista, shows the spread of COVID-19 deaths across the globe as of February 22.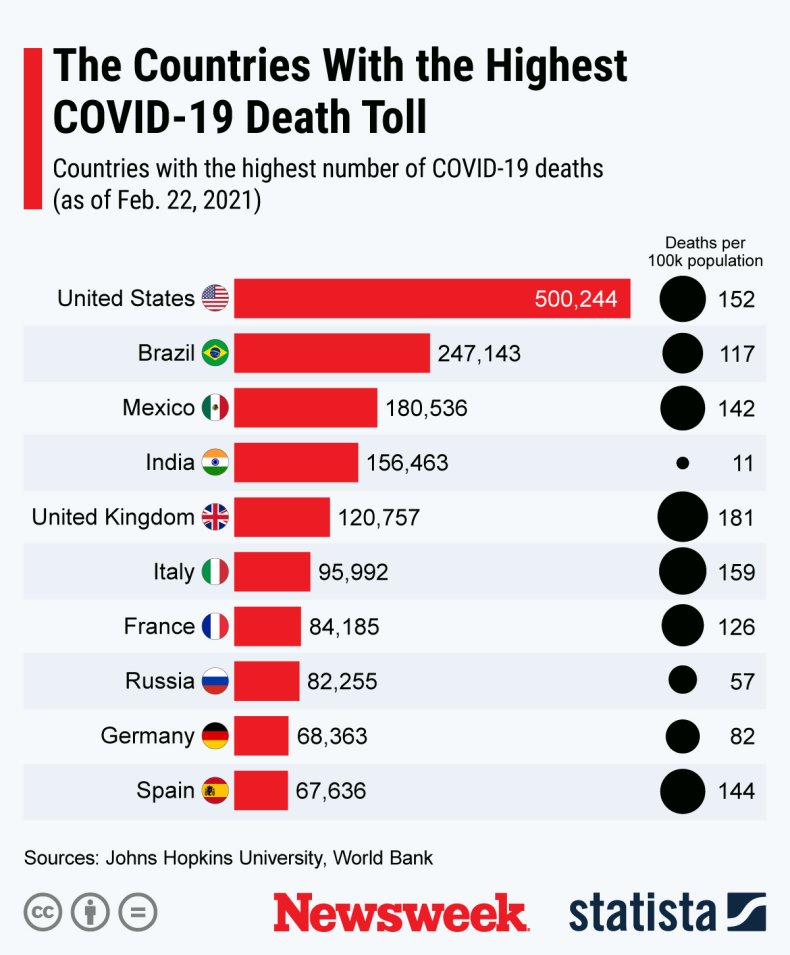 Newsweek, in partnership with NewsGuard, is dedicated to providing accurate and verifiable vaccine and health information. With NewsGuard's HealthGuard browser extension, users can verify if a website is a trustworthy source of health information. Visit the Newsweek VaxFacts website to learn more and to download the HealthGuard browser extension.