As Coronavirus Fears Grow The Internet Discusses Alternative Handshake Greetings
With more people afraid of contracting the coronavirus, people on Twitter started discussing alternatives to shaking hands in order to prevent the spread of the virus.
According to the Center for Disease Control (CDC) website, there are 60 total cases of COVID-19 in the United States. Six deaths have been reported, and 12 states have reported cases of the virus.
The CDC website recommends "everyday preventive actions" to avoid spreading the novel virus. The recommended preventative actions include avoiding contact with sick people, not touching your eyes, nose and mouth, staying home when sick, covering coughs and sneezes with a tissues, disinfecting frequently touched objects, washing your hands, and only wearing a mask when showing symptoms of illness.
The CDC did not immediately respond to Newsweek's request for comment.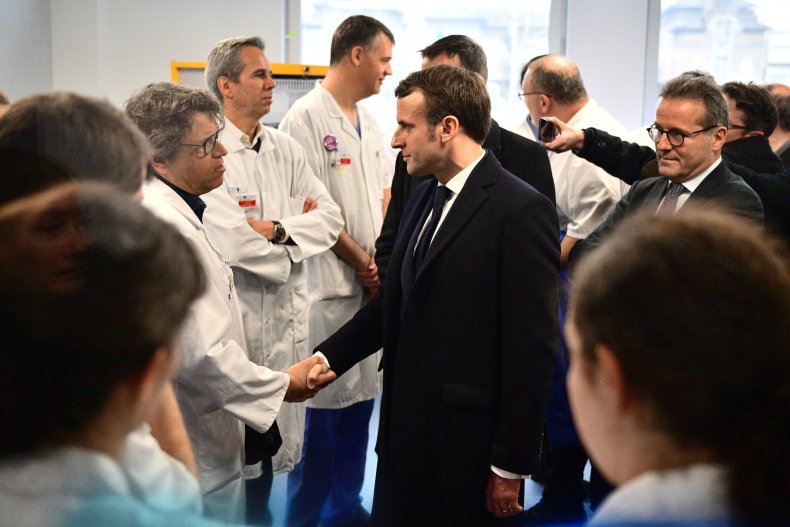 On Twitter, people offered suggestions for different greetings covering the interesting, the clever and the silly.
New York congresswoman Alexandria Ocasio-Cortez offered a suggestion that she said she learned from local faith communities.
Other Twitter users shared other practical alternatives including tapping feet. Other suggestions included the classic fist-bump or saying "namaste" and bowing.
Other people offered more whimsical and silly suggestions, that you may not start seeing regularly. Entrepreneur and former presidential candidate Andrew Yang attached an image of Captain Spock offering the "Live long and prosper" hand signal in a tweet about finding an alternative greeting.
Young adult author Caissie St. Onge had perhaps the most costly suggestion: everyone buying top hats and tipping them to each other, when saying "hello." British etiquette expert Grant Harrold offered a similar alternative, harkening back to the days of bowing and curtsying.
One of the most fun suggestions was American Independent reporter Emily C. Singer's shredding on air-guitars proposal, but she didn't indicate whether or not we should vocally mimic guitar riffs while doing it.
During his monologue on Monday night, late night show host Jimmy Kimmel demonstrated other methods with his sidekick Guillermo Rodriguez, including bumping both knees together or tapping both elbows. He gave each a funny name: "The Patella Hello" and "The Hello-bow," respectively.
One twitter user stepped up their meme game and satirically wrote that while we stop shaking hands out in the world, Twitter also banned the handshake tweet format, just to be on the safe side.
While the internet discussed alternatives, some people were thankful that handshaking stopped and hoped it would lead to the end of the practice once and for all, including animator and voice actor Brandon Farmahini.