Coronavirus Highlights Tragic, Longstanding Racial Inequity in the U.S. | Opinion
As leaders of organizations committed to securing civil and human rights, we have been in constant conversation about the impact of coronavirus on communities of color. The global pandemic has highlighted just how much work is left to be done to build a just and inclusive society and serves as a tragic reminder that we are far from reaching that ideal.
With healthcare, food security and safe housing in jeopardy and job loss attaining levels that may soon exceed unemployment during the Great Depression, we are reminded daily of the structural barriers to justice and inclusivity and the racial inequities highlighted by the pandemic.
Today, the deep relationship in this country between race and poverty—and its dire consequences—are inescapable. While no one is immune from the coronavirus pandemic that has quickly spread throughout the nation, the virus's stark, disproportionate impact on communities of color has been painfully clear.
The public health statistics alone are staggering. Thirteen percent of the U.S. population is black, but according to the CDC, black patients make up 33 percent of people who have been hospitalized with COVID-19. Black and Latinx individuals in New York City are twice as likely to die from coronavirus as are their white counterparts. In Chicago and Louisiana, where black people make up about one-third of the population, they account for 70 percent of coronavirus deaths. The Navajo Nation has more confirmed coronavirus cases per capita than every state except New York and New Jersey.
Many of the contributing factors for these gross disparities arise from systems and structures of oppression that have persisted in the U.S. throughout our history. These inequities have been amplified even further by the coronavirus.
It is important to recognize the widespread and deep-rooted systemic issues contributing to the high coronavirus infection and death rates for communities of color. For example: less access to quality and affordable health care, resulting in higher levels of heart disease, diabetes and obesity, which are now increased risk factors for coronavirus. The lack of bilingual, culturally competent information makes it harder for individuals to access facts about coronavirus and seek appropriate medical care during this crisis. And there's also fear of seeking medical care due to immigration policies that cause many marginalized communities to fear ICE enforcement against themselves, family or friends.
Additionally, the ability to practice social distancing is much harder because black people, Latinx people, immigrant and refugees are over-represented in essential, high-contact jobs in the fields of agriculture, transportation, sanitation, grocery stores, maintenance, food processing, and delivery—not to mention those working in health care facilities. In addition, communities of color also suffer from a greater inability to practice social distancing because of closer living conditions caused by historic and pervasive housing discrimination, as well as greater vulnerability due to dangerous living conditions resulting from higher rates of homelessness and incarceration.
The severe economic downturn triggered by the pandemic is also having a bigger impact on communities of color for numerous other reasons. Despite the enormous gains made by the civil rights movement—and other movements combating and mitigating the pervasive harms caused by the history of discrimination and racism in this country—there are still deep and widespread structural barriers to racial equity. We see this in the lack of opportunity and access many people of color have to vitally needed goods and services. Such barriers include lack of access to quality education (which in this country is significantly funded by local property taxes, often relegating children in poorer districts to severely resource-strapped schools), jobs that pay a living wage and good health care. Additionally, both the enormously disparate rates of incarceration we see between white communities and those of color and policies adversely affecting the humane treatment of immigrants and refugees are part of a well-documented connection between the oppressive systems of the past and the realities of today.
We also cannot afford to ignore the uptick in bias-crimes directed at Asian-Americans, the proliferation of anti-Semitic conspiracy theories accusing Jews of creating or spreading the virus and some of the extremist and problematic actors behind recent anti-quarantine protests across the country. The virus that is hate and anti-Semitism thrives and metastasizes in situations such as these, and we have already begun to witness that online and in the real world.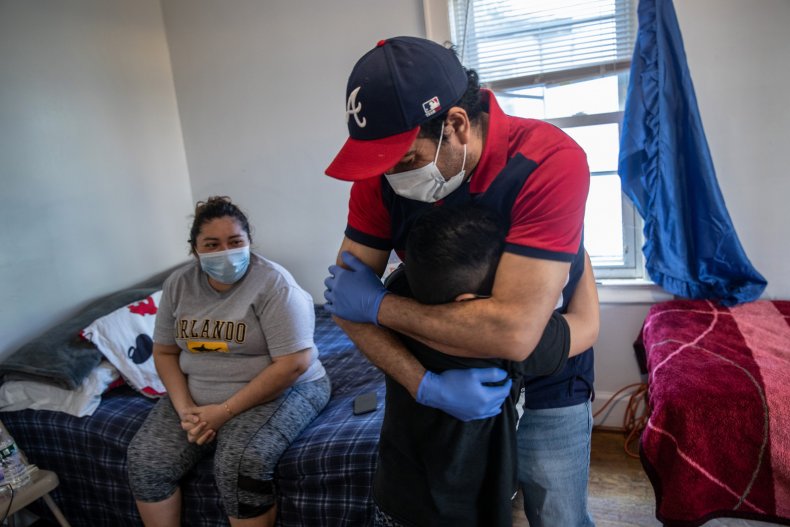 The National Urban League, Unidos US and ADL have long fought against government policies that have maintained these inequities. Further, our organizations have consistently maintained that words matter. When top leadership in this country uses the extraordinary power of bully pulpits to whip up anxiety and fear and to divide rather than unite the country, it leads to an environment of greater willingness to accept and propagate inequities.
In the context of the current pandemic, there are a few things our leaders can do now to address these racial disparities. We believe that states must include demographic data in their public reporting for individuals who have contracted, recovered from and died from coronavirus, that the federal government must take responsibility for mitigating risk to essential workers, that we must advocate for added protections for those in manual essential jobs and that we must ensure stimulus measures focus on increasing testing and economic support for marginalized communities.
Without action, these social inequities will persist and likely will even be exacerbated long after we flatten the coronavirus curve.
Acknowledging, understanding and mitigating oppressive systems and structures is a necessary step towards building a just and inclusive society. The impact of coronavirus is a tragic reminder of what we already knew: We have a long way to go.
Janet Murguía is president and CEO of Unidos US; Marc Morial is president and CEO of the National Urban League; and Jonathan Greenblatt is CEO of ADL (the Anti-Defamation League).
The views expressed in this article are the writers' own.