Newsweek's "Heroes of the Pandemic" series features everyday heroes showing service, sacrifice or kindness in the time of COVID-19.
Left with time on his hands after nonessential businesses shut down, Ryan O'Connell, a Philadelphia DJ, is working to get meals in the hands of medical professionals on the frontline of the new coronavirus outbreak.
"I was just sitting here with idle time and idle hands and started thinking about what I could do to help," O'Connell told Newsweek.
After hearing from a few close friends who are nurses about the difficulties of ordering food in between patients, O'Connell started a GoFundMe that would simultaneously help health care workers and small businesses. In one week, donations have funded 32 food deliveries and he's about $3,300 away from his $10,000 goal.
At first, he was delivering food to hospitals in Philadelphia and South Jersey himself. But, now, restaurants are doing the delivering or nurses pick the food up on their way to work to limit the number of people touching it, potentially reducing the risk of infections.
Orders are placed every time $200 in donations are raised and they feed an average of about 20 people. As a former small business owner, O'Connell's trying to work primarily with local restaurants to help with the financial burden of the outbreak.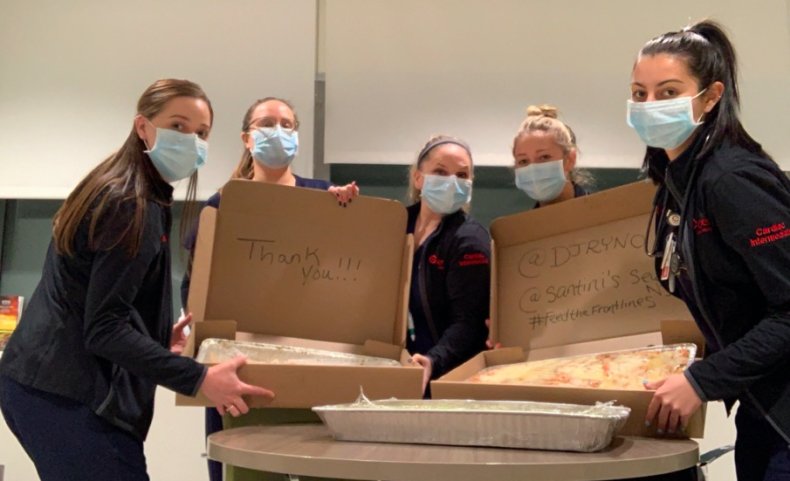 New Jersey and Pennsylvania have restricted restaurants to take-out and delivery service to prevent people from gathering in places that can foster the spread of the virus. Many restaurants that haven't closed their doors are taking a financial hit and it's possible that some may be unable to reopen.
"Nurses and doctors are super important but we want to support small businesses, as well," O'Connell said. "The places that wouldn't take the money, we left it in an envelope and told them to give it to their workers because they're struggling, too, right now."
Gia Nina's, an Italian restaurant in Woodbury, New Jersey, was happy to help, but refused to take money because the owner, Pat Finney, didn't feel it was proper to profit off charitable donations. So, she split it up among her employees.
"We were super grateful because it would have been easy for her to take it for herself," Sara Schaeffer, a manager, told Newsweek. "At this time, especially people who work paycheck to paycheck, every bit helps."
Santini's in Blackwood, New Jersey, provided double the amount of food $200 would ordinarily buy. Although business is slowing down because pizza is a luxury for families who have lost their jobs or had hours cut, Nick Cancello, a co-owner, said it was the "least" they could do.
"We don't even like to advertise something like that," he told Newsweek. "People should be more generous towards other people and try to help wherever they can."
O'Connell also used his DJ connections to partner with Vesper Dayclub for a match program. For every meal that was purchased, Vesper would donate two more, resulting in an extra $800 worth of food. The fundraiser has started to plateau because his friends and friends of friends have already donated, but he's still pushing to reach that $10,000 goal.
"Food is going out as fast as we get the money and the amount of messages I've received from the nurses is super heartwarming and I want to keep it going as long as we can," O'Connell said.
Know a hero you want to nominate to be featured in our series? Drop us a line at heroes@newsweek.com.