These Harmful Behaviors Could Put You in the Hospital and Strain Health System During Coronavirus Outbreak
At a time when officials are working to free up medical resources for an influx of people with serious cases of COVID-19, it's important that those who are heeding advice and staying at home also avoid behaviors that could land them in the hospital.
The United States is preparing for the possibility that a surge in coronavirus cases could overwhelm the health care system. To help prevent that from happening, officials have prohibited large gatherings and encouraged people to stay home whenever possible and practice social distancing.
However, not having to go into an office, being barred from the gym and virtually all entertainment venues, and having time to follow the news can lead to behaviors that may add to the strain on the health care system.
"Anything that's going to increase your risk and need for medical care is not necessary, especially at a time when we need to make sure those [with] this virus, are getting the hospitalization they need and are recovering well," Dawn Goldstein, program director of Michigan State University's (MSU) Psychiatric Mental Health Nurse Practitioner Program, told Newsweek.
To stay fit, some people have taken to pouring dish soap and water on their kitchen floor and using the lubrication as a makeshift treadmill. Although physical health is important, this creative measure could easily cause someone to fall, resulting in a head injury that requires a trip to the hospital.
When Dr. Peter Gulick, a professor of medicine at MSU, saw one of the videos posted online, he couldn't believe it and told Newsweek those types of behaviors hurt more than they help. Both Gulick and Goldstein advised people to instead go on a walk or run outside in their neighborhood.
Restricting movement has left people with time on their hands, and Alexander Bay, a professor at Chapman University and a medical historian, said some people may use the extra hours to increase their fitness routine in their garage gym. But it's important to not overdo it because that, too, could cause an injury that lands you in the hospital.
Another thing people may be doing with the extra time on their hands? Drinking.
As tempting as it might be to go on a 14-day quarantine bender, it's one of the last things people should be doing right now. Aside from excessive alcohol consumption weakening the immune system, drinking too much can cause alcohol poisoning, which means a trip to the hospital, and even just increase the risk of falling—and another potential emergency room trip.
"Typically, being at home should not increase your risk factors, because a lot of people do stay at home," Goldstein said. "It's doing things that you might normally do."
If mitigation measures aren't able to prevent a massive spike in coronavirus cases, it's possible hospitals won't have the resources to care for the overwhelming number of patients. As part of the preparation efforts, officials are taking action to ensure that most beds are available for people needing care because of COVID-19, the disease caused by the new coronavirus.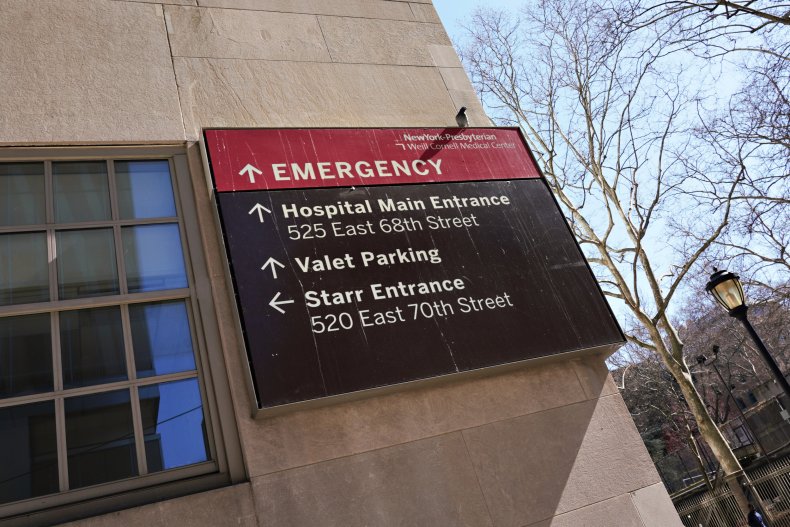 They've canceled elective surgeries and are preparing two Navy hospital ships, the USNS Comfort and USNS Mercy, to deploy to the East and West coasts. Each has 1,000 beds and if needed, can care for patients with non-coronavirus-related ailments, thereby freeing up space in civilian hospitals for COVID-19 cases.
Officials have also closed places where groups of people gather, such as bars, restaurants and entertainment venues, and urged people to be part of the mitigation effort by staying home.
"People are staying at home and, on the one hand, thinking, 'Yes, I'm doing my part, I'm staying home, I'm not going out into the community.' But on the other hand, they're participating in events that would land them in the hospital with another injury," Gulick said.
As of Thursday, there were 10,442 cases of the coronavirus in the United States and 150 deaths, according to the Centers for Disease Control and Prevention. The worsening of the situation has raised awareness of the outbreak, but Gulick's biggest concern is that constantly tuning in to the media's reports could hurt people's mental states.
"I think the worrisome thing for me is the psychological problems people could have when they start feeding into their own paranoia," Gulick said. "That's the biggest thing I could say. Don't get yourself so worked up that you land yourself in the hospital."
Allowing news of COVID-19 to become all-consuming can increase anxiety, causing a person to experience chest pains and shortness of breath—two symptoms of the disease—and go to the emergency room. If the anxiety causes a panic attack, that's another way someone's worry could require a hospital trip, according to Goldstein.
She noted that mental illness is very common, and a chaotic event such as a pandemic can fuel it. To help alleviate that stress and lower anxiety, she encourages people to use relaxation breathing techniques, reach out to others for support and know the resources that are available if they need to speak to a professional on the phone.
Even as a doctor, Gulick has had times when he'll be watching television, become overly worried and then have to take a beat to calm down and consider the situation rationally. For someone without medical knowledge, he said, he imagines the situation would be even worse.
To prevent a trip to a medical facility that would divert personnel, supplies or beds from a COVID-19 response, Gulick advised people to stay home and use common sense. "You want to stay out of the hospital if you can."