There Are 101,190 People Currently Hospitalized With Covid-19 in the U.S.
The total number of people currently in U.S. hospitals with COVID-19 now stands at 101,190, latest figures show.
The COVID Tracking Project, a volunteer-run effort run led by The Atlantic, reported the figure on Saturday—three days after its tally topped 100,000 for the first time.
From the latest figure, 19,950 patients were being given critical care in Intensive care units (ICUs), with 7,005 being given breathing support by ventilators.
On Friday, the U.S. also recorded its highest daily case count, with 224,831 positive results, according to the project.
There have been nearly 15 million confirmed cases of coronavirus in the U.S. since the pandemic began. Data from Worldometers put the total tally at 14,994,438.
Of those, 8,789,867 (58.6 percent) people have recovered and 287,885 (1.9 percent) have died.
Figures on excess deaths—the number of deaths above the usual number—can take longer for statisticians to compile, but are often considered a more accurate way to measure the fatal impact of the virus.
Nearly 300,000 of these have been attributed to COVID-19, as of early October, according to U.S. Centers for Disease Control and Prevention (CDC) data.
This death toll has fallen unevenly, depending on age and whether people had pre-existing underlying health conditions.
This graphic, produced by Statista, shows the distribution of COVID-19 deaths among age groups in the U.S. compared to their size.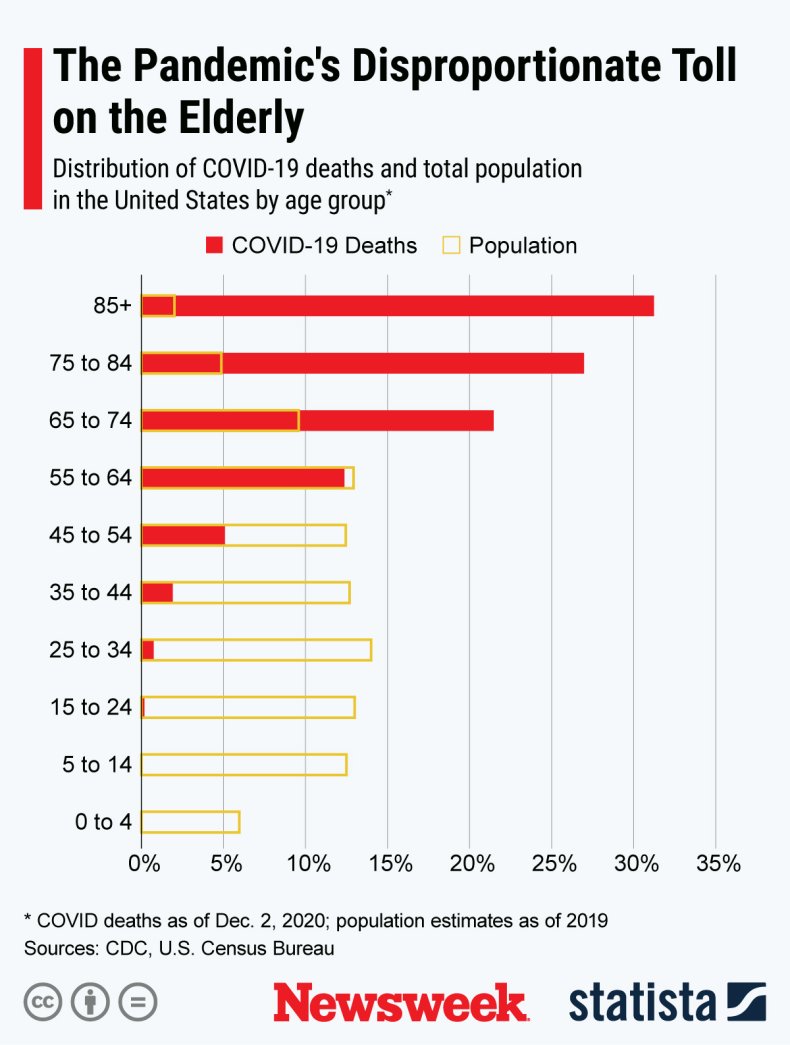 While no vaccine has been approved for use in the U.S. as of Sunday, health officials are set to meet next week to discuss one of the leading contenders which has been made by American drugmaker Pfizer and German company BioNTech.
Healthcare workers and elderly residents of long-term-care facilities are expected to be given the shots first, The New York Times reported earlier this week citing guidelines issued by the Centers for Disease Control and Prevention on Thursday.
As the U.S. has witnessed a surge in COVID cases, hospitalizations and deaths in recent weeks, several states have announced new or extended restrictions to help slow the spread of the virus.
In California, Governor Gavin Newsom announced new measures on Thursday which were specifically designed to prevent hospitals' ICU departments from being over-run.
Speaking to Newsweek on Saturday, Dr. Anthony Fauci said he thought the outbreak in the U.S. will "get worse before it gets better" and that the country would not see "dramatic changes" until the third quarter of next year.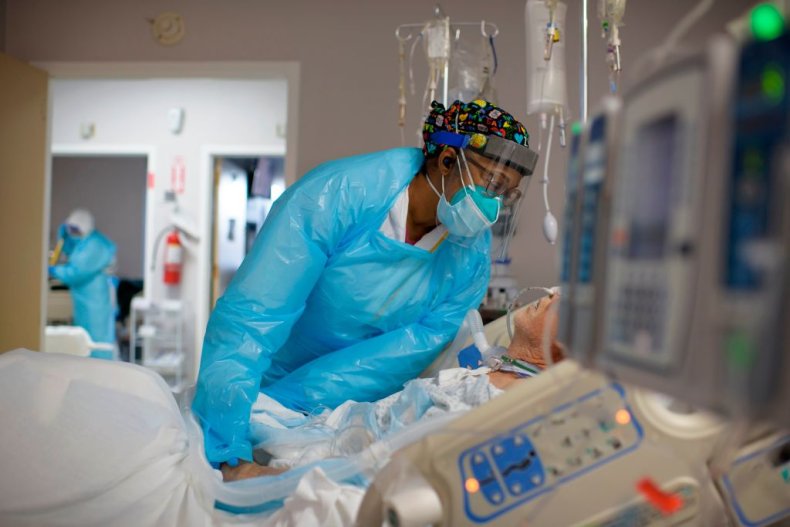 Asked if there was hope for getting the virus under-control, the director of the National Institute of Allergy and Infectious Diseases (NIAID) said: "We're not going to see that [a dramatic decline] for the next couple of months, because the next couple of months are going to be reflecting what's happening out and what happened a few weeks ago [in terms of rising cases].
"If people take the vaccine, we could go a long way to really diminishing dramatically [in cases] as we get into the second and third quarter of 2021. Then I think you'll start to see a dramatic diminishing of cases."
The wider picture
The novel coronavirus has infected more than 65.4 million people since it was first reported in Wuhan, China.
More than 1.5 million people have died worldwide and more than 42 million have recovered as of Friday, according to Johns Hopkins University.