India could become the world's worst affected country for coronavirus cases, potentially overtaking the U.S. in the relatively near future should current trends continue.
The Asian country, home to 1.35 billion people, overtook Brazil as the most affected country in terms of case numbers on Monday. World Health Organization figures show it has now had 4.28 million cases, compared with 4.14 million cases in Brazil. The U.S. still has most cases by far, with 6.22 million cases, but that lead may now start to shrink, as cases in America plateau and rise in India.
In an update on its website on Tuesday, India's Ministry of Health said there had been 73,521 new cases of COVID-19 in the past 24 hours. On Sunday, the U.S. Centers for Disease Control and Prevention reported just over 34,000 new cases, with charts showing it is now on a downwards trend after peaking in July.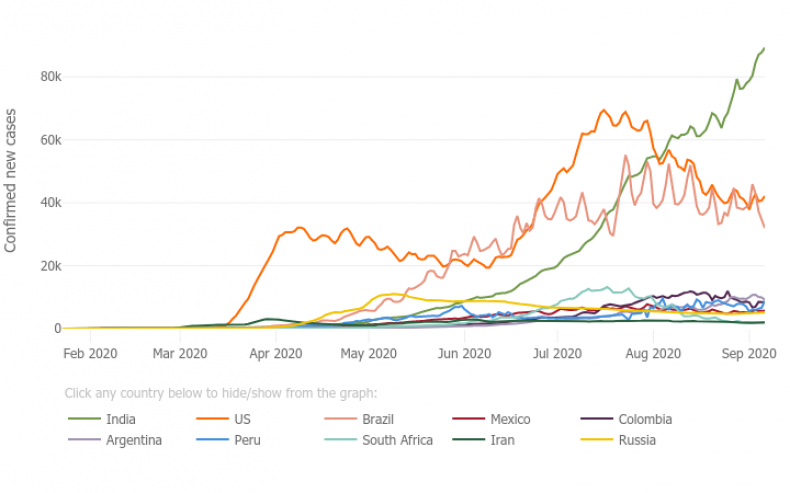 If these current trajectories remain relatively stable, it could be just a few months until India surpasses the U.S. with the most cases. According to the current forecast from the University of Washington's Institute for Health Metrics and Evaluation (IHME), the death toll in India will surpass the U.S. towards the end of November.
By November 24 if current mandates are kept in place, the IHME forecasts just over 306,000 deaths in the U.S. and almost 313,000 deaths in India.
Andrew Tatem, a Professor in Geography and Environmental Science at the University of Southampton, U.K., studies population distribution and flow. He told Newsweek it is very difficult to compare countries for coronavirus cases, as different states will have different rates of testing, different types of tests and different methods of reporting. This makes it extraordinarily difficult to definitively compare case numbers in different countries.
"It may be that India has already overtaken the U.S., or that Brazil has actually had the most cases in the world, or some other country is at the top," he said in an email. "Aside from that, I think it is possible that India could overtake the U.S.
"The shear number of people in India (more than four times the U.S.) and the high urban densities and way the populations closely interact, plus the reopening of economies in Indian States certainly signals that case numbers could continue to rise in India."
The situation in the U.S. is far from stable. Experts are currently warning of the potential for a second wave in many parts of America.
Andrew Noymer, an epidemiologist at the University of California at Irvine, told the Washington Post he believes "fall waves" will begin in the middle of October, and reach a "crescendo" after the election on November 3.
"Some places will peak around Thanksgiving, some places will peak around Christmas, some places not until January and February," he told the Post.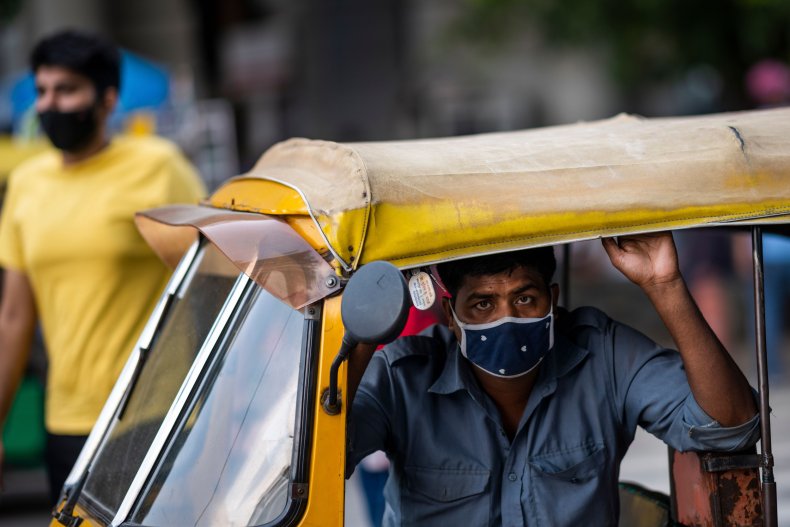 India, like the U.S., went into lockdown when the pandemic took hold but has since reopened many parts of its economy. At the end of August, the country began a new phase of reopening, with subway trains running again. The Delhi metro, the country's largest subway, started operating again Monday.
Tatem said that reopening economies following lockdowns have been consistently shown to be risky and to lead to increases in case numbers. How the country will handle the increase in case numbers is unclear, but Tatem said there may well be further growth before the situation is under control.
"It seems that just five of India's States have more than half of the reported cases, so just like the U.S., there are great geographical differences in transmission and these have been and will continue to change over time," Tatem said.
"Since June, all of the States have been reopening after lockdown, so this likely explains partially why the situation is getting worse. We may see case numbers rise sharply in other states too soon.
"The challenges of containing the disease are the sheer numbers of people, with lots of mobility and particular challenges in social distancing and control in very high population density cities, especially informal settlements. On the plus side, while case numbers have been increasing sharply, death rates appear to have stayed relatively low."
He said the risk of spread remains for countries across the world. "Unless we put in place lockdowns indefinitely, we must expect transmission events to take place and the key to stopping them escalating and spreading is putting in place rapid and efficient testing systems and being able to react quickly with control measures once local spikes have been detected."