Coronavirus Infects 1-Month-Old Baby in China, Health Officials Say
A baby in China has been diagnosed with the mysterious new coronavirus which has killed over 400 people, according to health officials.
The 1-month-old child named Jiang Moumou was confirmed to have the bug known as 2019-nCoV on Monday, the health commission of China's southwestern province of Guizhou said in a statement.
The baby has been placed into isolation at the People's Hospital of Guizhou Province, where she is receiving treatment. She was in a stable condition, according to the authorities.
Jiang was brought to Guizhou from abroad, and currently lives the Nanming District of Guiyang City of the province, officials said. It was not clear which country she arrived from.
The infant was among 10 new confirmed cases in Guizhou Province, southwest China, on Monday.
According to the World Health Organization, the little-understood virus can infect people of all ages. However, older people and those with pre-existing medical conditions like asthma, diabetes and heart disease, seem to be more vulnerable than others to falling seriously ill.
A study published in the New England Journal of Medicine last week detailed the cases of 425 people with the new bug. Of those patients, the average age was 59-years-old, in a range of 15 to 89.
Over 20 countries have confirmed cases of the virus since it emerged in the city of Wuhan late last year, including the U.S. as shown in the infographic by Statista below.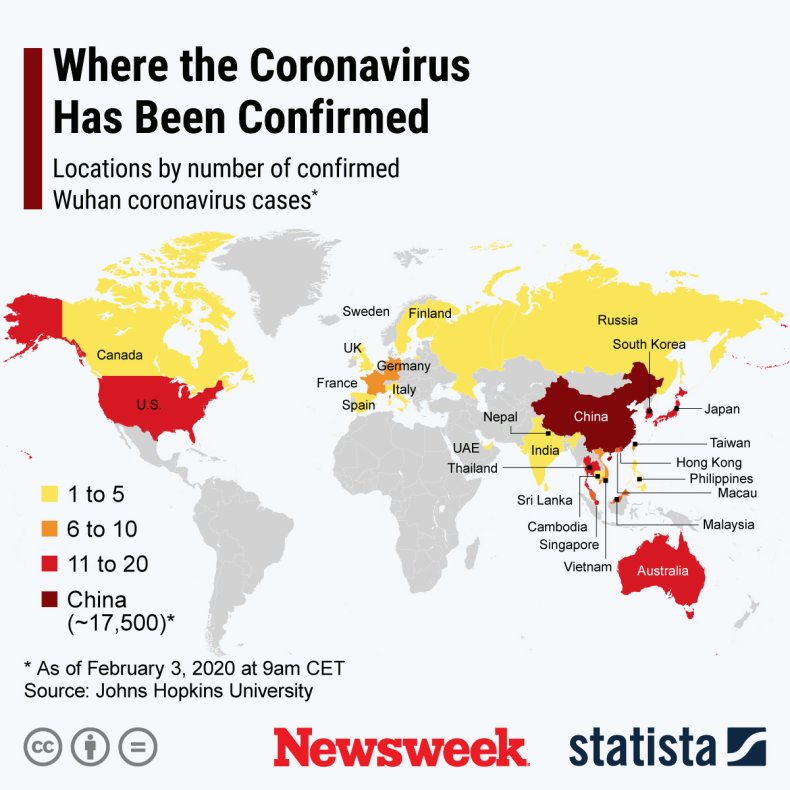 The WHO "advises people of all ages to take steps to protect themselves from the virus, for example by following good hand hygiene and good respiratory hygiene."
That includes cleaning the hands frequently with soap and water or an alcohol-based hand rub, and keeping up to 1 metre from other people "particularly those who are coughing, sneezing and have a fever."
As with any contagious respiratory condition, those who are sick should cover their mouth and nose when coughing or sneezing with a tissue or their flexed elbow. Tissues should be disposed of immediately, and hands cleaned.
2019-nCoV first came to the attention of health officials late last year, when workers at a wholesale seafood market in the central Chinese city of Wuhan, Hubei province, started to fall ill.
Since then, a total of 427 people have died—all but two in mainland China—in over 20,000 cases. The virus has now spread to over 20 countries, including the U.S., Thailand, South Korea, Australia, Vietnam, France, the United Arab Emirates, and India. There have been no cases reported in Africa or South America.
As scientists and healthcare workers are still learning about the new virus as each day passes there are no specific treatments for the condition. As the bug is a virus, antibiotics—which kill bacteria—therefore don't work to prevent or treat it, the WHO stresses.
Instead, a patient's symptoms must be managed, and those with a severe illness may need hospital treatment. Symptoms include a fever, a cough, and shortness of breath, which may appear between two or 14 days after a person is exposed, the U.S. Centers for Disease Control and Prevention states.