Coronavirus Infects 23 Iranian Lawmakers As Ayatollah Orders Military to Help Fight Spread
Iranian lawmakers were told Tuesday to avoid contact with the public after more members of parliament were confirmed to have contracted coronavirus.
The Associated Press—citing Iranian state television's Young Journalists Club program—reported that lawmaker Abdolreza Mesri told his colleagues they should isolate themselves from citizens because 23 more MPs had been diagnosed with the disease.
Iran—a regional crossroads—has been struggling to contain the spread of coronavirus and has confirmed at least 2,336 cases and 77 deaths since the outbreak began. The country has recorded the highest number of deaths outside of China, where the virus originated.
The Iranian outbreak is unique in that senior officials are among those affected. On Monday, for example, Mohammad Mirmohammadi—a 71-year-old aide to Ayatollah Ali Khamanei and a member of the Expediency Council—died.
The virus has also claimed the lives of former ambassador to the Vatican Hadi Khosroshahi and newly elected MP Mohammad Ali Ramezani.
Though the regime initially downplayed the outbreak, Khamenei said Tuesday he had ordered the military to assist in battling the spread of the disease. The regime has formulated plans to mobilize as many as 300,000 troops and volunteers to combat the coronavirus spread, AP reported.
"Whatever helps public health and prevents the spread of the disease is good and what helps to spread it is sin," Khamenei said. State television later showed him planting a tree while wearing disposable gloves.
Vice President Masoumeh Ebtekar—the highest-ranking woman in the government—was confirmed infected one day after she attended a cabinet meeting, sitting just yards from President Hassan Rouhani.
The death rate in Iran—around 3.3 percent—is significantly higher than in other countries, suggesting there may be far more infections than has been reported.
Internet watchdog NetBlocks said Tuesday that the Farsi-language version of Wikipedia was disrupted in the hours after Mirmohammadi's death was confirmed, raising concerns that the regime may again throttle internet access—as it did during anti-government protests last year—to suppress news of the virus' spread.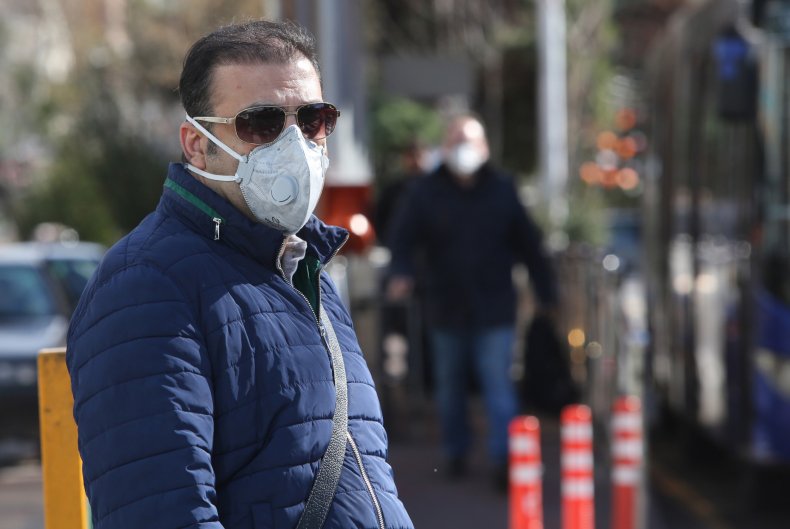 Some Iranian officials have dismissed international media coverage of the outbreak as part of a U.S.-led propaganda campaign to paint the regime as incompetent and stir up panic among the population. Conspiracy theories and false medical advice have also spread on social media.
President Donald Trump's administration—locked in an ongoing low-intensity conflict with Tehran—has offered assistance, but was rebuffed by the regime. On Monday, Iranian Foreign Ministry spokesperson Abbas Mousavi said Tehran is "doubtful" about the U.S. offer of help and added: "We do not need them."
There have now been more than 91,000 coronavirus cases confirmed worldwide, with more than 3,100 deaths. As the Statista infographic below shows, the vast majority have been in China.