Latest on Coronavirus: Timeline of Events Since the Start of the Outbreak in China
Thousands of people have been infected with the novel coronavirus and as experts work to learn more about the virus that hasn't been seen in humans before, more information continues to come to light.
The virus, named 2019-nCov, which causes a type of pneumonia, was first identified in Wuhan, China, in December. Since those first few cases, it's spread to more than a dozen countries, infected thousands of people, caused more than 100 deaths and prompted an international response to the outbreak.
Cases were first reported in December, but since the virus shares symptoms, such as cough, fever and shortness of breath, with many other illnesses, it's possible people were infected even months earlier. Columbia Professor of Microbiology and Immunology Vincent Racaniello told Newsweek it's possible the virus was "silently" circulating in people in October before it built up, and officials began to take notice.
The best way to pin down the start of the virus is to collect blood from people in the area and look for signs of the infection. By coupling that with questioning people if they've ever had a flu-like illness, Racaniello said you can "get a pretty good handle on when it started." But, he added officials won't have results of the serum samples for months.
Below is a timeline of the novel coronavirus outbreak and will be updated regularly as more information becomes available.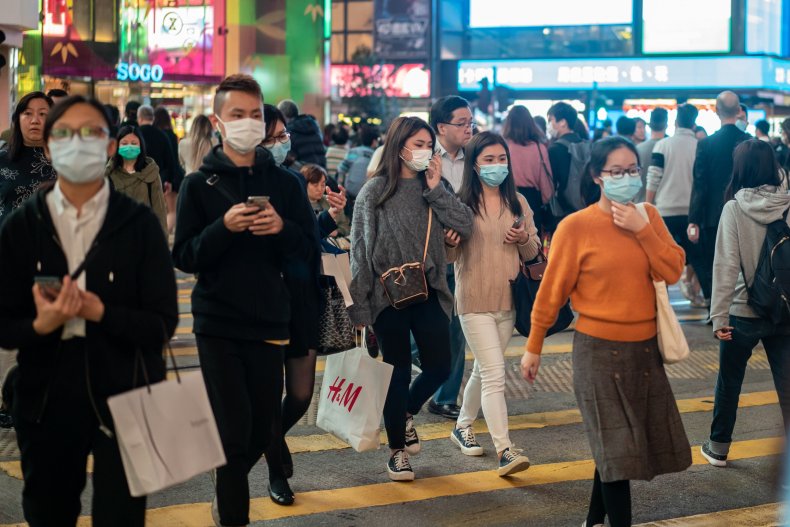 February 11
Confirmed cases in China rise to 42,708, including 1,017 deaths. Among those who perished in Wuhan is a 60-year-old U.S. citizen. Outside of China, there have been 393 cases and one death. WHO director-general Dr. Tedros Adhanom Ghebreyesus says during a press conference that he expects international cases to rise and urges countries to "strike hard" during the "window of opportunity."
February 7
Dr. Anthony Fauci, Director National Institute of Allergy and Infectious Diseases, says during a press briefing that officials had success with a potential vaccine. If there aren't any "glitches," human trials could begin in two and a half months.
February 6
Global cases rise to 28,285, including 560 deaths, according to the World Health Organization. Among those confirmed to have been killed by the virus is Li Wenliang, a Chinese doctor in Wuhan, who was reprimanded for warning people about the virus.
February 5
The Wisconsin Department of Health Services confirms the first case of the virus in Wisconsin. The patient traveled to Beijing, China, before becoming ill and is the 12th person in the U.S. to test positive.
Belgium reports the country's first case, according to WHO, as global cases rise to 24,554.
Two U.S. government-chartered flights from Wuhan arrive at Travis Air Force Base in California. The 350 passengers will be quarantined.
February 4
Confirmed cases of the new coronavirus surpass 20,000. WHO reports 20,630 global cases and 426 deaths.
February 3
Ghebreyesus confirm there were 17,389 confirmed cases in 24 countries and 362 deaths. Of those confirmed cases, 17,238 were in China, including 361 deaths.
February 2
Santa Clara County officials confirm a second case and officials in San Benito County, California, confirmed a husband and wife both tested positive. The wife became infected after her husband traveled to Wuhan, making her the second case of person-to-person transmission in the U.S.
A man in Massachusetts who recently traveled to Wuhan also tests positive for the virus, according to the Massachusetts Department of Public Health. These four patients bring the total number of U.S. cases to 11.
WHO also reports a man in the Philippines died, making him the first death from the virus outside of China.
January 31
Two people from the same family in the United Kingdom test positive for the novel coronavirus, according to Professor Chris Whitty, chief medical officer for England. It is the U.K.'s first cases.
The Santa Clara County, California, Public Health Department confirmed its first case of new coronavirus involving a man who recently returned home from Wuhan. On the same day, President Donald Trump issued a proclamation prohibiting non-citizens from entering the United States if they were in China within 14 days of their arrival and Health and Human Services Secretary Alex Azar declared a public health emergency.
January 30
Global cases jump to 7,818 and China reports 7,736. Of the cases in China, 1,370 are severe and 170 people died. Outside of China, there have been 82 cases in 18 different countries. The World Health Organization (WHO) reports cases in Malaysia, the Philippines, India and Finland. Italian Prime Minister Giuseppe Conte confirms Italy has its first two cases during a press conference, as well, according to Reuters.
The Centers for Disease Control and Prevention (CDC) confirms the first case of human-to-human transmission in the United States. The patient, a man in his 60s living in Illinois, is the spouse of a woman who recently visited Wuhan and diagnosed with the virus on January 24. Trump announces the formation of a coronavirus task force to lead America's response to the outbreak.
The WHO emergency committee meets to discuss the situation and makes a nearly unanimous decision that Tedros declare a public health emergency of international concern (PHEIC). Tedros reiterates this is not a reflection of China's preventative measures and criticizes countries for imposing travel restrictions.
January 29
Tedros calls for the emergency committee to reconvene to again discuss if the coronavirus situation should be declared a PHEIC.
There are 6,065 cases around the world and 132 deaths. The United Arab Emirates reports its first cases, a total of four.
The plane of U.S. citizens arrives at March Air Reserve Base in California. Passengers exhibiting symptoms are transported to a hospital and those who aren't are asked to stay on base in housing for more screening.
January 28
Tedros meets with Chinese President Xi Jinping and praises him for China's response to the outbreak. Cases jump to 4,593 around the world, with 4,537 of them in China. Deaths increase to 106 and three more countries–Cambodia, Sri Lanka and Germany–report cases.
In Germany, a person is infected after attending a training event with a woman who previously visited China. It's the first known case outside of China of the virus spreading between people who are not closely related or a health care worker.
A plane with about 210 U.S. citizens, mostly consulate personnel and their families, leaves Wuhan for the United States. The CDC recommends people avoid all travel to China and expands screenings at airports to 20 locations.
Scientists in Australia become the first to recreate the new coronavirus outside of China and will share their findings with WHO.
January 27
Tedros and WHO colleagues travel to Beijing to meet with government and health experts.
Officials estimate the incubation period for the virus is between two and 10 days, and it's unclear if a person can transmit the virus before experiencing symptoms.
There are 2,798 confirmed cases around the world and 80 deaths. Canada reports its first case.
January 26
A total of 2,014 cases are confirmed and Malaysia reports its first case. Of the 29 cases outside of China, 26 had a history of travel to Wuhan. The CDC confirms a fourth and fifth case in the U.S., involving two people–one in California and one in Arizona–who recently traveled to Wuhan.
WHO reports 56 deaths.
January 25
WHO confirms a total of 1,320 cases. Australia, Nepal and France report their first cases. A third case is identified in the U.S. The patient was found in Orange County, California, and recently traveled to Wuhan. Forty-one deaths are reported, all in China.
January 24
Cases increase to 846 globally. The majority, 830 cases, were reported in China and 11 have been confirmed outside of China.
Singapore and Vietnam report their first cases and a second case is identified in the U.S. The person lives in Illinois and recently visited Wuhan. Of the international cases, only one person in Vietnam had no travel history to Wuhan, but a family member who had the virus did visit the Chinese city.
The death toll increases to 25.
January 23
Confirmed cases jump to 581 with 571 of them reported from China. Hong Kong, Taipei and Macau all report cases. The death toll increases to 17, all involving people in the Hubei Province. The source remains unknown, but WHO rules out that it's no longer due to ongoing exposures to the seafood market in Wuhan. In the last week, less than 15 percent of new cases visited the market. WHO receives additional evidence that there is human-to-human transmission.
Chinese officials suspend travel into and out of Wuhan, locking millions of people inside the city. Additional travel restrictions will later be imposed in other cities within the Hubei Province.
WHO's emergency committee decides against advising Tedros to declare a PHEIC, citing a limited number of global cases and steps China took to prevent the virus from spreading.
January 22
Tedros convenes an emergency committee to determine if the outbreak constitutes a public health emergency of international concern (PHEIC).
January 21
WHO confirms 314 cases of 2019-nCov globally. Of those cases, 309 are in China, two are in Thailand, one is in Japan, one is in the Republic of Korea and the United States reports its first case. The death toll in Wuhan rises to six and many had underlying health issues.
The CDC confirms a person in Washington who returned from Wuhan on January 15 tested positive for the virus.
January 20
The Republic of Korea's National IHR Focal Point reports the country's first case. The patient also recently traveled to Wuhan. On January 20, China has 278 confirmed cases and three deaths.
January 17
The Centers for Disease Control and Prevention (CDC) announces the agency, in conjunction with the Department of Homeland Security's Customs and Border Prevention, will implement health screenings at three airports. Passengers traveling on direct or connecting flights from Wuhan to Los Angeles (LAX), San Francisco (SFO), or New York (JFK) will undergo screenings for symptoms associated with 2019-nCoV.
January 15
Japan's Ministry of Health, Labour and Welfare reports a case, also involving someone from Wuhan, China. Both Thailand and Japan begin screening people arriving from Wuhan.
January 13
Thailand's Ministry of Public Health reported the first case of 2019-nCoV involving someone who traveled from Wuhan.
January 12
China shares the genetic sequences of the novel coronavirus for countries to use in developing specific diagnostic kits.
January 11
The National Health Commission in China tells WHO the outbreak is associated with exposures to a seafood market in Wuhan. Chinese authorities also identify a new type of coronavirus.
December 31
The WHO China Country Office is informed of people in Wuhan, China, coming down with pneumonia due to an unknown cause. Between December 31 and January 3, national authorities in China report 44 case-patients to WHO.