Global Coronavirus Death Toll Now Exceeds 10,000 as Nearly 250,000 Infected Around the World
The COVID-19 virus continues, with confirmed cases now surpassing 245,000 globally—with more than 10,000 deaths. Over 86,000 people have recovered from infection to date, according to the latest figures from Johns Hopkins University.
The virus was first detected in China's Wuhan city of the Hubei province and the country claims it has been largely contained, reporting no new domestic cases. More cases have now been reported outside China than within. China has nearly 81,200 cases, with more than 3,100 deaths and more than 70,000 recoveries.
More first cases across the globe
A string of other countries, territories and areas around the world have reported their first infections in the last day or two, according to a report Thursday by the World Health Organization (WHO). They include:
Three in the African region;
Two in the Americas region;
One in the Eastern Mediterranean;
One in Europe; and
Vanuatu of the South Pacific region also reported its first positive case on Friday.
"The number of confirmed cases worldwide has exceeded 200,000. It took over three months to reach the first 10,000 confirmed cases, and only 12 days to reach the next 100,000," WHO noted in its report on Thursday.
The infected individual in Vanuatu was reported to be in quarantine, the country's health ministry confirmed. The country's national emergency operations center is managing its coronavirus response but testing options were reported to be limited following reduced international flights, Al Jazeera reports.
Americans told to avoid international travel and return to U.S.
The U.S. State Department raised its global travel advisory to Level 4 ("Do Not Travel"), advising U.S. citizens to "avoid all international travel due to the global impact of COVID-19."
The total number of confirmed cases in the U.S. has reached 14,250.
The U.S. death toll is at least 205, with more fatalities across the country, including the first deaths in Oklahoma, Mississippi and Maryland.
New York state saw 18 more deaths and Washington state had at least six more overnight, bringing the state total to 74.
California has issued a "stay at home" order, with California Governor Gavin Newsom writing in a letter to President Donald Trump that if no mitigation efforts are taken, over 25 million people (56 percent of the state) could be infected over the next eight weeks.
The State Department said: "In countries where commercial departure options remain available, U.S. citizens who live in the United States should arrange for immediate return to the United States, unless they are prepared to remain abroad for an indefinite period. U.S. citizens who live abroad should avoid all international travel."
There are already 21.3 million people across 20 California counties under lockdown orders similar to the latest one issued in the state, NBC San Diego reports. Newsom stated: "We are confident the people of the state of California will abide by it [the latest order]. They'll do the right thing,"
Maryland also reported a 5-year-old girl from Elkridge Elementary School has contracted the virus, making her the youngest in the state to be infected, Howard County officials confirmed.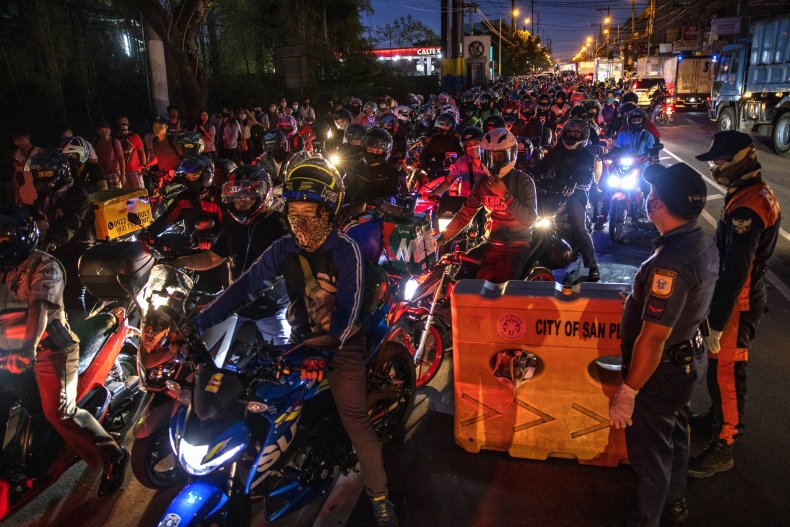 Italy death toll surpasses China
The death toll in Italy, which has reported more than 3,400 fatalities, has overtaken the death count in China, which has reported nearly 3,133 deaths.
Italy reported 427 new deaths on Thursday, slightly less than the previous day when it had a record number of 475 newly reported fatalities, the highest increase in a day since the outbreak began.
The total confirmed cases in Italy has now reached 41,035, marking a 14.9 percent increase on its previous count which was 35,713. The latest figure indicates a faster rate of growth than seen over the last three days, the country's civil protection agency confirmed.
Around 4,440 people were reported to have fully recovered from infection on Thursday, compared with 4,025 the day before. Around 2,500 people were reported to be in intensive care, which is nearly 250 more than the previous day, which saw 2,257 placed in intensive care, Reuters reports.
The graphic below, provided by Statista, illustrates the spread of the COVID-19 virus across the world.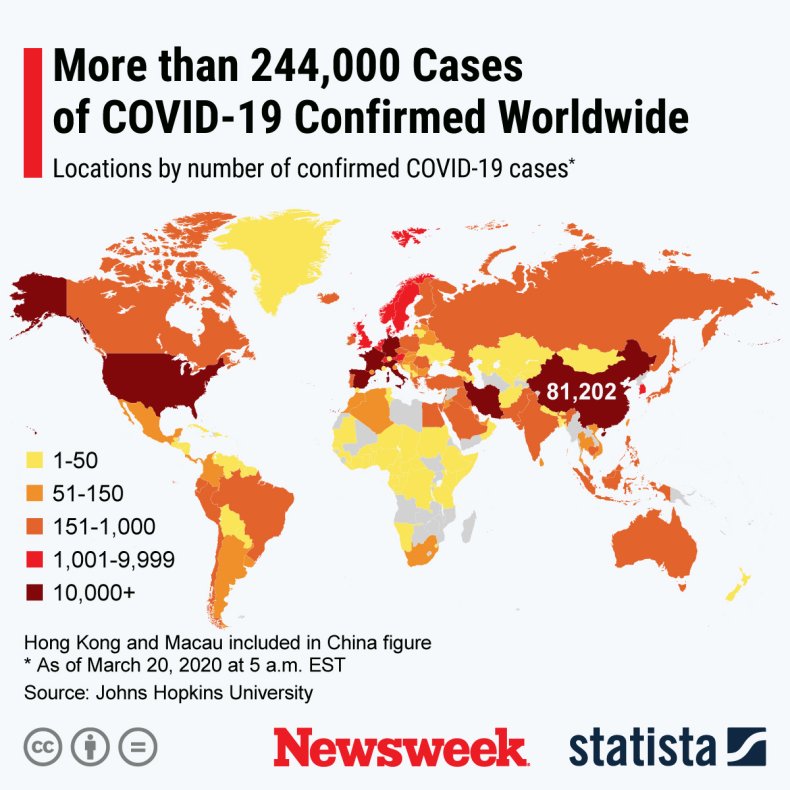 U.S. citizens stranded abroad following travel restrictions
Several Americans are said to be stranded overseas, including in Honduras, Morocco, Peru, and Tunisia, due to flight suspensions and other travel restrictions.
Various airlines operating across Latin America, including in Peru, Argentina and Chile, have cut services following the month-long international travel bans issued by Panama and Colombia, Reuters reports.
A group of U.S. senators has asked Secretary of State Mike Pompeo for clarification on chartered flight and facilitating the return of Americans abroad.
The latest measures issued by Panama and Colombia are among the strictest regional bans so far. It follows Peru, Argentina and Chile, which also saw severe cuts on international flights from major airlines including LATAM, the continent's largest carrier.
A letter signed by leaders from the U.S. Senate Committee on Foreign Relations, including New Jersey Senator Cory Booker (a former presidential candidate), was sent to Pompeo stating their "urgent concern regarding the support being provided to American citizens overseas, including those seeking to return to the United States..."
"In particular, Americans in Honduras, Morocco, Peru, and Tunisia, among other countries, have reported to our offices that they are encountering difficulties in obtaining support from U.S. Embassies and Consulates, including to arrange commercial flights home. In some cases, they are reporting that they are unable to establish contact with, or receive even basic information from, U.S. Embassy personnel.
"To that end, we seek an immediate clarification regarding your current efforts to facilitate the return of Americans to the United States, whether by commercial airline flights, charter flights, or other means," the letter said.
"Recent statements by Department officials and press reports that it will not, as a matter of course, provide chartered flights home, have led to confusion among many Americans overseas. In addition, existing travel advisories do not seem to account for the spread of coronavirus, which is only adding to confusion among many Americans overseas.
"Every American should be confident that they have the full support of their government and of the Department, including those who are seeking support to return to the United States," the letter concludes.
The Philippines ban entry to foreigners
The Philippines is no longer issuing visas to foreigners "until further notice" to help curtail the spread of the virus.
The country has reported 217 cases to date, including 17 deaths, most of which were reported within the past two weeks, Reuters reports.
Foreign nationals already in The Philippines are allowed to leave.
The Philippines Department of Foreign Affairs (DFA) announced that "it is temporarily suspending visa issuance in all its Foreign Service Posts effective immediately and will be valid and effective until further notice," in a post on its official Twitter account on Thursday.
The country's Foreign Secretary Teodoro Locsin Jr. said: "If this [the ban] inconveniences foreign nationals, we will ease the way for them. This is not a time to teach people lessons, force them to depend on themselves; but for us to help. Teaching lessons is for teachers—not officials. It is not that we're paid to help but helping is duty," he wrote in a post on his official Twitter account.
More than half of the country's total population of nearly 107 million is under a month-long quarantine, Reuters reports.
Data on COVID-19 cases is from Johns Hopkins University unless otherwise stated.
The graphic below, provided by
Statista
, illustrates the recovery curve compared to the infection curve of the virus.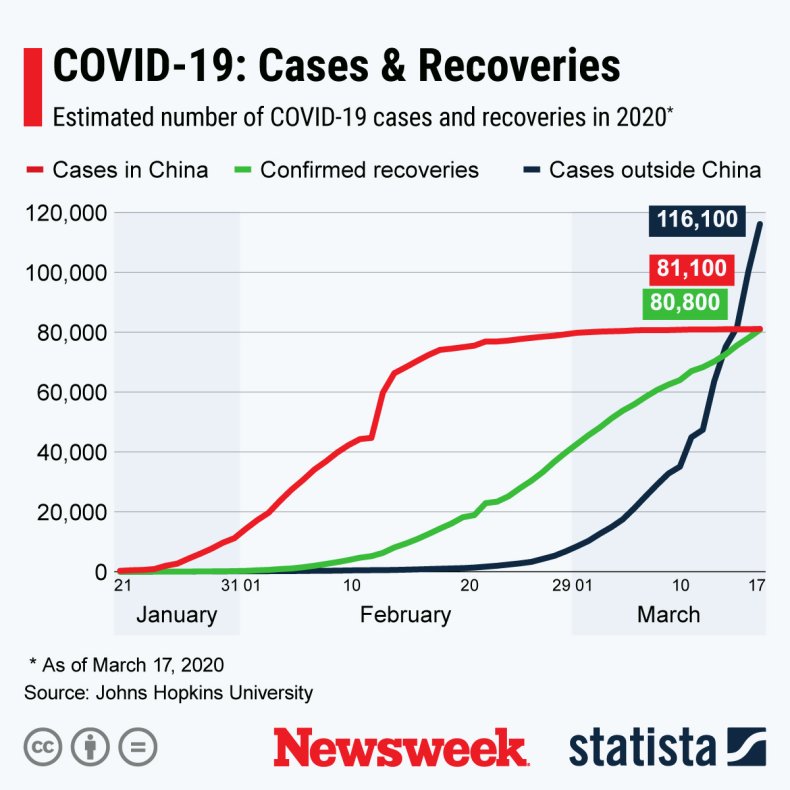 World Health Organization advice for avoiding spread of coronavirus disease (COVID-19)
Hygiene advice
Clean hands frequently with soap and water, or alcohol-based hand rub.
Wash hands after coughing or sneezing; when caring for the sick; before; during and after food preparation; before eating; after using the toilet; when hands are visibly dirty; and after handling animals or waste.
Maintain at least 1 meter (3 feet) distance from anyone who is coughing or sneezing.Avoid touching your hands, nose and mouth. Do not spit in public.
Cover your mouth and nose with a tissue or bent elbow when coughing or sneezing. Discard the tissue immediately and clean your hands.
Medical advice
If you feel unwell (fever, cough, difficulty breathing) seek medical care early and call local health authorities in advance.
Stay up to date on COVID-19 developments issued by health authorities and follow their guidance.
Mask usage
Healthy individuals only need to wear a mask if taking care of a sick person.
Wear a mask if you are coughing or sneezing. Masks are effective when used in combination with frequent hand cleaning.
Do not touch the mask while wearing it. Clean hands if you touch the mask.
Learn how to properly put on, remove and dispose of masks. Clean hands after disposing of the mask.
Do not reuse single-use masks.
Global Coronavirus Death Toll Now Exceeds 10,000 as Nearly 250,000 Infected Around the World | World