What does Boris Johnson Need to do Before Easing the Lockdown?
Prime Minister Boris Johnson returned to work today following a three-week absence after being diagnosed with coronavirus.
Yet on his first day back, he faces increasing pressure from businesses and his own party members to set out an exit strategy from the coronavirus lockdown in the U.K.
What are the next steps Johnson should take?
According to Professor David Heymann from the London School of Hygiene and Tropical Medicine, many governments went into a lockdown "without thinking of how to come out of one."
Heyman tells Newsweek that there a "number of criteria that had to be considered" by leaders before deciding to ease up restrictions.
He said: "The first issue is understanding the scale of transmission.
"The second is that the government needs to understand the prospect of immunity, which we don't know much about yet."
In recent weeks, it had been suggested that immunity passports be issued to those who have recovered from the illness so they can return to work or travel.
However, the World Health Organization warned governments not to rely on immunity passports, as there was "no evidence that people who have recovered from COVID-19 and have antibodies are protected from a second infection."
That is not the only issue when deciding whether to allow those who have already had the virus out into public again
"Even if people do develop immunity themselves, we need to know if that means they can't pass it on to other people," Dr. Sridhar Venkatapuram, of the Global Health Institute at King's College London, tells Newsweek.
Another step before lockdown is eased, Heymann says, is ensuring those with pre-existing health conditions, the elderly and other vulnerable groups are fully protected.
To ensure that before any decision is made, he says, the government needs to make sure the population properly understands how to protect themselves and others.
"The confusion over the use of face masks is just one example of the lack of understanding that exists," Heymann says.
Dr Venkatapuram said that the current debate seems to be fixated on a "trade-off between public health and the economy" but that any consideration of lifting lockdown also had to include the impact it was having on issues such as "education, socializing and sport."
He told Newsweek: "There's a real desire to know when the number of cases has peaked, but people are coming to understand that this will not just be one wave."
He said that it would be "implausible and irresponsible to suddenly lift the lockdown" but that the government also had to look at how the development of young children had been affected by the lockdown and who would need government support.
Dr Venkatapuram also cautioned against the belief that things could go back to normal as soon as a vaccine was found, because a vaccine was not "guaranteed" and could take as long as two years to be found.
This means that a lockdown or a social distancing of some sort is likely to remain for a prolonged period of time.
The easing of the lockdown might also be done regionally first, though how this is managed and enforced is a difficult job to get right.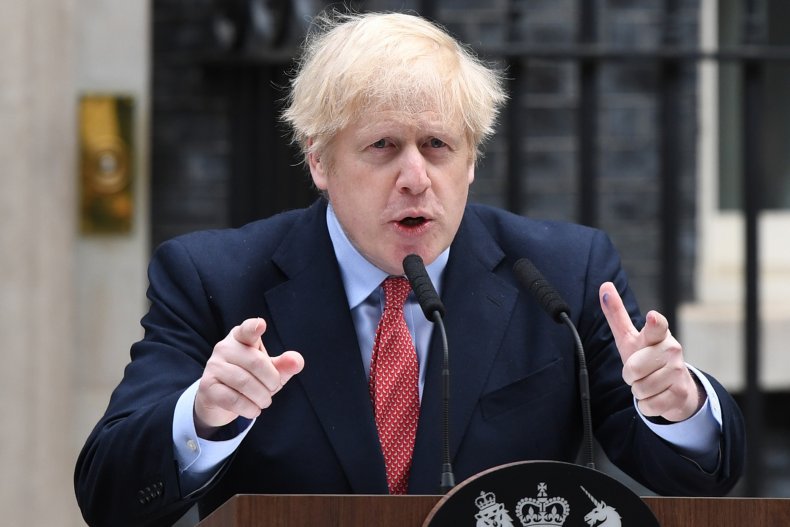 "The easing of lockdown restrictions is likely to be phased and be done geographically, with areas where there are fewer cases unlocked first," Heymann says.
"This would then be able to provide the government with useful insights into how to then ease the lockdown in worse affected areas."
Dr Venkatapuram also called on the government to make sure that vulnerable groups are protected.
"To continue the lockdown as it is, would lead to long term suffering among disadvantaged groups," he said.
Those from BAME communities and lower socio-economic backgrounds are at a higher risk, Venkatapuram says, from the impacts of a rise in cases that could occur should the lockdown be eased.
This can particularly be felt in the health system:
"The lockdown didn't just shut down the economy, we've also shut down the health system," he says.
"There are millions of people that have not been going to the doctors or getting surgeries, there is a backlog in the health care system.
"When it comes to next steps and easing lockdown measures, the government needs to think about how to deal with the backlog."
The prime minister urged people not to lose patience with the lockdown.
Appearing on Downing Street today, three weeks after being hospitalized for coronavirus Johnson told the country that the U.K. was "beginning to turn the tide" in the fight against the coronavirus but that easing restrictions would be to "throw away all the effort and the sacrifice of the British people and to risk a second major outbreak" of the coronavirus.
The government has five tests for adjusting the lockdown:
"We must protect the NHS' ability to cope. We must be confident we are able to provide sufficient critical care and specialist treatment right across the UK."
"We need to see a sustained and consistent fall in the daily death rate from coronavirus so we can be confident we have moved beyond the peak."
"We need to have reliable data from SAGE showing that the rate of infection is decreasing to manageable levels across the board."
"We need to be confident that the range of operational challenges including testing capacity and PPE are in hand with supply able to meet future demand."
"We need to be confident that any adjustments to the current measures will not risk a second peak of infections that overwhelm the NHS."
Downing Street has been contacted about whether any of these five tests have been met.