The Apocalypse, Dystopias, and Social Distancing: Study Explores People's Weird Covid-19 Dreams
A study exploring whether Finland's COVID-19 lockdown affected sleep and dreams has revealed people had nightmares about topics ranging from the apocalypse to social distancing.
To explore whether the coronavirus lockdown in Finland affected people's dreams, the authors of a paper published in the journal Frontiers in Psychology recruited 4,275 volunteers. They answered questions about their sleep on the sixth week of the country's lockdown.
A further 811 people detailed the content of their dreams during the same period. The participants were aged 42 on average, and 79 percent were women, 19 percent men, and 2 other or unspecified.
In mid-March, the country imposed restrictions including closing schools, most public facilities like libraries, banning meetings of over 10 people, and advising the over 70s to isolate. Some were eased in early May.
Over half of the participants in the study (54.2 percent) said they slept "substantially more" during lockdown, the team found, 28.6 percent woke up more during the night, and more than a quarter (26 percent) said they had more nightmares than before the pandemic. Most respondents (56 percent) said they felt more stressed than before the pandemic.
Of all the dreams the participants had, 50 percent had some link to the COVID-19 pandemic. Those who felt most stressed were more likely to dream about the pandemic, as well as have nightmares, and disturbed sleep.
The team broke down the content of dreams into lists of nouns, and tracked common themes.
Some 33 topics emerged. 20 were related to bad dreams, of which 55 percent were to do with the pandemic, including disease management, disregard for social distancing, and the elderly being in trouble. Other themes included coronavirus contagion, personal protective equipment such as masks, dystopias, and the apocalypse.
The team worked with the largest newspaper in Finland to recruit participants for their study over the course of a week. Most people were adapting to new ways of life at this time, co-author Dr. Anu-Katriina Pesonen, head of the Sleep and Mind Research Group at the University of Helsinki, told Newsweek.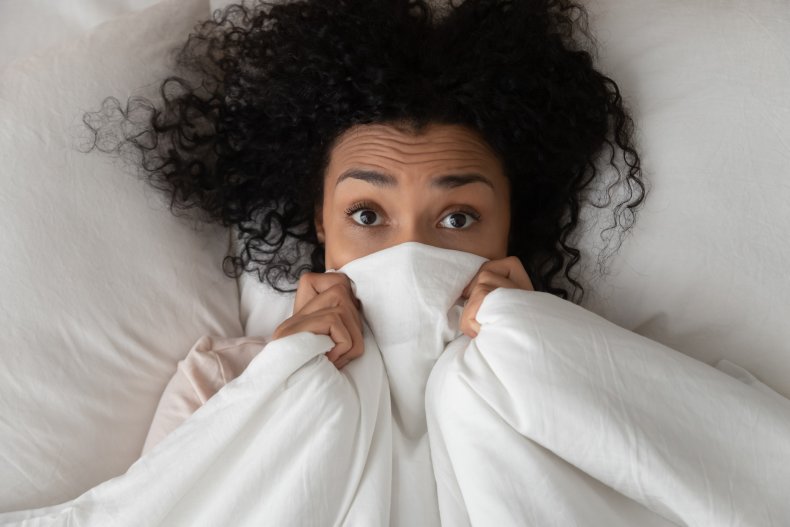 Newsweek asked Pesonen whether the study suggests our dreams are not as unique as we would like to imagine. She said "this is exactly how we see it. We are used to thinking of dreams as extremely private, and this study showed that this might not be the case. Where the environment poses us similar challenges, they are carried into dreams in rather similar form."
Pesonen went on: "Dreams can provide important information of the key sources of stress, anxiety and adaptation. Interpreting your dreams can be a valid method to increase self-understanding. Our study also tells, that dreams may have social and societal dimensions, that can be shared and analyzed together."
The study was limited, Pesonen said, because they do not know whether the participants' were more likely to report dreams specifically about the pandemic, so data on how often different topics crop up in the study should be approached with caution.
Dr. Christine Won, medical director of the Yale Centers for Sleep Medicine who did not work on the paper told Newsweek the team's approach to analysing dreams was "fascinating." However, she said the study was limited because the team relied on the participants to accurately report their stress levels and the content of their dreams.
"It is possible that more stressed persons would be more likely to recall or report more disturbing dreams, or interpret and express their dreams in that context," she said.
Jennifer Windt, senior research fellow in philosophy at Monash University is currently researching investigating the impact of the pandemic and pandemic-related concerns on dreams and daydreams. Windt, who was not involved in the Frontiers in Psychology paper, told Newsweek it was not clear whether participants reported their dreams immediately after waking up in the morning. We tend to remember dreams in the morning that happened just before awakening, she said, whereas those which we recall after a few hours or days were likely particularly emotionally intense or had striking content.
"Depending on when the dreams were collected, it might tell us more about which dreams people find memorable than about how much their dream lives—including the numerous forgotten dreams we all experience throughout the night—have actually changed," said Windt.
This article has been updated with comment from Dr. Christine Won, and Jennifer Windt.