Poverty and Racism Cause COVID Lockdowns, Not 'a Mystery', Campaigners Say
England has begun enforcing local COVID-19 lockdowns, similar to the state-by-state differences in the U.S., with some areas having to go back into lockdown because of a spike in cases while other parts of the country are allowed to move more freely.
Public health officials in the U.K. have identified two more "areas of intervention" following a recent spike in the number of COVID-19 cases.
Luton, a town 30 miles north of London, and Lancashire towns Blackburn and Darwen in north-west England have both reached the highest level on the COVID-19 watchlist.
They join Leicester and surrounding areas which were subjected to the U.K.'s first full local lockdown, as restrictions are eased in other parts of the country, while still attempting to control the spread of the virus.
So why is COVID-19 spiking in some areas and not others?
All these places have enough in common for some to question whether a pattern is emerging: all of them have higher than average populations of people of color - referred to in the U.K. as Black, Asian and minority ethnic population or BAME - and lower than average incomes.
The reaction to this pattern has surfaced in a number of ways, with charities warning of a spike in anti-Islamic attacks as lockdown lifts because of the unsubstantiated belief that Muslims and other ethnic minorities are more likely to break lockdown than others.
During the nationwide lockdown, black people in London were twice as likely to get fined for breaching rules than white people. People from Asian backgrounds were a quarter more likely. The police force in London said the issue was "complex" and "reflect a range of factors" but Leroy Logan, a former Metropolitan Police superintendent, said that this disparity was because the police force is "still institutionally racist."
However, areas with high poverty and racial inequality levels always meant a spike in cases was inevitable, according to community activists who work with charities and vulnerable people in one of the areas affected.
It wasn't a level playing field going into the pandemic and it won't be when coming out of it, according to community representatives in Luton, which has been billed as the U.K.'s worst-hit town from the pandemic.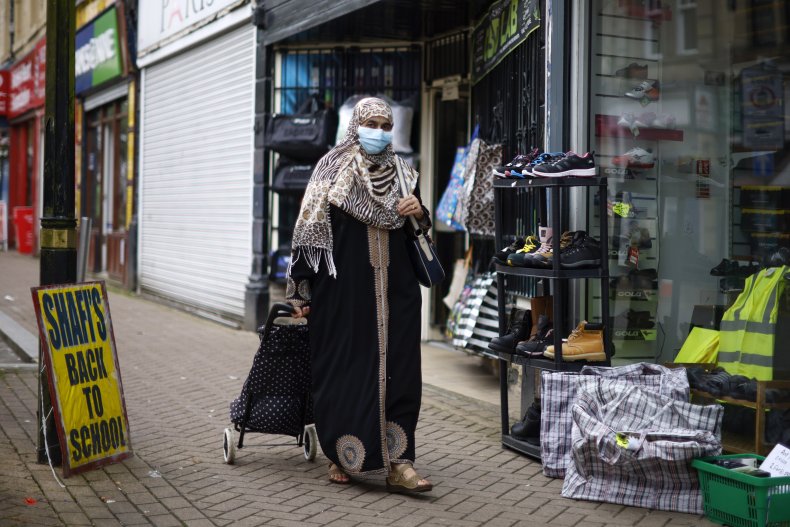 A third of the population of Blackburn is from an Asian background, 30 percent in Luton and 37 percent in Leicester, according to most recent census data.
People with Asian heritage amount to 6.8 percent of the country's population as a whole.
Baroness Harding, the head of the U.K. health service (NHS) Test and Trace service, told the BBC there are particular concerns about coronavirus spreading in South Asian communities in England.
She said: "We are all learning what makes different communities, different professions, different parts of the country more vulnerable."
"I don't think there's a simple answer to say why one place and not another.
"There are a mix of things – certainly we are seeing a very high prevalence in the South Asian community across the country."
Dr. Marina Soltan, National Institute for Health Research academic clinical fellow, respiratory medicine, is in no doubt that there's a link between deprivation, poverty, overcrowding and air pollution which affects BAME communities disproportionately, and those who present with COVID-19 and suffer from pneumonia.
"Our study findings suggest that people who are admitted to hospital with the coronavirus from BAME backgrounds are far more likely to be admitted from regions of higher air pollution, higher household overcrowding, deprivation and poorer housing quality," she tells Newsweek.*
Dr. Soltan called people to be led by science to support a greater understanding of the role of social detriments on health.
Newsweek spoke to those who work with community organizations in Luton who say poverty and racial inequality have been ignored by those choosing to focus on racial and religious background.
"It's almost inevitable that when the prime minister started encouraging people to go out, get the economy going again, what did you expect was going to happen in towns like Luton?" asks Rehana Faisal from Luton Mosques.
Luton is a town where more than 4 in 10 children live in poverty, according to the End Child Poverty coalition.
Faisal says many parents have no choice but to get back to work as quickly as possible, albeit those from BAME backgrounds are also overrepresented in high-risk public-facing roles that makes them more vulnerable.
She says: "We've got people in jobs where they are unable to work from home, have lots of people who are working in precarious employment and zero-hours contracts, we've got lots of people in those public-facing roles in Luton and we have people who are overrepresented as taxi drivers, delivery drivers and the self-employed, there's not enough financial support or them, they don't have the luxury to stay at home have to go out high-risk roles."
Around 12.8 percent of workers from Bangladeshi and Pakistani backgrounds are employed in public-facing transport jobs such as bus, coach and taxi driving, compared with 3.5 percent of white people, according to the Office for National Statistics (ONS).
Faisal says: "Clearly the data from public health has shown that a relationship exists between many of the socio-economic factors and the prevalence of COVID-19 in BAME communities.
"If you are in a public-facing role, it's clear that you will be at greater risk. If you are from an ethnic minority community, you are more likely to be in public-facing roles, you are more likely to be in care roles, we're overrepresented in the NHS and in care roles and hospitality, especially in those front-facing customer services roles."
One in five of the NHS's nursing and support staff are BAME, but they comprise two-thirds of coronavirus deaths among such workers.
Another risk factor associated with the spread of COVID-19 has been overcrowded housing which particularly affects those from south Asian backgrounds.
According to the ONS's analysis of English Housing Survey data from between 2014 and 2017, Bangladeshi families were 15 times more likely than average to experience overcrowding than white British households, while Pakistanis were eight times more likely and black people six times more.
Concerns have also been raised that the government's track and trace, an NHS service designed to help track and stop the spread of the virus, hasn't been effective in areas with a high BAME demographic due to language barriers.
Rehana says: "Track and trace is not working in the areas that need it most, we already know, it's not the most successful.
"Luton is what they call a super diverse town, with lots of different ethnic minority people living here and people should have the best chance of understanding what the rules are, what to do to get help and who to contact, we've had mosques doing a lot of that work because we haven't had it done centrally.
"There are Roma communities, Eastern European communities for example that would also need this support and messaging hasn't been there."
Peter Adams, vice-chair at Luton Foodbank, says he is not surprised by the rise of cases in the town.
"There's a huge amount of pressure on low-income families to get back to work, even though it may not be terribly safe because they need the money," he says.
"They're returning to work before they're really comfortable with it because they're just so desperate for the money. Those people are more vulnerable than those of us who are privileged enough to work from home, whether that's taxi drivers, restaurant industry, or cleaners in hospitals."
Adams says that use of the foodbank has increased over the years and usually provides 250-300 food parcels for individuals a week, a figure that increased to 400 in the immediate weeks following lockdown.
"We know anytime soon it's going to rise again, there is a huge level of real poverty with very little buffer amongst the people of Luton," he says.
"There are families I'm dealing with are low-income, zero-hour contracts, they are immediately vulnerable, as soon as there's no work the next day or week they've got nothing."
Adams says the pandemic has exposed inequalities in wider society and is frustrated by the way that sections of the community have been reported on, portraying them as uniquely likely to break the law, which has opened them up to hate crimes without understanding the inequalities.
It's something Faisal describes as incredibly tragic.
"What's most devastating is rather than acknowledging the service that ethnic minorities are giving, the difficult circumstances they are facing, the poverty, the NHS work, working in care, delivering frontline services and therefore at risk, what we are facing is a barrage of islamophobic racist abuse online and in-person as well."
A U.K. government spokesperson said they were still trying to figure out why there were disparities in infection and death rates among different racial groups.
They said: "From the very beginning of this crisis, we have followed the advice of our world-leading scientists and medical experts, taking the right measures at the right time to defeat coronavirus.
"As we've said, we're prepared to put the brakes on and increase lockdown measures again if we see a significant rise in local cases.
"The government is swiftly working to understand the key drivers of disparities in infection and death rates, and the relationships between the different risk factors. We are taking forward the work of Public Health England's recent Disparity Review, which will help us make a real difference to people's lives and protect our communities from the impact of the coronavirus."
*Study methodology
Led by Dr. Marina Soltan at the University of Birmingham, the research analysed data from 408 hospitalised COVID-19 patients admitted to the Queen Elizabeth Hospital in Birmingham between 1 March and 13 April 2020. Patient postcodes were analysed according to their rating on the Index of Multiple Deprivation (IMDS), which takes into account the levels of crime, education, health and disability, income, employment, barriers to housing and services (BHS) and living environment (LE) of a particular area.