Eric Garcetti's L.A. Stay-At-Home Order Blasted By Californians
Los Angeles Mayor Eric Garcetti's new stay-at-home order has received a backlash on social media regarding the several exemptions that come with it. Several Twitter users called Garcetti out for not imposing tighter restrictions and for the confusion around some of the rules under the new lockdown order.
Claudia Peschiutta, a reporter for Southern California's KNX 1070 radio station, tweeted: "Maybe we should just called this the stay at home as much as possible order."
Jeremiah Dobruck, a breaking news editor at California's Long Beach Post, described the latest measure as "The use-good-judgement-when-you-go-out order," in a post on Twitter.
Author Don Winslow noted: "The time for Los Angeles to act was months ago. You chose policies that spread the virus. You bent to pressure, refused to enforce orders and people died as a direct result of your lack of leadership. That's the truth and history will record it."
Actress Kristy Swanson tweeted: "[California Gov. Gavin] Newsom probably didn't like all the hypocrisy press he's been getting. So in order to take his name out of the headlines he made Garcetti take one for the team. All eyes on LA now."
Garcetti's latest order follows an updated Los Angeles County Health Officer Order, which went into effect across the county last week from November 30.
Alex Stone, an ABC News Radio correspondent in California, noted: "Confusion in LA over Mayor Garcetti's updated stay at home order mandating people remain at home. The mayor's office tells us nothing new is happening. All they did was update the order from earlier this year to mirror the county's order from days ago. Nothing new in LA tonight."
Elise Hu, a host at TED Talks Daily based in Los Angeles, tweeted: "Man, what a mess. City of LA issued an alert that says all are 'hereby ordered to remain in their homes,' but clarifies that actually the order is the same as LA County's. Can leave to go work, shop, exercise...
"Maybe a city govt should read back its emergency alert texts at least a couple times before blasting it to phones And maybe we should take a break from using 'hereby' given its laughable uses this election season," Hu noted in another tweet.
User @IAMSadeSellers said: "LA City is shutting down except it isn't shutting down but you better shelter in place and no Garcetti isn't going to pay you a dime for losing your job but you will get fined $500 if you're caught breaking the order but EDD is providing $300/week oh ya and your rent is due BYE," in a tweet that has received at least 496 likes since it was first posted on Thursday.
User @jamieloftusHELP said: "Calling garcetti useless and inefficient is too kind. he's actively harmful. he's a coward who is desperately trying to make it SEEM like he's taking action to protect people, then reveals in the fine print that he only gives a f*** about protecting big money. f***. YOU," in a tweet has received at least 1,000 likes since it was first shared on Thursday.
Newsweek has contacted the mayor's office for comment.
The latest stay-at-home order comes as total confirmed cases in California approach 1.3 million, with 414,549 total confirmed infections in Los Angeles, as of Thursday, according to Johns Hopkins University.
Los Angeles County has seen a "recent substantial rise in COVID-19 cases, hospitalizations and deaths," the Los Angeles County Department of Public Health said in the updated health order issued on November 28.
"Over the last five (5) calendar days, the County of Los Angeles is averaging over 4,500 newly diagnosed COVID-19 cases per day. Between November 13-27, 2020, hospitalizations of confirmed COVID-19 patients have increased by 101 percent to 1,893.
"The Health Officer expects both the number of new cases and hospitalizations to continue to rapidly increase over the next 21 days. Without rapid public health interventions, continued and substantial increases in both cases and hospitalizations will stress the health care system. This stress will limit the availability of Intensive Care Unit beds for non-COVID-19 hospitalizations," the order warned.
The daily case tally in California is expected to reach around 34,370 by Christmas, while the state's total death count is could hit 21,462 on the same day, according to the latest projections by the Institute for Health Metrics and Evaluation (IHME) at the University of Washington.
These figures are expected to be reached with "continued easing of social distancing mandates" and if "mandates are not reimposed," according to the IHME.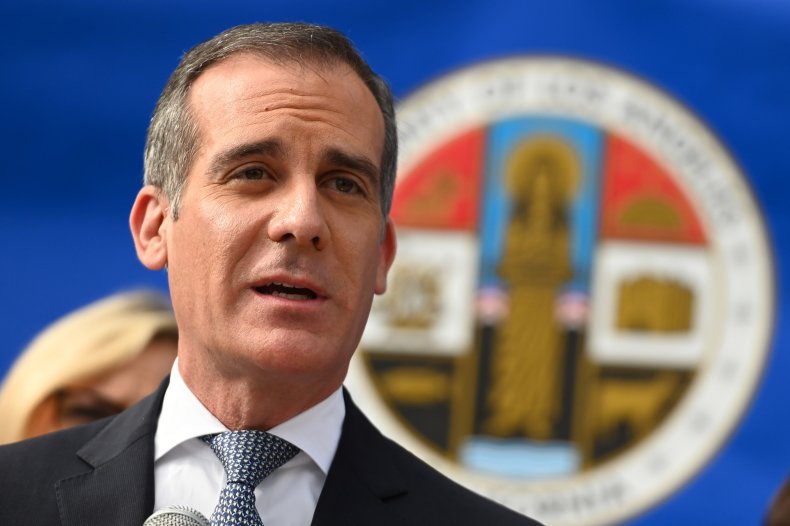 The wider picture
The novel coronavirus has infected more than 64.6 million people since it was first reported in Wuhan, China.
More than 1.4 million people have died worldwide and more than 41.5 million have recovered as of Thursday, according to Johns Hopkins University.
The graphic below, produced by Statista, shows the number of current COVID-19 hospitalizations in the U.S.