Will Coronavirus Impact The Future Of Medical Tourism? Thousands Forced To Cancel Trips Amid COVID-19 Outbreak
Tens of thousands of people in the U.S. who had planned trips abroad to access affordable medical and dental care in March are likely to have been forced to cancel their plans due to the coronavirus outbreak, according to Patients Beyond Borders, a consultancy providing information on medical tourism.
Each year, hundreds of thousands of people in the U.S. are estimated to travel abroad to countries like Mexico, Costa Rica, Thailand, Israel and beyond to access a range of procedures, including dentistry, cosmetic surgery, cardiovascular surgery, orthopedics, reproductive care and experimental cancer treatments.
By traveling abroad, Patients Beyond Borders, (PBB) estimates that medical travelers can generally save anywhere from 20 to 80 percent on treatments, with those seeking treatment in neighboring Mexico often able to save around 40 to 65 percent on treatments.
In the wake of the coronavirus outbreak, however, with countries around the world restricting entry at their borders, the majority people who had planned to travel abroad for elective or non-urgent procedures have seen their plans grounded for the time being.
"Judging from dozens of conversations with medical tourism stakeholders in Mexico and around the globe, it's safe to say that 90+percent bookings were cancelled in March," Josef Woodman, the CEO of PBB told Newsweek.
With some 1.4 million Americans expected to "cross borders for care in 2020," Woodman said, "it's safe to say that at least 100,000 patients [would have] canceled their medical or dental trips in March, with some 500,000 cancellations on the horizon through Q3 2020."
Even if patients were still able to travel outside the U.S., Woodman said, "because clinics are closed and hospitals not treating elective conditions, few patients would be able to find care even if they tried."
In the midst of the pandemic, instead of looking abroad, Woodman said, "it looks as if the only medical tourism business is domestic, that is, patients traveling within country for treatment, including expats."
"Even this has reduced to a trickle," he said, however. "Particularly for dental treatments," which Woodman described as "the antithesis of distancing," and which are estimated to typically make up more than 70 percent of all U.S.-outbound medical travel visits.
For Jim Polsfut, the CEO of the North American Specialty Hospital (NASH), a network of medical travel providers that includes Galenia Hospital in Cancun, Mexico, the hit to the industry is one that businesses will simply have to "hunker down" and bear.
NASH typically has a number of beds and resources at hospitals that are part of the network reserved for patients who use the service. However, in the wake of the pandemic, Polsfut said the network has released them so they can be used in the response to the coronavirus outbreak.
"All that has stopped. At this point, we're not seeing any patients and no one's getting on an airplane, no one's leaving their houses, unless they're in an essential industry, for anything," he said.
"We will hunker down and essentially suspend our operations while the world focuses on a very serious and worrisome pandemic and when this ultimately abates and the world goes back to some sense of normalcy, NASH will start up again, just as many other industries will start up again," Polsfut said.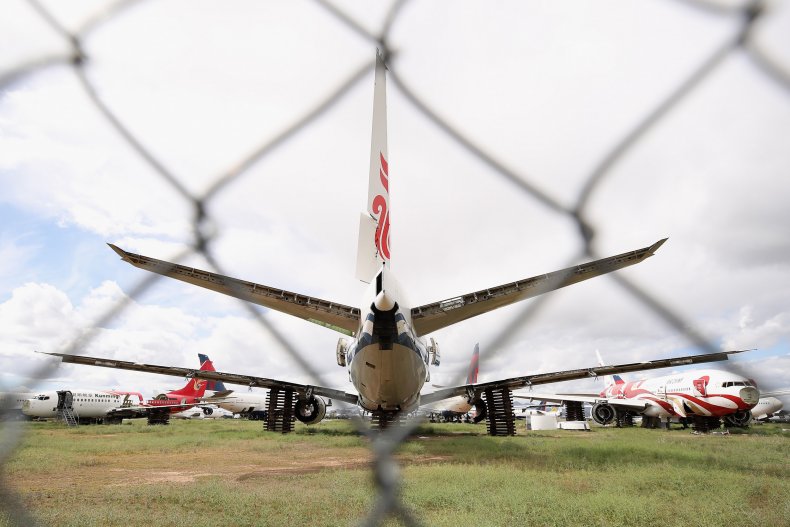 Asked whether he had concerns that the pandemic could curb interest in medical travel in the years to come, Polsfut said he believed the U.S. healthcare system had "devolved" into something so "dysfunctional" that people in need of treatment would likely always feel pushed to look outside of the country's borders.
Woodman agreed that he believed that "some sense of normalcy" would return to the industry. However, he said he also believed that the pandemic would leave a lasting mark on how medical care is provided around the world.
"I think we're going to see some interesting changes along this front," he said. "Tele-health has instantly become baked into the system overnight. They have to use it, whether it's tele-diagnostics or physician consultations, tele-therapy."
When it comes to both seeking medical care from abroad and in the U.S., he said, "this could lead to an overhaul of the system."
Centers for Disease Control and Prevention Advice on Using Face Coverings to Slow Spread of COVID-19
CDC recommends wearing a cloth face covering in public where social distancing measures are difficult to maintain.
A simple cloth face covering can help slow the spread of the virus by those infected and by those who do not exhibit symptoms.
Cloth face coverings can be fashioned from household items. Guides are offered by the CDC. (https://www.cdc.gov/coronavirus/2019-ncov/prevent-getting-sick/diy-cloth-face-coverings.html)
Cloth face coverings should be washed regularly. A washing machine will suffice.
Practice safe removal of face coverings by not touching eyes, nose, and mouth, and wash hands immediately after removing the covering.
World Health Organization advice for avoiding spread of coronavirus disease (COVID-19)
Hygiene advice
Clean hands frequently with soap and water, or alcohol-based hand rub.
Wash hands after coughing or sneezing; when caring for the sick; before, during and after food preparation; before eating; after using the toilet; when hands are visibly dirty; and after handling animals or waste.
Maintain at least 1 meter (3 feet) distance from anyone who is coughing or sneezing.
Avoid touching your hands, nose and mouth. Do not spit in public.
Cover your mouth and nose with a tissue or bent elbow when coughing or sneezing. Discard the tissue immediately and clean your hands.
Medical advice
Avoid close contact with others if you have any symptoms.
Stay at home if you feel unwell, even with mild symptoms such as headache and runny nose, to avoid potential spread of the disease to medical facilities and other people.
If you develop serious symptoms (fever, cough, difficulty breathing) seek medical care early and contact local health authorities in advance.
Note any recent contact with others and travel details to provide to authorities who can trace and prevent spread of the disease.
Stay up to date on COVID-19 developments issued by health authorities and follow their guidance.
Mask and glove usage
Healthy individuals only need to wear a mask if taking care of a sick person.
Wear a mask if you are coughing or sneezing.
Masks are effective when used in combination with frequent hand cleaning.
Do not touch the mask while wearing it. Clean hands if you touch the mask.
Learn how to properly put on, remove and dispose of masks. Clean hands after disposing of the mask.
Do not reuse single-use masks.
Regularly washing bare hands is more effective against catching COVID-19 than wearing rubber gloves.
The COVID-19 virus can still be picked up on rubber gloves and transmitted by touching your face.