WW2 Vet's Request To Have Vaccine Rejected Because He Makes Too Much Money
A 93-year-old U.S. Navy World War II veteran in Michigan is unable to get the COVID-19 vaccine due to surpassing the income limit, according to a letter from the veterans affairs department in Ann Arbor.
Don Schimmel, who is legally blind, started his own company after returning home from war. During the pandemic he has been day trading as a hobby.
Veterans must apply to be enrolled in the VA Ann Arbor Healthcare System in order to receive health care, including the COVID-19 vaccine.
Schimmel received a letter from the department that read: "You are rejected, over the income limit to receive medical treatment through the Department of Veterans Affairs."
All appointments or medications set for after February 24 would be canceled, the letter added.
VA Public Affairs Officer Brian Hayes said in a statement: "Veterans are required to enroll with VA in order to receive health care. However, not all Veterans are eligible to enroll in VA health care.
"VA enrollees must meet certain eligibility requirements under current law, which may include income limits," Hayes noted.
Speaking to Newsweek, Lynn Sutfin, public information officer for the Michigan Department of Health & Human Services (MDHHS), said: "Mr. Schimmel is certainly eligible to be vaccinated by his local health department or a local pharmacy based on his age, as in Michigan we are vaccinating individuals 65 and older as well as those 50 and older with medical conditions or disabilities.
"I have reached out to the Washtenaw County Health Department about contacting Mr. Schimmel to get him vaccinated and they are working on doing so. We thank him and all our veterans for their service to our country.
"As 80 percent of our COVID-19 fatalities have been among those 65 and older, we have stressed the importance of vaccinating this vulnerable group of Michiganders to all of our vaccine providers."
COVID-19 vaccinations are currently being offered to veterans who are already receiving care under the VA health care system "based on CDC [U.S. Centers for Disease Control and Prevention] and VA risk criteria. If you're eligible to get a vaccine, your VA health care team will contact you," the department says.
Hayes added: "In addition, VA is working with the White House to explore ways in which VA can further assist with the Nation's vaccination efforts.
"When veterans apply for VA health care, they are assigned to one of eight priority groups. VA's goal is to vaccinate as many veterans as possible. Veterans who are not yet receiving care through the VA health care system are encouraged to enroll now," Hayes stated.
Newsweek has contacted the U.S. Department of Veterans Affairs and the office of Michigan Governor Gretchen Whitmer for comment.
Veterans not enrolled in the VA health care system who want to get the COVID-19 vaccine are advised to check their eligibility to receive VA health care at the VA department's website.
Those who don't meet any of the eligibility requirements "may still qualify for care based on your income," the department says.
See more information about income limits for VA health benefits at the VA department website.
The VA Ann Arbor Healthcare System has administered nearly 40,000 COVID-19 vaccinations, as of March 3, according to the department.
A total of 2,765,577 doses have been administered across the state, according to the latest report Monday by the CDC.
The state's vaccine eligibility was expanded from March 8 to include residents over the age of 50 with medical conditions and disabilities, as well as caregivers of children with special health care needs, the MDHHS and governor's office announced last Wednesday.
From March 22, all Michigan residents aged 50 and older will be eligible for COVID-19 vaccination. So far, over 40 percent of those 65 and older have been vaccinated, the MDHHS said last Wednesday.
Total confirmed cases in Michigan are approaching 658,400, with 16,662 total reported deaths, as of Tuesday, according to data compiled by Johns Hopkins University.
The state's seven-day average of cases has been declining since the end of November, when it peaked at 8,344 on November 30.
The seven-day average of deaths has been dropping since early January, according to data compiled by Worldometer.
This article has been updated with comment from the Michigan Department of Health & Human Services.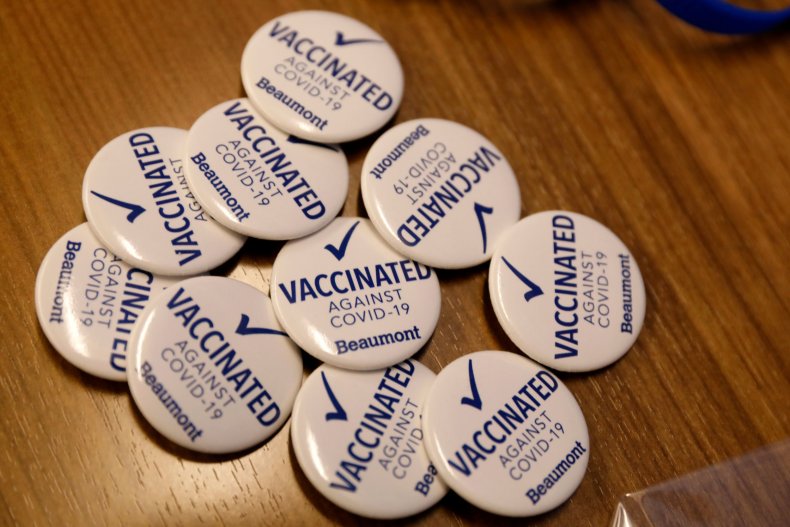 The wider picture
Coronavirus has infected more than 117.2 million people, including over 29 million in the U.S., since it was first reported in Wuhan, China.
More than 2.6 million people have died worldwide and more than 66.4 million have recovered as of Tuesday, according to JHU.
The graphic below, produced by Statista, illustrates countries with the most COVID-19 vaccine doses administered per 100,000 people.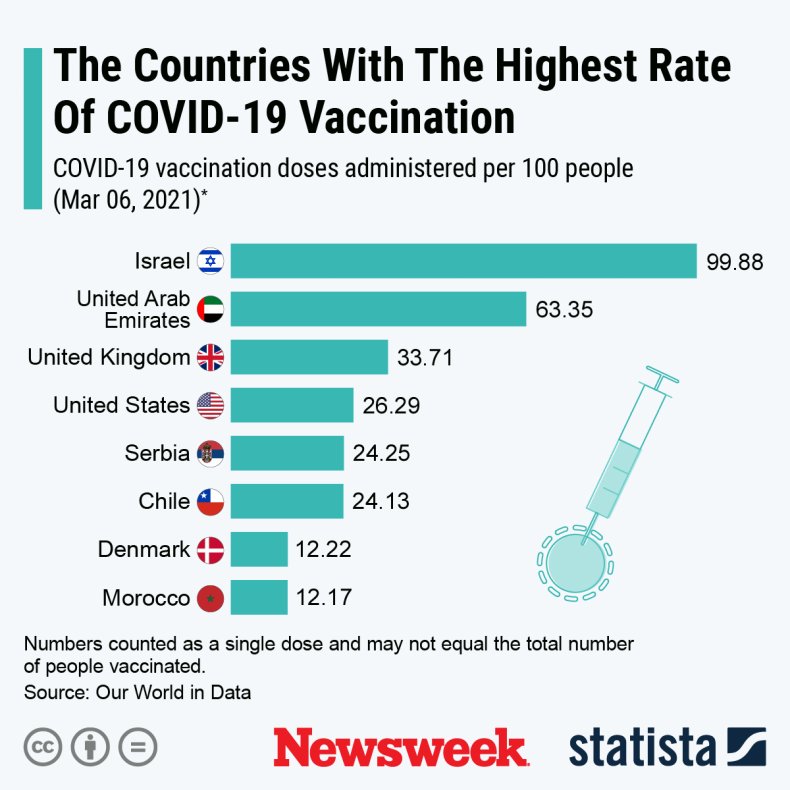 The graphic below, produced by Statista, illustrates the spread of COVID-19 cases in the U.S.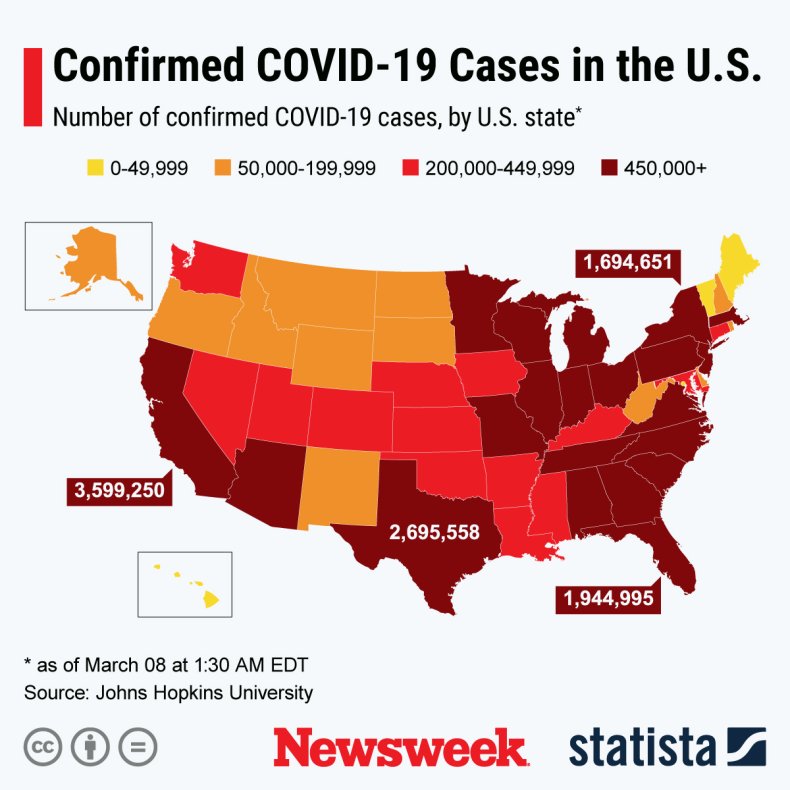 Newsweek, in partnership with NewsGuard, is dedicated to providing accurate and verifiable vaccine and health information. With NewsGuard's HealthGuard browser extension, users can verify if a website is a trustworthy source of health information. Visit the Newsweek VaxFacts website to learn more and to download the HealthGuard browser extension.