Emergency Coronavirus Measures Could Last Over 18 Months and Kill 1.2 Million in U.S.—Even With Most Effective Mitigation Strategy
Measures to curb the spread of coronavirus could last for more than 18 months—until a vaccine becomes available—with epidemic suppression now the "only viable strategy," a report has said. Findings show that even under the most effective mitigation strategy, between 1.1 million and 1.2 million people in the U.S. would die from COVID-19.
A team led by Neil Ferguson, from Imperial College London, U.K., examined the non-pharmaceutical interventions to establish which strategies are most effective at lowering the impact of COVID-19, and how long these interventions would need to be in place. It analyzed two strategies: mitigation and suppression.
While both involve similar measures, they have a different goal. With mitigation, the idea is to lower the number of new cases with techniques like isolation and social distancing, so the healthcare system is not overwhelmed. Over time, the population builds up immunity, which eventually leads to a rapid decline in cases.
Suppression aims to stop the spread of the virus completely. This strategy also uses social distancing and isolation, but to a greater degree. These measures would then be kept in place for a sustained period, allowing more time for treatments and vaccines to be developed, and for healthcare systems to prepare.
This strategy was adopted aggressively in China, with the entire city of Wuhan, believed to be the epicenter of the outbreak, placed under quarantine. Social distancing was enforced, with schools closed, sporting events canceled and theatres shut. Apps were also used to track people's movements. A report from the World Health Organization at the end of February said the approach had worked: "In the face of a previously unknown virus, China has rolled out perhaps the most ambitious, agile and aggressive disease containment effort in history," it said. The country is now experiencing a steep decline in cases.
In their research, Ferguson and colleagues created different coronavirus scenarios in the context of the U.K. and the U.S. They examined mitigation and suppression through the use of case isolation, home quarantine, social distancing and the closure of schools and universities. They found that if no control measures or changes to individual behaviors were made, mortality would peak in around three months, with 2.2 million deaths in the U.S. An estimated 81 percent of the population would eventually be infected.
Mitigation was found to be largely ineffective. One of the main problems with this is that the health service would be overwhelmed. "In the most effective mitigation strategy examined, which leads to a single, relatively short epidemic... the surge limits for both general ward and ICU beds would be exceeded by at least 8-fold under the more optimistic scenario for critical care requirements that we examined. In addition, even if all patients were able to be treated, we predict there would still be in the order of 250,000 deaths in [Great Britain], and 1.1 to 1.2 million in the U.S."
Instead, the team found a suppression strategy that could be put in place until a vaccine is developed would be the best way to stop the pandemic. In the most effective scenario, the death toll of the coronavirus dropped significantly, with over ten times fewer deaths compared to no control measurements being taken.
"A minimum policy for effective suppression is therefore population-wide social distancing combined with home isolation of cases and school and university closure," the report said. "To avoid a rebound in transmission, these policies will need to be maintained until large stocks of vaccine are available to immunize the population—which could be 18 months or more."
It said that if suppression is not maintained, transmission of coronavirus would "rapidly rebound, potentially producing an epidemic comparable in scale to what would have been seen had no interventions been adopted." If long-term suppression is not possible, they found having these measures in place for around three months could reduce deaths by about half and reduce the demand on health services by two thirds.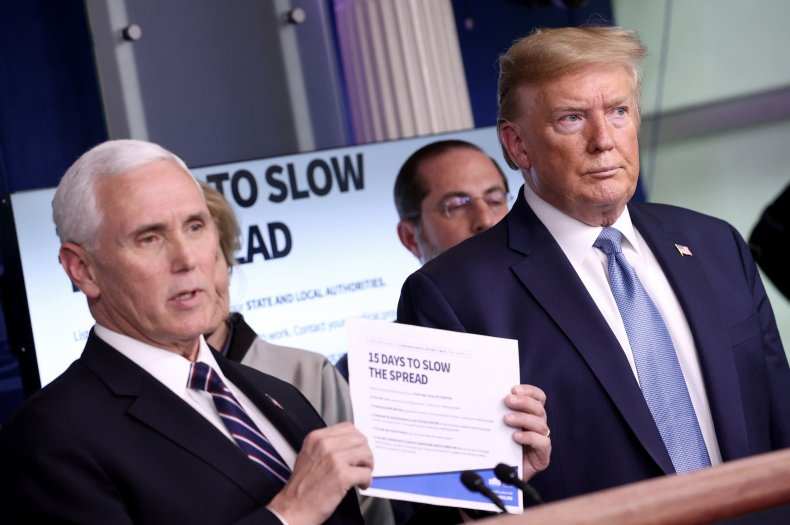 However, the authors also warned there had never been a public health intervention that disrupted society to such an extent: "How populations and societies will respond remains unclear," the report said. Concluding, it noted: "Epidemic suppression is the only viable strategy at the current time. The social and economic effects of the measures which are needed to achieve this policy goal will be profound."
At present, several guidelines have been issued to Americans to help stop the spread of the disease. U.S. President Donald Trump has asked people to avoid social gatherings of more than 10 people, and to stop going to bars, restaurants and food courts. If possible, he asked people to work from home. People showing symptoms were asked to stay at home. These recommendations are not mandatory.
Commenting on the paper from Imperial, Thomas J. Duszynski, Director of Epidemiology Education at Indiana University, said that with COVID-19, Pandora's Box had been opened. "The question becomes, how to close it," he told Newsweek.
"Social isolation (3-6 feet of separation between people), good handwashing, not touching your face, and staying isolated if you are sick are the best methods to slow the disease spread in the population at this time and reduce the mortality rate in the susceptible population," he said. "The U.S. in an attempt to be proactive has put in preventative measures, such as closing sporting events, limiting the number of people in the room, loosening the laws around school attendance, and working with community partners to ensure the population has what they need to socially isolate. Technological and industry advancements within the last decade have, for the first time in history made the ability to do so. Online delivery, online meetings, even e-learning days in schools allow for us to safely isolate ourselves in hopes of flattening the epidemic curve and minimizing the effect of a communicable disease."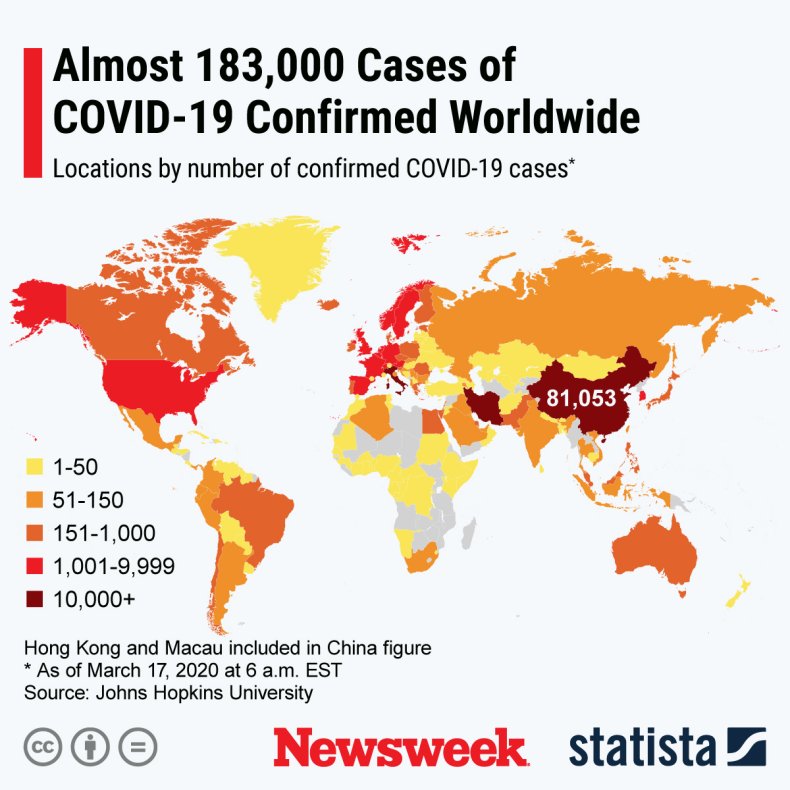 However, he said how long this may last for is unclear: "Most people want to know when this will be over and can resume some sense of normalcy and I answer this is the new normal." He said some epidemics burn through a population then disappear, while others think it will become like the flu virus, which appears every year.
"The next thing to look at is the outcomes of being infected. With exponential growth in the U.S., we will see doubling of cases and unfortunately severe outcomes including death. We want to watch the course of disease in the human population to understand its etiology; only then can we intervene to prevent it from occurring. Finally, once you have the disease, can you get it again or are immune? Unfortunately, we are unable to answer that question fully at this time, as more studies to understand our body's immune response to this disease have to be completed.
"There is a lot yet to learn about this virus, unfortunately this takes time to ensure accuracy."
World Health Organization advice for avoiding spread of coronavirus disease (COVID-19)
Hygiene advice
Clean hands frequently with soap and water, or alcohol-based hand rub.
Wash hands after coughing or sneezing; when caring for the sick; before; during and after food preparation; before eating; after using the toilet; when hands are visibly dirty; and after handling animals or waste.
Maintain at least 1 meter (3 feet) distance from anyone who is coughing or sneezing.
Avoid touching your hands, nose and mouth. Do not spit in public.
Cover your mouth and nose with a tissue or bent elbow when coughing or sneezing. Discard the tissue immediately and clean your hands.
Medical advice
If you feel unwell (fever, cough, difficulty breathing) seek medical care early and call local health authorities in advance.
Stay up to date on COVID-19 developments issued by health authorities and follow their guidance.
Mask usage
Healthy individuals only need to wear a mask if taking care of a sick person.
Wear a mask if you are coughing or sneezing.
Masks are effective when used in combination with frequent hand cleaning.
Do not touch the mask while wearing it. Clean hands if you touch the mask.
Learn how to properly put on, remove and dispose of masks. Clean hands after disposing of mask.
Do not reuse single-use masks.