As novel coronavirus cases worldwide have surpassed 20.1 million, there are 167 potential COVID-19 vaccines being developed across the globe, according to the latest report Monday by the World Health Organization.
Among the major potential vaccines in development is the mRNA-1273 vaccine candidate, co-developed by Massachusetts-based biotechnology firm Moderna, in collaboration with the National Institute of Allergy and Infectious Diseases (NIAID), part of the National Institutes of Health.
The phase three clinical trial of Moderna's vaccine candidate, which began last month on July 27, is expecting to recruit around 30,000 adult volunteers.
How can I enroll as a volunteer?
Those interested in participating in the study should access the NIH's COVID-19 Prevention Network (CoVPN) website where you'll be directed to a CoVPN Volunteer Screening Registry.
"The purpose of this screening registry is to create a list of potential volunteers who want to take part in current or future COVID-19 prevention clinical trials.
"Participation involves completing a short online survey that includes some personal questions. Your participation is voluntary. This survey typically takes about 10 minutes to complete," the website states.
The mRNA-1273 vaccine candidate will be trialed at 89 clinical research sites in the U.S. A full listing of the different research sites (and which ones are currently recruiting) can be viewed at ClinicalTrials.gov, by entering the number NCT04470427 in the search box.
Who is eligible to be a volunteer?
The trial is open to healthy individuals aged 18 years and older among both sexes, including:
Those who are at high risk of novel coronavirus infection, "defined as adults whose locations or circumstances put them at appreciable risk of exposure," to the virus, the government website explains.
Healthy adults with pre-existing medical conditions who are in stable condition are also eligible to participate. "A stable medical condition is defined as disease not requiring significant change in therapy or hospitalization for worsening disease during the three months before enrollment," the website states.
Female volunteers of childbearing potential may be enrolled in the study if the participants meet all of the following criteria:
Has a negative pregnancy test at screening and on the day of the first dose of the vaccine.
Has practiced adequate contraception or has abstained from all activities that could result in pregnancy for at least 28 days prior to the first dose.
Has agreed to continue adequate contraception for three months following the second dose of the vaccine.
The participant is not currently breastfeeding.
"Male participants engaging in activity that could result in pregnancy of sexual partners must agree to practice adequate contraception and refrain from sperm donation from the time of the first dose and through three months after the second dose," the government website notes.
Those with a known history of novel coronavirus infection are not eligible to enroll. See the government's website for full details on further inclusion and exclusion criteria for participants in the latest trial.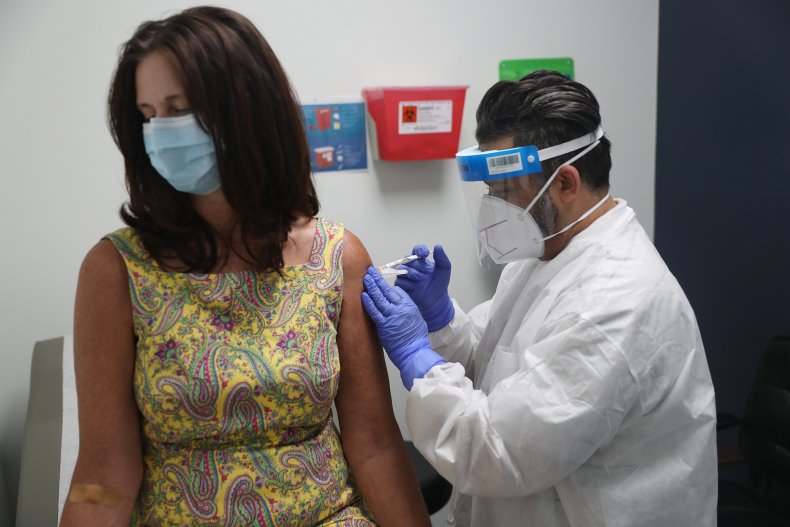 What happens during the trial?
"Trial volunteers will receive two intramuscular injections approximately 28 days apart. Participants will be randomly assigned 1:1 to receive either two 100 microgram (mcg) injections of mRNA-1273 or two shots of a saline placebo. The trial is blinded, so the investigators and the participants will not know who is assigned to which group," the NIH explains.
Each volunteer will be asked to provide a nasal swab and blood sample at an initial screening, followed by additional blood samples at designated points in time points after each vaccination and over the two years following the second vaccination. The volunteers will be monitored closely for symptoms after each vaccination.
"If a participant is suspected to have COVID-19, the participant will be asked to provide a nasal swab for testing within 72 hours. If the test is positive for SARS-CoV-2 infection, the participant will be followed closely and referred for medical care if symptoms worsen," the NIH explains.
"Participants will be asked to provide a daily assessment of symptoms through resolution and have saliva sampled periodically, so investigators can test for SARS-CoV-2 infection," it notes.
The study is expected to be completed on October 27, 2022.
The graphic below, provided by Statista, illustrates COVID-19 vaccine candidates that are currently in development.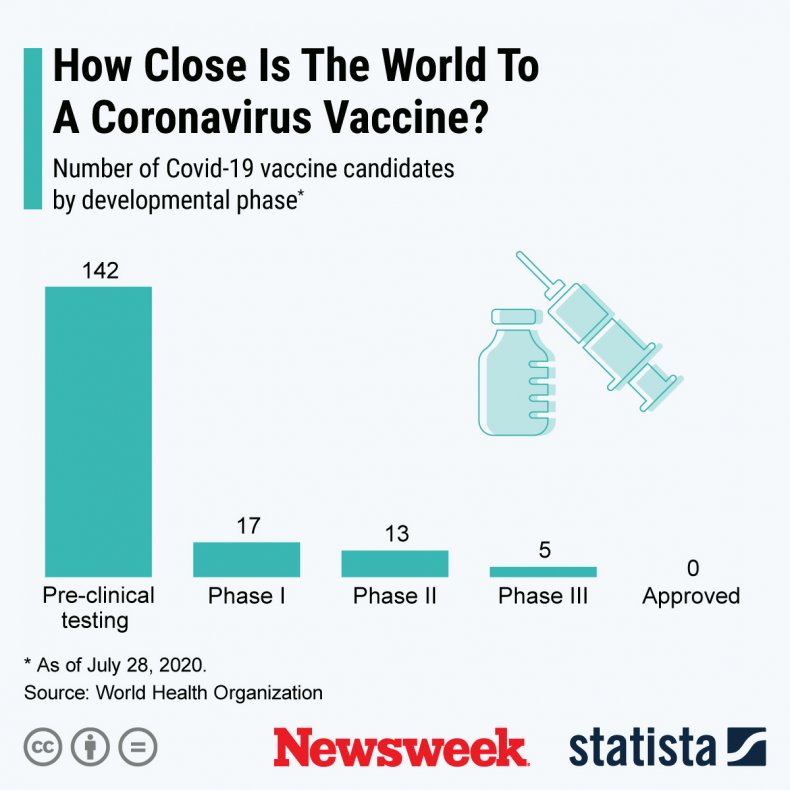 Dr. Anthony Fauci, the director of the NIAID and member of the White House COVID-19 Task Force, noted last month: "Results from early-stage clinical testing indicate the investigational mRNA-1273 vaccine is safe and immunogenic, supporting the initiation of a Phase Three clinical trial. This scientifically rigorous, randomized, placebo-controlled trial is designed to determine if the vaccine can prevent COVID-19 and for how long such protection may last.
"Although face coverings, physical distancing and proper isolation and quarantine of infected individuals and contacts can help us mitigate SARS-CoV-2 spread, we urgently need a safe and effective preventive vaccine to ultimately control this pandemic," he said in statement from NIH.
Moderna is on track to be able to produce approximately 500 million vaccine doses per year, and possibly up to a billion doses per year, starting in 2021, the company confirmed in a statement last month.
More than five million people in the U.S. have been infected since the virus was first reported in Wuhan, China. Over 12.3 million globally have reportedly recovered from infection, while over 737,200 have died, as of Tuesday, according to Johns Hopkins University.
The graphic below, provided by Statista, illustrates the spread of COVID-19 cases in the U.S.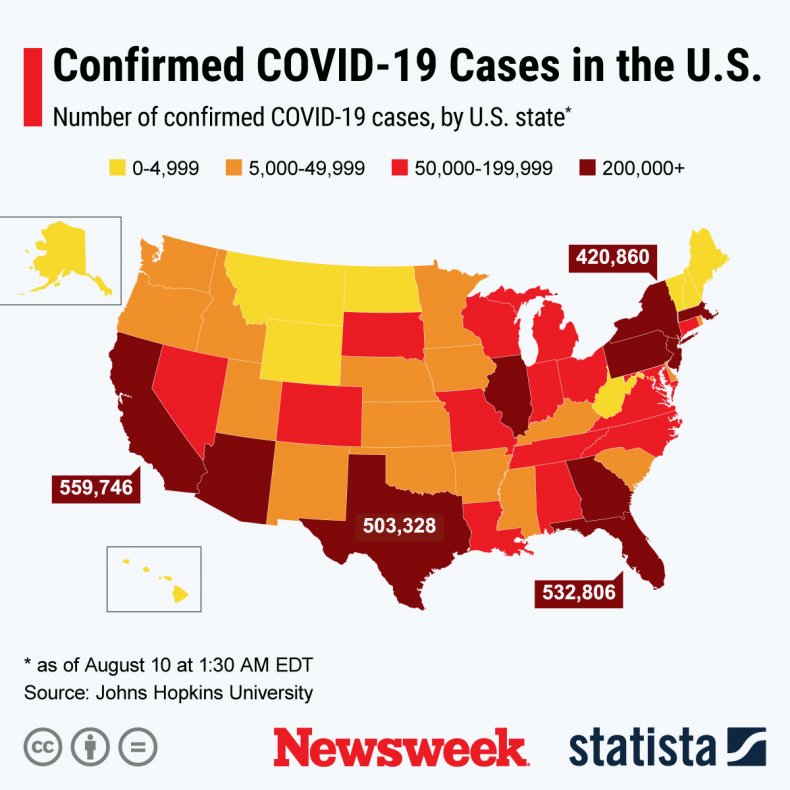 Uncommon Knowledge
Newsweek is committed to challenging conventional wisdom and finding connections in the search for common ground.
Newsweek is committed to challenging conventional wisdom and finding connections in the search for common ground.
About the writer
Soo Kim is a Newsweek SEO Reporter is based in London, UK. She reports on various trends and lifestyle stories, from health, fitness and travel to psychology, relationships and family issues. She is also a South Korea expert who regularly covers Korean culture/entertainment for Newsweek, including the latest K-dramas, films and K-pop news, and is the author of the book How to Live Korean, which is available in eight languages. Soo also covered the COVID-19 pandemic extensively from 2020 through 2021 after joining the general news desk of Newsweek in 2019 from the Daily Telegraph (a U.K. national newspaper) where she was a travel reporter/editor from 2010. She is a graduate of Binghamton University in New York and the journalism school of City University in London, where she earned a Masters in international journalism. Languages spoken: English and Korean.
Follow her on Twitter at @MissSooKim or Instagram at @miss.soo.kim
You can get in touch with Soo by emailing s.kim@newsweek.com