Veterans Denounce 'Unforgivable' Decision to Remove U.S. Navy Captain Brett Crozier, Who Asked for Help With Ship's COVID-19 Outbreak
Veterans have spoken out against the decision to relieve the captain of the U.S.S. Theodore Roosevelt after he sent a letter to the Navy pleading for help after his ship was stricken with the coronavirus.
Thomas Modly, the acting secretary of the Navy, accused Capt. Brett Crozier of having "poor judgment" for using a "non-secure, unclassified" email address to write an email to his immediate chain of command which also included "20 or 30" additional recipients.
Crozier's letter, which was then leaked and published by the San Francisco Chronicle, asked officials for help in isolating more than 4,000 sailors onboard the aircraft carrier docked in Guam, after a COVID-19 outbreak was detected among its crew. A day after the letter was published, around 1,000 sailors were removed from the Theodore Roosevelt. A total of 114 crew have since tested positive for COVID-19.
Crozier said the move was necessary as the warship's "inherent limitations of space" meant the virus was spreading rapidly despite the other crew members distancing themselves.
"This will require a political solution but it is the right thing to do," Crozier wrote. "We are not at war. Sailors do not need to die. If we do not act now, we are failing to properly take care of our most trusted asset — our Sailors."
Speaking at a press conference, Modly said Crozier was not relieved because the letter was leaked — although he "did not take care to ensure that it couldn't be leaked," noting it appeared in his hometown paper — but for causing unnecessary panic.
Modly said Crozier's actions made it seem like the Navy was only acting in response to his letter being leaked, which he said was not the case.
"I did not come to this decision lightly," Modly added. "I have no doubt in my mind that Captain Crozier did what he thought was in the best interests of the safety and well-being of his crew. Unfortunately, it did the opposite.
"It unnecessarily raised alarms with the families of our Sailors and Marines with no plan to address those concerns. It raised concerns about the operational capabilities and operational security of the ship that could have emboldened our adversaries to seek advantage, and it undermined the chain of command who had been moving and adjusting as rapidly as possible to get him the help he needed.
"For these reasons, I lost confidence in his ability to continue to lead that warship as it continues to fight through this virus, to get the crew healthy, so that it can continue to meet its important national security requirements."
The decision has been met with dismay by veterans and politicians.
"I understand the 'trust & confidence' argument. It's sacrosanct in the Navy," John Kirby, a retired rear admiral who served as the State Department's head spokesman from 2015 to 2017, wrote on Twitter.
"But based on justification put forth by acting SECNAV for why he lost trust & confidence in the TR CO, hard to see it as anything other than an over-reaction & unwarranted at a vital time for the ship."
Malcolm Nance, former Navy senior chief petty officer, accused officials of "abject stupidity" for relieving Crozier.
"You had better drop your anchors on this one. This 'sailors first' admiral may be Secretary of the Navy next Jan. He should be because he cares more about my beloved Navy than you do."
New Jersey Congressman Andy Kim issued a statement calling for the immediate reinstatement of Crozier, calling the decision "shameful."
"Our servicemen and women sign up and put themselves in harm's way for the defense of our country, they shouldn't be put in harm's way because of indecision by leadership at the Pentagon to address a crisis that endangered thousands who wear the uniform," Kim said. "Dismissing him sends a dangerous message to our leaders across the military."
In a joint statement, the House Armed Services Committee leadership — Chairman Adam Smith and Subcommittee Chairs Joe Courtney, John Garamendi, and Jackie Speier — said the removal of Crozier was a "destabilizing move" that put service members at greater risk.
"Throwing the commanding officer overboard without a thorough investigation is not going to solve the growing crisis aboard the U.S.S. Theodore Roosevelt," the statement said. "What's more, we are very concerned about the chilling effect this dismissal will have on commanders throughout the Department of Defense.
"Dismissing a commanding officer for speaking out on issues critical to the safety of those under their command discourages others from raising similar concerns."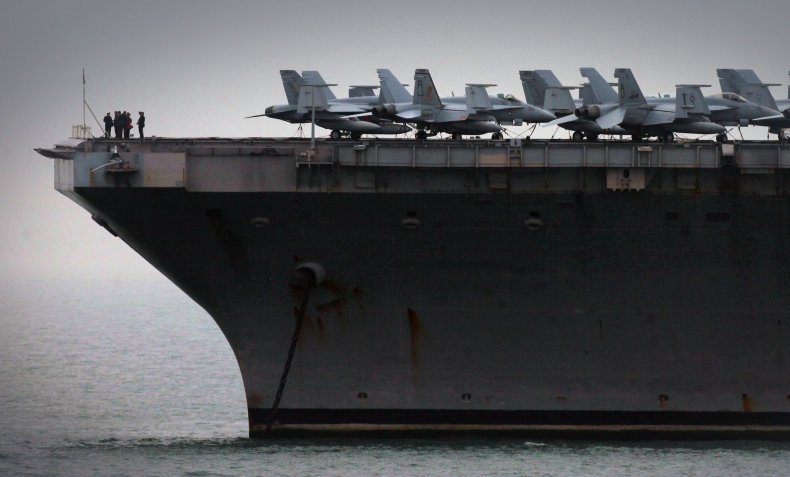 Modly said the decision to relieve Crozier was his alone.
"I expect no congratulations for it, and it gives me no pleasure in making it," he added. "Captain Crozier is an honorable man, who despite this uncharacteristic lapse of judgment, has dedicated himself throughout a lifetime of incredible service to our nation."
There are now more than one million confirmed cases of COVID-19 across the world, with 53,179 deaths, according to Johns Hopkins University. More than 202,000 people have managed to recover from the virus.
This infographic, provided by Statista, shows the number of confirmed COVID-19 in the U.S. as of April 2.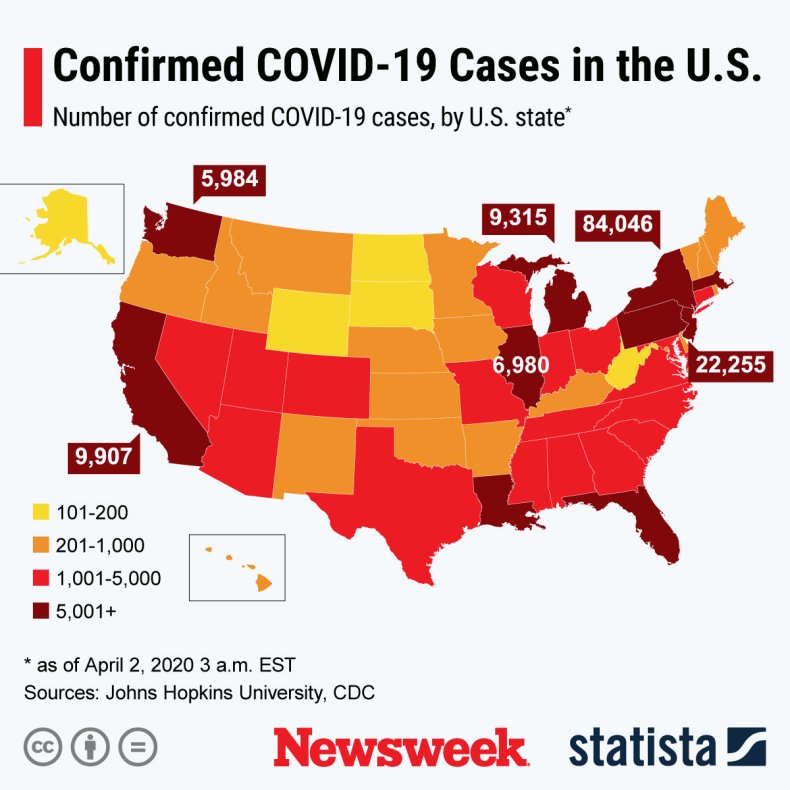 World Health Organization advice for avoiding spread of coronavirus disease (COVID-19)
Hygiene advice:
Clean hands frequently with soap and water, or alcohol-based hand rub.
Wash hands after coughing or sneezing; when caring for the sick; before, during and after food preparation; before eating; after using the toilet; when hands are visibly dirty; and after handling animals or waste.
Maintain at least 1 meter (3 feet) distance from anyone who is coughing or sneezing.
Avoid touching your hands, nose and mouth. Do not spit in public.
Cover your mouth and nose with a tissue or bent elbow when coughing or sneezing. Discard the tissue immediately and clean your hands.
Medical advice
Avoid close contact with others if you have any symptoms.
Stay at home if you feel unwell, even with mild symptoms such as headache and runny nose, to avoid potential spread of the disease to medical facilities and other people.
If you develop serious symptoms (fever, cough, difficulty breathing) seek medical care early and contact local health authorities in advance.
Note any recent contact with others and travel details to provide to authorities who can trace and prevent spread of the disease.
Stay up to date on COVID-19 developments issued by health authorities and follow their guidance.
Mask and glove usage
Healthy individuals only need to wear a mask if taking care of a sick person.
Wear a mask if you are coughing or sneezing.
Masks are effective when used in combination with frequent hand cleaning.
Do not touch the mask while wearing it. Clean hands if you touch the mask.
Learn how to properly put on, remove and dispose of masks. Clean hands after disposing of the mask.
Do not reuse single-use masks.
Regularly washing bare hands is more effective against catching COVID-19 than wearing rubber gloves.
The COVID-19 virus can still be picked up on rubber gloves and transmitted by touching your face.