COVID Nurse's Viral Video Begs People to Take Outbreak Seriously Amid Record Hospitalizations
As current COVID-19 hospitalizations in the U.S. reach a record high for the seventh day in a row, an intensive care nurse in Nebraska pleaded: "Please take it [COVID-19] seriously," in a Twitter video that has received at least 4,600 likes and 1,800 retweets since it was posted.
Noting the loss of COVID-19 patients in need of emergency care who "just drop so fast," Lacie Gooch, an ICU nurse at Nebraska Medicine, said: "I have seen more people sick than I've ever seen in my life."
The video message was tweeted Monday by Nebraska Medicine, an Omaha-based health system that includes the Nebraska Medical Center, the state's largest hospital.
Gooch said: "I just got off my third 12-hour shift. Not once this week have I been in my home unit. I have been in the COVID ICU all week and I'm exhausted.
"I have seen so many emergent intubations. I have seen more people sick than I've ever seen in my life. They just drop so fast," she added, noting one of the hospital's COVID-19 units is purely "a place for people to go to just pass away, unfortunately."
The nurse described the frustration of not being able to get to patients in need of immediate emergency care quickly enough due to the time it takes to put on the extensive personal protection equipment (PPE) needed.
"What's sad is what I would normally do on my floor is just run in and start whatever life-saving measures they need. But with COVID, I can't do that," noting the many precautions to be taken, such as wearing all the required PPE, before rushing over. "So it takes me a minute to get in there [the patient's room].
"But some of these things these patients need is emergent. I need to be taking care of them right now and they're not getting that, they're not getting the care they deserve because I have to wear this PPE to protect everybody.
"I leave [the hospital] with marks all over my face from the N95 mask I'm required to wear. We're understaffed. We have so much on our plates as nurses. There's not enough of us to help.
"Please take it [COVID-19] seriously. Wear your mask. And I hope I don't see you," she concluded.
Gooch's plea came as the country's current COVID-19 hospitalizations hit a record 76,823 on Monday, according to data compiled by The Atlantic's The COVID Tracking Project.
According to the latest projections received by the Centers for Disease Control and Prevention (CDC) from nine modeling groups in the week of November 13: "For December 7, the forecasts estimate 3,200 to 19,000 new COVID-19 hospitalizations per day.
"Three national forecasts predict a likely increase in the number of new hospitalizations per day over the next four weeks, one forecast predicts a likely decrease, and two forecasts are uncertain about the trend or predict stable numbers," the CDC said.
According to the Institute for Health Metrics and Evaluation (IHME) at the University of Washington, the country's daily case count is projected to reach around 268,240 by Thanksgiving and 315,314 by the same day with "continued easing of social distancing mandates and mandates are not reimposed."
The latest IHME projections are nearly double the country's latest daily case count of 161,934 reported for November 17, according to Johns Hopkins University.
Total confirmed cases in the U.S. have surpassed 11.3 million, with 248,707 reported deaths, as of Wednesday, according to Johns Hopkins.
As of Tuesday, there were reported to be over 4.3 million total active cases (those currently infected who are being treated in hospital or recovering at home) in the country.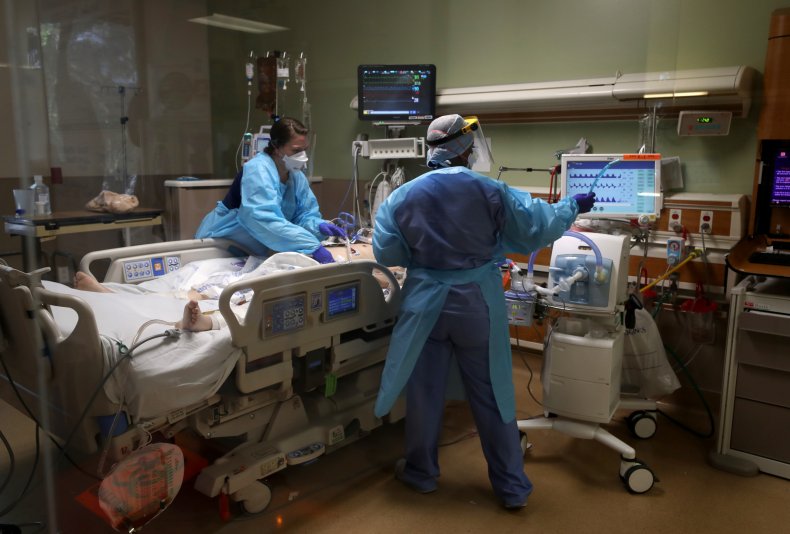 The wider picture
The novel coronavirus has infected more than 55.6 million people since it was first reported in Wuhan, China.
Globally, more than 1.3 million people have died and more than 35.8 million have recovered as of Wednesday, according to Johns Hopkins.
The graphic below, provided by Statista, illustrates the number of COVID-19 hospitalizations reported from March to November.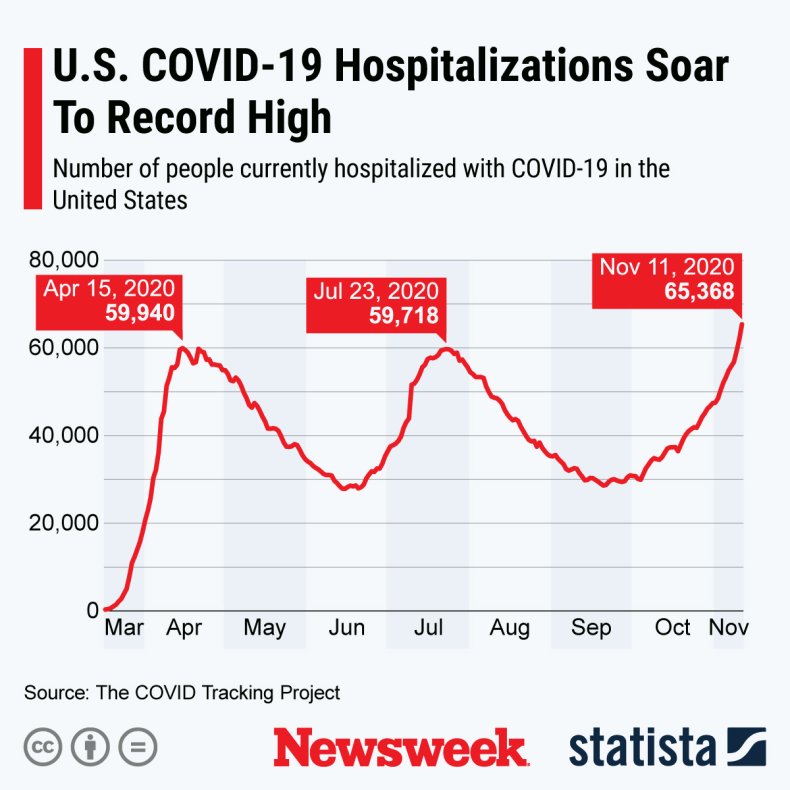 The graphic below, produced by Statista, shows the spread of COVID-19 cases across the U.S.