Anti-Lockdown Protester Beaten By Police, Savaged by K9 Dog in Viral Video
An anti-lockdown protest taking place on Sunday in The Hague in the Netherlands saw a demonstrator beaten by police officers, while a police dog pounced on him, in a viral video shared on social media.
The video tweeted by @Geopolitics_Emp, a podcast/newsletter, showed a K9 dog jump on top of the protester, while officers on horseback charged past other demonstrators. The video has had more than 200,000 views since it was first posted.
The same video was also shared by user @johnyc1993 with the words: " 'We're here for your safety.'" The video has had over 24,000 views since it was first shared.
The demonstration, held in the Malieveld area of the city center of The Hague, led to 20 arrests. "This happened after the mayor decided to end the demonstration because the protesters did not obey the rules," Hague police tweeted Sunday.
Two protesters were injured by police dogs after refusing to leave the protest, according to Hague police.
"A video is currently circulating on social media in which a man is arrested at #Malieveld. Violence was used. The reason for his arrest cannot be seen on the video. He was arrested for attacking officers with a stick," Hague police tweeted Sunday.
Officers used water cannon to disperse crowds who violated social distancing rules amid the country's ongoing COVID-19 lockdown measures, which have been in place since late January. Protesters threw fireworks and other objects at police, Reuters reported.
Police fired a warning shot when protesters kicked a police dog and threatened the dog's handler during an arrest, according to a police statement.
"It is true that a warning shot has been fired, the cause of this incident is being investigated," Hague police tweeted Sunday.
Around 2,000 protesters gathered in Malieveld, where officials were reported to have set a limit of 200 people for the demonstration on Sunday, the BBC reported.
Many demonstrators held yellow umbrellas in a show of opposition, chanting: "Love, freedom, stop dictatorship," Reuters reported.
Newsweek has contacted the country's Ministry of Justice and Security for comment.
The latest protest came a day ahead of national elections in the Netherlands, which take place from Monday. Polls will be open for three days to help maintain social distancing guidelines at polling stations.
Most voters in the Netherlands reluctantly support the country's lockdown, with its infection rate currently within the higher range among countries in Europe, Reuters reported.
The country's seven-day average of cases has been rising since mid-February, after declining from late December, according to data compiled by Worldometer.
Total confirmed cases in the Netherlands have surpassed 1.1 million, with 16,200 total reported deaths, as of Monday, according to Johns Hopkins University.
The Netherlands has been under a lockdown since January 23. Residents are told to stay home and to work from home as much as possible. Most facilities, including restaurants, bars and cafes, are closed.
A curfew is currently in place from 9 p.m. to 4.30 a.m. local time. "During curfew hours you cannot go outdoors without a valid reason," the government states.
"Further easing of lockdown [is] not a responsible course of action at present," the government website currently states.
On March 23, the government is expected to "assess what measures are necessary" from March 31.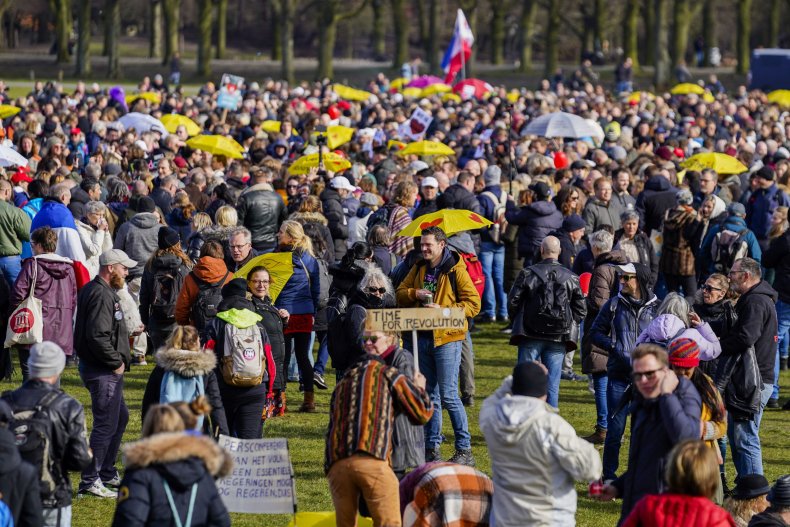 The wider picture
Coronavirus has infected more than 119.9 million people, including over 29.4 million in the U.S., since it was first reported in Wuhan, China.
More than 2.6 million people have died worldwide and more than 67.9 million have recovered as of Monday, according to JHU.
The graphic below, produced by Statista, illustrates a comparison of COVID-19 cases in the U.S. versus countries in the European Union.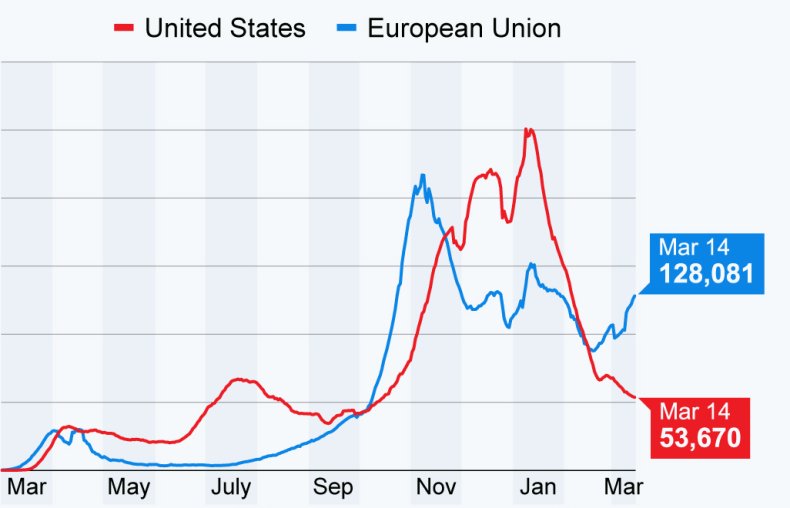 The graphic below, produced by Statista, illustrates countries with the most COVID-19 vaccine doses administered per 100,000 people.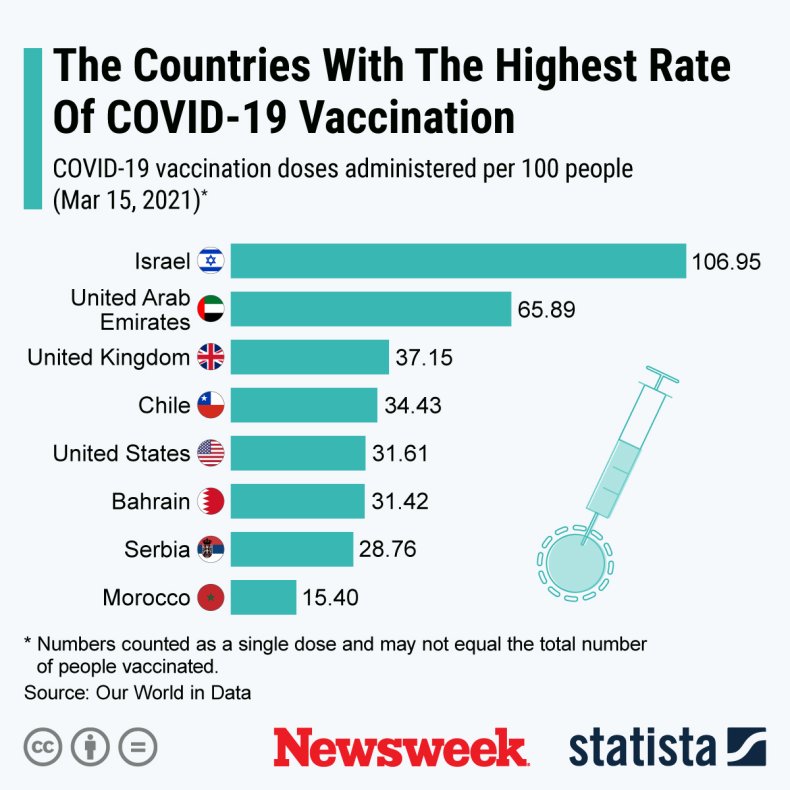 Newsweek, in partnership with NewsGuard, is dedicated to providing accurate and verifiable vaccine and health information. With NewsGuard's HealthGuard browser extension, users can verify if a website is a trustworthy source of health information. Visit the Newsweek VaxFacts website to learn more and to download the HealthGuard browser extension.