New York COVID Vaccine Appointment Guide for CVS, Walgreens and More
New York expanded its COVID-19 vaccine eligibility this week. Those aged 30 and older are now able to get the vaccine from March 30, while those aged 16 and older will be eligible from next week on April 6.
Those eligible for the vaccine can book an appointment at different pharmacies, including CVS, Walgreens and others, using their respective websites.
Residents can check their eligibility using the Am I Eligible app, which is "the quickest way to see if you're eligible," the New York state health department website says.
See the full list of those eligible for the vaccine at this time at the state health department website.
Here we outline how to book COVID-19 vaccinations at CVS, Walgreens and other venues in New York.
How to book COVID-19 vaccinations at CVS
Those eligible for a vaccine can book their appointment at the CVS website or through the CVS app.
To make a booking via the website, users click on the "check vaccine availability and schedule an appointment" hyperlink at the website.
Users will need to answer a few questions before they select a date, time and location that works best for them. They'll receive an email and text confirmation once their appointment has been booked.
Residents are advised to arrive no earlier than 15 minutes prior to their appointment and bring their insurance card if they are insured. You may also be asked to produce identification. Appointments are expected to last at least 30 minutes.
The CVS website says: "In select CVS Pharmacy locations, vaccines are currently available only for priority populations, as determined by state and federal governments."
See the CVS website for more information.
How to book COVID-19 vaccinations at Walgreens
Those eligible can book their vaccination appointment at the Walgreens website. Residents can also schedule an appointment over the phone by calling their local Walgreens pharmacy or 1-800-WALGREENS (1-800-925-4733).
To book an appointment using the website, residents will need to create a Walgreens account.
Once they've signed into their account, users have to complete a short eligibility screening. "If you're eligible, we'll look for available appointments in your area for your COVID-19 vaccination appointment," the website says.
See the Walgreens website for more information.
How to book COVID-19 vaccinations at Rite Aid
Those eligible for a vaccine can book an appointment using the Rite Aid Vaccine Scheduler at the company's website. Users are asked to provide their name and other personal details to see if they qualify for the vaccine at this time.
"State and local jurisdiction qualifications determine if you are eligible for the COVID-19 vaccine at this time. The customer is responsible for complying with all federal, state and/or local guidelines. All responses on the form must be accurate or your appointment may be canceled," the Rite Aid website says.
After providing your details, click the "next icon" and follow the on-screen prompts thereafter.
See the Rite Aid website for more information.
Other ways to book COVID-19 vaccinations
Vaccines are also available at hospitals, local health departments and "Federally Qualified Health Centers statewide," the state health department says.
The state health department website can be used "for scheduling an appointment at a New York State-run site only. To determine eligibility and schedule an appointment at one of these sites, use the Am I Eligible app."
Residents can also call the New York State COVID-19 Vaccination Hotline at 1-833-NYS-4-VAX (1-833-697-4829) to book vaccinations.
In addition to state-run vaccination sites, residents are also advised to check the VaccineFinder website "to find information on vaccine appointments near you."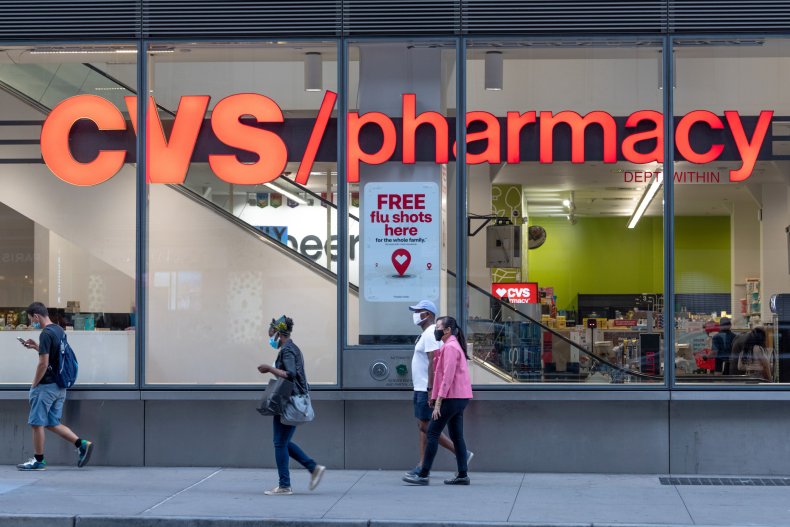 The wider picture
Coronavirus has infected more than 127.8 million people, including over 30.3 million in the U.S., since it was first reported in Wuhan, China.
More than 2.7 million people have died worldwide and more than 72.5 million have recovered as of Tuesday, according to Johns Hopkins University.
The graphic below, produced by Statista, illustrates countries with the most COVID-19 vaccine doses administered per 100,000 people.