New York Deaths at Start of Coronavirus Pandemic Comparable With Peak of 1918 Spanish Flu
The number of excess deaths during the first two months of the COVID-19 outbreak in New York City was comparable with the height of the 1918 Spanish flu pandemic, researchers have found.
By assessing the number of excess deaths—the number of additional deaths beyond what is normal for a given time period—researchers led by Jeremy Samuel Faust, from the Brigham and Women's Hospital at the Harvard Medical School were able to compare the severity of the two pandemics.
New York was one of the worst affected states for coronavirus at the start of the pandemic. Hospitals became overwhelmed. Bodies of victims started to pile up so much they had to be kept in mobile morgues. Deaths in the state started to level off at the start of June, but by that point just over 30,000 people had died.
"I saw what was happening in New York this year and I thought, wow, was 1918 really any worse than this? So we went looking," Faust told Newsweek in an email. "What we found is that these events, at least as far as New York is concerned, are in the same ballpark."
In total, there have been over 32,000 deaths in New York, with around 1,000 additional fatalities projected by the start of December—according to the University of Washington's Institute for Health Metrics and Evaluation (IHME) forecast model.
In a Research Letter published in JAMA, Faust and colleagues calculated the levels of excess mortality in New York City between March 11 and May 11. They also looked at the number of Spanish Flu deaths in New York. To do this they looked at mortality rates for a 61 day period between October and November from 1914 to 1918.
The Spanish flu pandemic was the most deadly pandemic in recent history, killing an estimated 675,000 in the U.S.
During the peak of the Spanish flu pandemic in New York City, they found a total of 31,589 people died out of 5.5 million residents, giving an incident rate of 287.17 deaths per 100,000 per month. This is 2.8 times more than the number of deaths between 1914 and 1917, before the outbreak.
For COVID-19 in New York City, they found 33,465 deaths of any cause occurred during the study period, from a population of 8.28 million people, giving an incident rate of 202.08 deaths per 100,000. This is 4.15 times higher than the same period in the three years prior.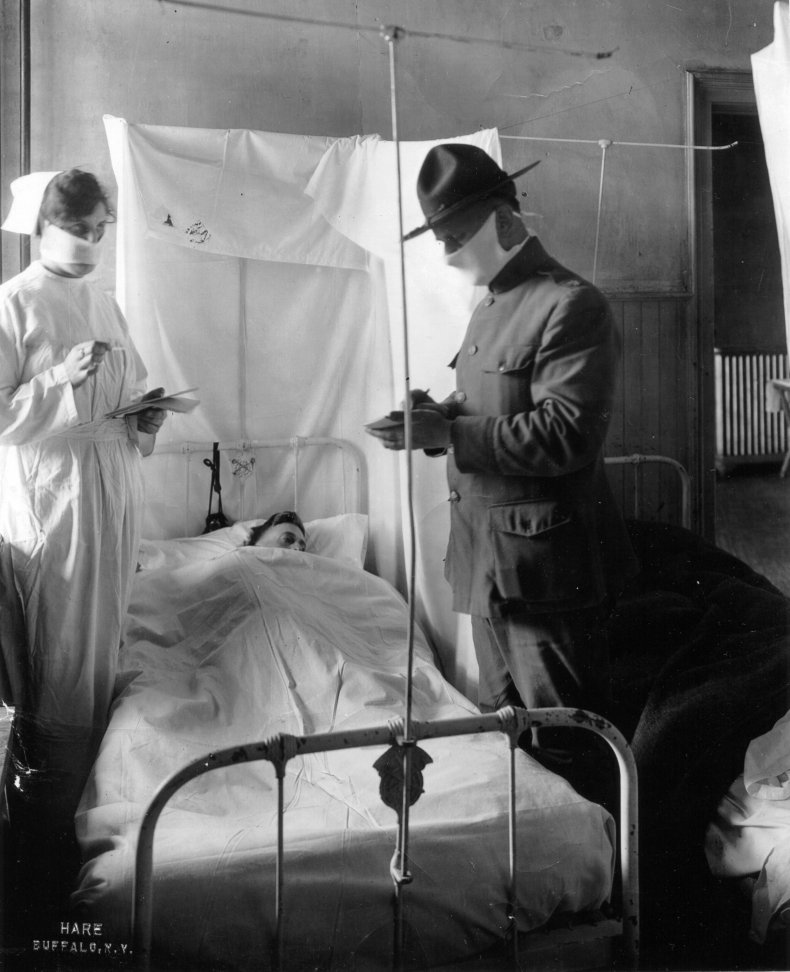 "The absolute increase in deaths over baseline...observed during the peak of 1918 H1N1 influenza pandemic was higher than but comparable to that observed during the first two months of the COVID-19 outbreak in New York City," the researchers wrote.
"However, because baseline mortality rates from 2017 to 2019 were less than half that observed from 1914 to 1917 (owing to improvements in hygiene and modern achievements in medicine, public health, and safety), the relative increase during early COVID-19 period was substantially greater than during the peak of the 1918 H1N1 influenza pandemic."
The authors note that many people in the U.S. now think mandates introduced to reduce the spread of the coronavirus were lifted too early. The virus is still having a significant impact on the country.
Data from the CDC shows that while daily cases are starting to fall, there are still tens of thousands of people being diagnosed with the virus. On Monday, over 40,000 new cases were recorded.
On several occasions, White House coronavirus task force member and infectious disease expert Dr. Anthony Fauci has warned the COVID-19 outbreak could become as serious as the Spanish flu pandemic.
"Whether COVID ends up being comparable to 1918 H1N1 globally only time will tell," Faust said. "How well we respond will make a huge difference. If we control the virus' spread such that an effective vaccine comes in time, we will have a certainly averted a Spanish-flu like event."