Coronavirus U.S. Updates for New York, Washington, Grand Princess as Over 550 People Infected Across 30 States
The COVID-19 virus death toll has reached 22 in the U.S., with 19 deaths in Washington state, two deaths in Florida and one in California.
There are at least 565 cases reported in the country, according to the latest figures from Johns Hopkins University, with New York surpassing Washington as the state with the most infected people. There are at least 142 cases in New York according to Gov. Andrew Cuomo.
Rick Cotton, the head of the Port Authority of New York and New Jersey (which also overseas airports in New York) has also tested positive for the virus, Cuomo said.
Cotton, who was said to have visited local airports and other transport facilities, has reportedly been quarantined.
Cuomo said he "could have been in contact" with Cotton, but has not been tested as he is reportedly an "improbable positive," case who is unlikely to have contracted the virus, The New York Post reports.
Vermont, Virginia, Missouri, Hawaii, Oregon and Kentucky are among the several states that have reported new cases.
In California, passengers aboard the Grand Princess cruise ship will disembark in Oakland on Monday, after being quarantined off the coast of San Francisco for several days while the nearly 3,500 people aboard were tested.
The virus, which was first reported in China's Wuhan city in the Hubei province, has infected over 111,000 people across the globe. Over 62,000 have recovered from it, according to the latest figures from Johns Hopkins University.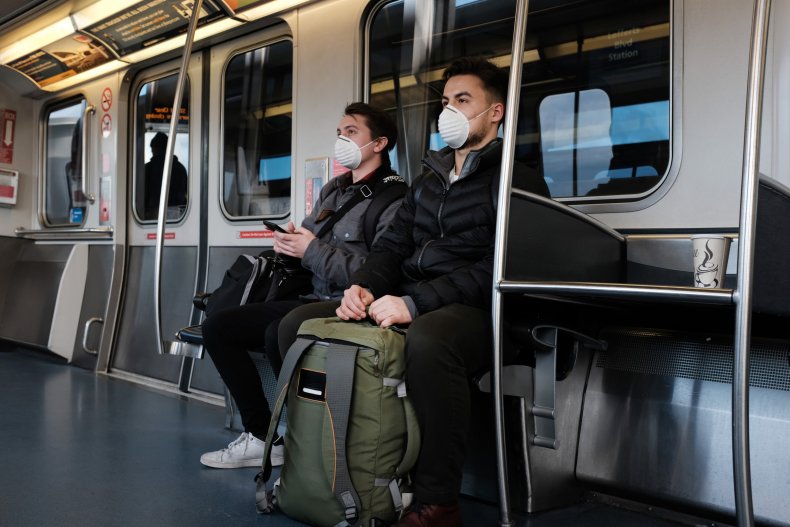 Washington state death toll hits 19
Washington state announced three more deaths on Sunday, including two fatalities—a man in his 90s and a woman in her 80s—the King County Health Department confirmed, ABC News reports.
Both were reported to be residents of LifeCare, a nursing home in the city of Kirkland where the majority of the patients in the state who have died previously lived.
Another patient in their 80s, a resident of Grant County in Washington state, was reported to have died after contracting the virus.
Washington state is reported to have at least 136 confirmed positive cases of the virus, according to the latest figures from the state's department of health.
Despite the rising death toll from the virus, which has spread to around 30 states (with Oregon being among the latest states to declare a state of emergency), President Donald Trump claimed the country's response to the outbreak is "perfectly coordinated" in a post on his official Twitter account.
"We have a perfectly coordinated and fine tuned plan at the White House for our attack on CoronaVirus," he said in the post. "We moved VERY early to close borders to certain areas, which was a Godsend. V.P. is doing a great job. The Fake News Media is doing everything possible to make us look bad. Sad!"
Schools announce closures as New York declares state of emergency
New York, which this weekend declared a state of emergency, reportedly has 142 cases. Most of the cases are in Westchester county (82), while 12 are in New York City and others are in the counties of Nassau, Suffolk, Rockland, Ulster and Saratoga, the state governor's office reports.
"We are continuing to test people and are working with hospitals and local governments to give them the resources they need to contain the spread of this virus," Cuomo said in a statement on Sunday.
"We mobilized quickly but the federal government has been slow off the mark and they continue to be slow. That's unacceptable - we need them to approve these private labs today so we can stay ahead of this evolving situation. Worse than the virus right now is the fear pandemic - and getting these additional facilities online will ensure we have more facts that will help keep people calm," he said.
Several schools in New York have announced temporary closures. New York City's Columbia University said in a statement on Sunday: "Because a member of the Columbia community has been quarantined as a result of exposure to the coronavirus (COVID-19), classes are suspended on Monday, March 9 and Tuesday, March 10," the university said in a statement.
"This suspension of activities will allow us to prepare to shift to remote classes for the remainder of the week. I want to emphasize that the individual who has been quarantined has not been diagnosed at this point with the virus," Columbia president Lee C. Bollinger said in a statement.
Columbia's Undergraduate Admissions office also said in a statement that "out of an abundance of caution, Columbia Undergraduate Admissions will be suspending upcoming spring events for campus visitors, including admitted student programming, campus tours and information sessions until further notice."
Hofstra University in New York also announced it would be cancelling all in-person classes after a student, who had attended a conference where an attendee tested positive, reported having flu-like symptoms, ABC News reports.
Stanford University in California, where at least 99 people have been infected so far, also cancelled in-person classes for the rest of the winter quarter, CBS News reports.
"To the extent feasible, we will be moving classes to online formats in place of in-person instruction," according to a letter from the provost of Stanford University, Persis Drell.
"Any winter quarter final exams that were scheduled to be administered in person will need to be administered in take-home format, complying with university rules for such exams," the letter said.
Americans advised to avoid cruise travel
The U.S. State Department issued a new travel advisory on Sunday, warning that "U.S. citizens, particularly travelers with underlying health conditions, should not travel by cruise ship," the department states on its website, highlighting the "CDC [U.S. Centers for Disease Control and Prevention] notes increased risk of infection of COVID-19 in a cruise ship environment."
"While the U.S. government has evacuated some cruise ship passengers in recent weeks, repatriation flights should not be relied upon as an option for U.S. citizens under the potential risk of quarantine by local authorities.
"This is a fluid situation. CDC notes that older adults and travelers with underlying health issues should avoid situations that put them at increased risk for more severe disease. This entails avoiding crowded places, avoiding non-essential travel such as long plane trips, and especially avoiding embarking on cruise ships. Passengers with plans to travel by cruise ship should contact their cruise line companies directly for further information and continue to monitor the Travel.state.gov website and see the latest information from the CDC," the department warned.
The latest advisory comes after several cruise ships have reported infections since the outbreak, including the Grand Princess, which has reported 21 infected people.
The infected individuals from the ship will be taken to healthcare facilities in California, while other American passengers who are not infected will be taken to one of four quarantine areas for 14 days, including the Travis Air Force Base near Sacramento, the Marine Corps Air Station Miramar near San Diego, the Joint Base San Antonio Lackland in Texas or Dobbins Air Force Base in Georgia, Reuters reports.
Foreign nationals from the ship will be flown to their home countries on charter flights departing from Oakland International Airport.
Regal Princess, another Princess Cruises vessel, was held off the coast of Florida on Sunday, while two crew members, who had transferred from the Grand Princess, were tested for the virus. The results for both workers were reported to be negative. It was the third cruise ship from Princess Cruises to have seen people tested for the virus.
At least 46 infected people were reported to have been among passengers aboard the Diamond Princess, which was quarantined in Japan after a passenger from Hong Kong tested positive, according to the latest figures from the CDC.
Infected patient reported at event attended by Trump and Pence
Fears over an outbreak in Washington, D.C. were raised after an infection was reported at the Conservative Political Action Conference (CPAC) in National Harbor, Maryland, which was attended by Trump, Pence and Secretary of State Mike Pompeo, among other officials.
The infected person was reported to have not had any contact with Trump or Pence, according to the American Conservation Union, CNN reports, but did have "a brief conversation and a handshake" with Texas senator Ted Cruz.
The senator, who hasn't shown any symptoms and feels "fine and healthy," was said to have consulted with medical authorities from various Texas city health departments as well as his personal doctor, he said in a statement posted on his official Twitter account.
He was reportedly advised that "the odds of transmission from the other individual to me were extremely low" and that his "brief interaction with the [infected] individual does not meet the CDC criteria for self-quarantine," he said in the statement.
However, "out of an abundance of caution," the senator decided to voluntarily quarantine himself "until a full 14 days have passed since the CPAC interaction," according to the statement.
The graphic below, provided by Statista, illustrates the spread of the COVID-19 virus in the U.S. as of March 9.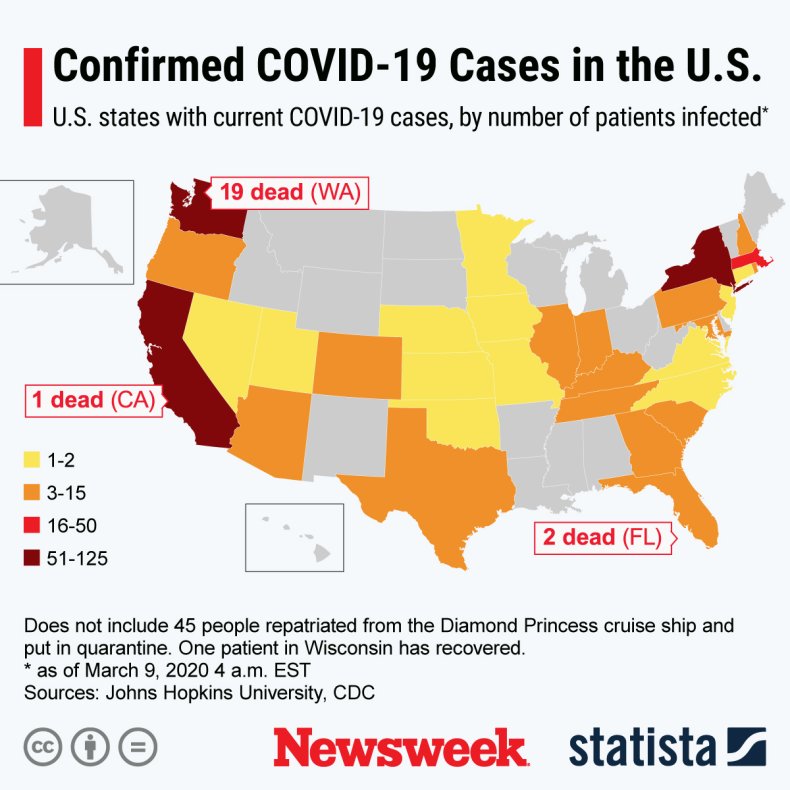 World Health Organization advice for avoiding spread of coronavirus disease (COVID-19)
Hygiene advice
Clean hands frequently with soap and water, or alcohol-based hand rub.
Wash hands after coughing or sneezing; when caring for the sick; before; during and after food preparation; before eating; after using the toilet; when hands are visibly dirty; and after handling animals or waste.
Maintain at least 1 meter (3 feet) distance from anyone who is coughing or sneezing.
Avoid touching your hands, nose and mouth. Do not spit in public.
Cover your mouth and nose with a tissue or bent elbow when coughing or sneezing. Discard the tissue immediately and clean your hands.
Medical advice
If you feel unwell (fever, cough, difficulty breathing) seek medical care early and call local health authorities in advance.
Stay up to date on COVID-19 developments issued by health authorities and follow their guidance.
Mask usage
Healthy individuals only need to wear a mask if taking care of a sick person.
Wear a mask if you are coughing or sneezing.
Masks are effective when used in combination with frequent hand cleaning.
Do not touch the mask while wearing it. Clean hands if you touch the mask.
Learn how to properly put on, remove and dispose of masks. Clean hands after disposing of mask.
Do not reuse single-use masks.
Coronavirus U.S. Updates for New York, Washington, Grand Princess as Over 550 People Infected Across 30 States | U.S.