New Zealand's Fauci Says Coronavirus Comeback a 'Shock'
New Zealand reported four new coronavirus cases in Auckland, the country's largest city, breaking the island nation's 102-day streak of no new local infections.
The epidemiologist behind the nation's COVID-19 elimination strategy, Professor Michael Baker, told the BBC: "We have had a shock just in the last 24 hours with a small outbreak in Auckland and the government is taking very decisive measures to investigate and contain an outbreak.
Baker, New Zealand's equivalent of Dr. Anthony Fauci of the White House COVID-19 Task Force, warned: "You can achieve elimination, you may lose it again... one thing you have to plan for is setbacks."
Baker believes: "New Zealand will succeed and get rid of it [the virus] again from this country.
"At this point in time, New Zealand has the lowest COVID mortality rate in the OECD [Organisation for Economic Cooperation and Development], so essentially our population has been very well served by this strategy."
New Zealand Prime Minister Jacinda Ardern added at a press conference Tuesday: "This is something we have prepared for."
"We have had 102 days [of no new local cases] and it was easy to feel New Zealand was out of the woods. No country has gone as far as we did without having a resurgence. And because we were the only ones, we had to plan. And we have planned."
The latest new cases were reported to be within one family in South Auckland, including an individual in their 50s. They have no history of international travel. Family members have been tested and contact tracing is underway, New Zealand's Director-General of Health Ashley Bloomfield confirmed Tuesday.
Additional new cases are likely to emerge in the coming days, given the current unknown nature of the latest new infections, Bloomfield noted.
"The case is a wake-up call for any complacency that may have set in," he said, noting masks should be worn in places where social distancing cannot be practiced.
Restrictions in Auckland will move to level three from Wednesday, 12 p.m. local time, as a "precautionary approach", Ardern confirmed.
Residents will be advised to remain away from work and school, while gatherings of more than 10 people will be banned. Travel to Auckland will also be restricted except for those who live there.
The rest of New Zealand will enter alert level two from Wednesday, 12 p.m. local time, with social distancing measures in place again and mass gatherings limited to 100 people.
The restrictions will be in effect until Friday to provide sufficient time for the government to assess the latest outbreak and carry out widespread contact tracing, Ardern said.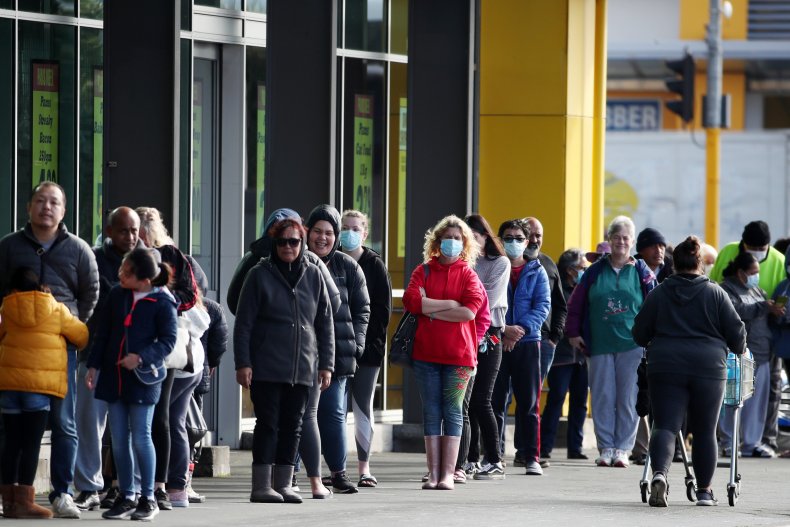 Health officials were reported to be investigating the possibility of the virus having been imported by freight.
"We are working hard to put together pieces of the puzzle on how this family got infected," Bloomfield said.
Panic has spread across the country following the latest outbreak, with locals rushing to supermarkets to stock up on supplies while businesses prepare to close.
Auckland Mayor Phil Goff said: "I am urging Aucklanders to come together like we did last time to stamp out community transmission. Please remain calm, please do not panic buy and please follow the lockdown rules."
New Zealand reported its first known case of the virus on February 26, after which a strict lockdown was issued for weeks. Its last case of community transmission was reported on May 1.
On June 8, Arden confirmed there were "no active cases" of the novel coronavirus in New Zealand.
The country was praised for its response to the outbreak and elimination strategy, which aims to stop community transmission of COVID-19 in New Zealand by "controlling entry at the border; disease surveillance; physical distancing and hygiene measures; testing for and tracing all potential cases; isolating cases and their close contacts; and broader public health controls depending on the alert level we are in," the New Zealand Ministry of Health stated.
Novel coronavirus cases in New Zealand have hit 1,570, as of Wednesday, according to Johns Hopkins University.
The seven-day rolling average of daily new cases reached a peak in early April and declined through early May, after which it flattened.
Over 20.2 million people globally have been infected since the virus was first reported in Wuhan, China, including more than 5.1 million in the U.S. More than 12.6 million globally have reportedly recovered from infection, while over 741,700 have died, as of Wednesday, according to Johns Hopkins University.
The graphic below, provided by Statista, illustrates countries with the most COVID-19 cases.