COVID Outbreak At North Carolina Church Kills 3, Infects Nearly 100 People
At least 82 confirmed coronavirus cases have been linked to convocation events held earlier this month by the United House of Prayer for All People in Charlotte, the state's most populous city and county seat of Mecklenburg County.
Three deaths, five hospitalizations and a cluster of cases among eight residents at Madison Saints Paradise South, a senior living community in Charlotte, have been connected to the church events held from October 4 to 11, Mecklenburg County Public Health confirmed in a statement Thursday.
At least 1,000 people were reported to have attended the events, according to county officials.
According to guidance issued by the North Carolina Department of Health and Human Services (NCDHHS), places of worship should be limited to 100 people per room or 30 percent of stated fire capacity, whichever is less.
"If there is not a fire capacity number for the room, limit occupancy to 100 people, or 7 people per 1,000 square feet, whichever is less," the NCDHHS noted.
A social distance of at least six feet should be maintained between groups other than those in their household, while it is "strongly recommended" that all staff and congregants wear a face covering.
"Do not allow singing or choir, as risk of viral spread is increased by increased respiratory effort," the NCDHHS said.
Dr. Raynard Washington, Mecklenburg County's deputy health director, said: "When a lot of people get together, it's very difficult to ensure people are actually maintaining the six-feet distance. It's important to not just wear the mask but to also keep the distance."
Mecklenburg County Public Health has been trying to contact 131 close contacts of the 82 confirmed cases and at least 127 people have been tested, according to the statement.
Anyone who attended the recent church events or who has been in contact with someone who attended the events are advised to be tested for the virus.
"Mecklenburg County Public Health will be offering no cost, drive-thru COVID-19 testing from 9 a.m. to 5 p.m. tomorrow Friday, Oct. 23 at the Northwest Health Department location, 2845 Beatties Ford Road, Charlotte, NC 28216," Mecklenburg County Public Health in its statement Thursday.
One local, Catherine Williams (who was tested for COVID-19 as a precaution on Thursday), reported her mother-in-law died after attending one of the recent church events, while the sister of her mother-in-law, who also attended the event, was reported to be hospitalized, Charlotte's WBTV reported.
While her mother-in-law died before she could be tested for the virus, her mother-in-law's sister tested positive.
"At first they diagnosed her [the sister of her mother-in-law] with pneumonia and now they said she has COVID," Williams told WBTV.
Her mother-in-law lived in a nursing home in Charlotte and she also voted at an early voting site on Monday before she passed away, according to Williams.
While it has yet to be confirmed whether either family member became ill as a result of attending the church event, Williams raised concerns over the risks posed by it.
"North Carolina, South Carolina, Georgia, they're coming here for a big event. My thing is that with COVID they should have just cancelled it," Williams told WBTV.
"They had masks on but it was just the fact that people from different states came here.
"People have lost their lives and people just need to be a little bit more safe," she added.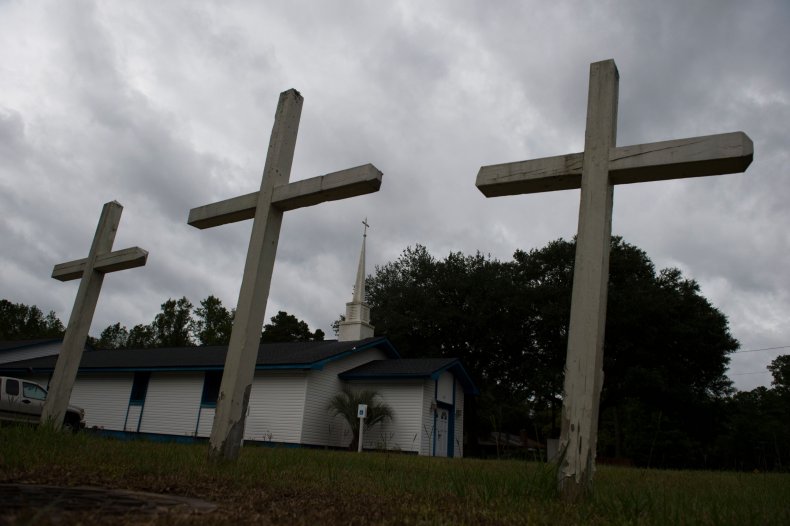 Total confirmed cases in North Carolina are approaching 253,000, with 4,082 total reported deaths, as of Friday, according to Johns Hopkins University (JHU).
Average daily new cases in North Carolina were reported to be on an upward trend in the recent two-week period from October 9 to 22, peaking at 2,080 on October 15, according to data compiled by JHU.
The average count has been rising sharply from late September, after declining from late July and increasing from mid-March, according to JHU.
The wider picture
The novel coronavirus has infected more than 41.8 million people across the globe since it was first reported in Wuhan, China, including over 8.4 million in the U.S. Globally, more than 1.1 million have died following infection, while more than 28.4 million have reportedly recovered as of Friday, according to JHU.
The graphic below, produced by Statista, illustrates the spread of COVID-19 cases in the U.S.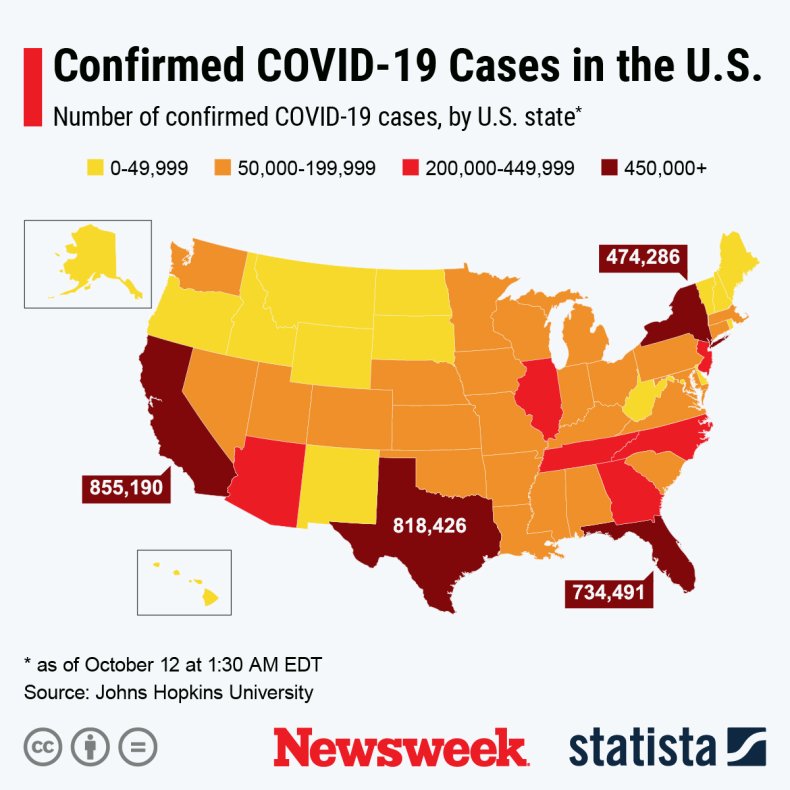 The graphic below, also provided by Statista, illustrates a survey of U.S. adults concerned about catching COVID-19.