Ohio Senator Cecil Thomas Walks Out of Hearing As Dozens Attend Without Masks
Democratic Ohio Senator Cecil Thomas walked out of a Senate committee hearing on Wednesday, noting dozens in the room were neither wearing masks nor practicing social distancing.
A mask mandate is in effect across Ohio but does not apply to judicial or legislative buildings such as the Ohio Statehouse, the state capitol building where Wednesday's hearing was held.
Thomas told Cleveland.com: "I have no idea why they [those at the hearing] weren't wearing a mask.
"I guess they were making a statement. Not one of those individuals—and there had to be 25, 30, 35 people in the room—were wearing a mask and they were not socially distancing or anything," he added.
Thomas tweeted Wednesday: "I left Govt Oversight [Senate Government Oversight and Reform Committee] today because the committee room looked like this," sharing an image of several unmasked attendees sitting close to each other.
"We are in the middle of a pandemic with a virus that is highly transmittable. My daughter has a severely compromised immune system and I won't sit there and put her health at risk," he added in the tweet.
The image of the committee hearing was initially posted by a reporter for the Ohio Capital Journal, Tyler Buchanan, who tweeted Wednesday: "Here's what an Ohio Statehouse [the Ohio state capitol building] committee hearing room looks like right now."
Shortly after the first few people had testified, Thomas informed the committee chairperson, Republican Ohio Senator Kristina Roegner, he would leave the hearing because he needed to be safe for the sake of his daughter. Thomas watched the hearing from his office instead.
Thomas told Cleveland.com: "The research speaks to the fact that if you're in a closed room with a lot of people not wearing masks, that's feeding grounds for the virus. I do not want to take the virus back home to my daughter."
Some chairs in the committee room were turned around to make them unavailable and ensure social distancing at the hearing. But several members of the public who attended the hearing were reported to have flipped those chairs back around and sat in them.
A spokesperson for the Ohio Senate Republicans, John Fortney, told Cleveland.com: "Every single committee room is already set up with distancing guidelines.
"So certain chairs are turned backwards that are not to be used. There are signs stating the distancing guidelines. Apparently what happened was the people came in and flipped those chairs around facing the committee and sat down, which went (in opposition to) our seating guidelines. There's already an overflow room for people wanting to testify," he added.
Chairs will be removed to limit capacity at future hearings, Fortney noted.
"Moving forward, what we are doing is obviously maintaining that overflow room, but we will be removing the chairs that were already facing backwards that were not to be used," Fortney said adding "There won't be anyone, outside of staff members, allowed to just stand there."
Following Wednesday's incident, staff across the Senate have been directed to remove some chairs from committee hearing rooms, with no standing allowed, said Republican Senate President Matthew Huffman.
"I think that will minimize, but certainly not completely eliminate the concerns," said Huffman, who tested positive for COVID-19 late last year during the holiday period. He was sworn into office from his home last month following infection.
While people will continue to be encouraged to wear a mask, face coverings won't be mandatory, Fortney noted.
Mike Rupert, a spokesman for the Ohio Capitol Square Review and Advisory Board, which operates the state capitol grounds, noted legislative leaders are ultimately in charge of mask mandates on Ohio Capitol Square.
"All visitors are encouraged to comply with the governor's directives, and the Ohio General Assembly is responsible for governing their behavior," Rupert said.
Thomas has pushed for masks to be mandated in Senate quarters. "I've argued with the president of the Senate," he told Cleveland.com.
"I argued this with the previous president. We need to make a rule that you wear a mask in the Statehouse. I kept noticing senators were not wearing masks, friends on the other side of the aisle," he added.
The hearing on Wednesday was held to discuss a bill proposed by Republicans to limit the governor's powers to issue public health orders.
The latest bill would allow Ohio lawmakers to veto executive orders and emergency declarations made by Ohio Gov. Mike DeWine.
Huffman noted the bill would reduce the "chaos" associated with the multiple orders in the past year and aimed "to allow [the] governor to do these things in a state of emergency, but then have some analysis."
The governor vetoed a similar bill proposed by Ohio legislators back in December, which aimed to limit the state health department's powers to issue public health orders.
The latest incident comes as total confirmed cases in Ohio approach 906,800, with 11,430 reported deaths as of Thursday, according to data from Johns Hopkins University (JHU).
On Tuesday, Democratic Iowa Representative Beth Wessel-Kroeschell protested the lack of a mask mandate by violating the dress code of the House floor at the Iowa State Capitol, where face coverings are not required during the legislative session. Wessel-Kroeschell is expected to wear jeans on the House floor for the entire week.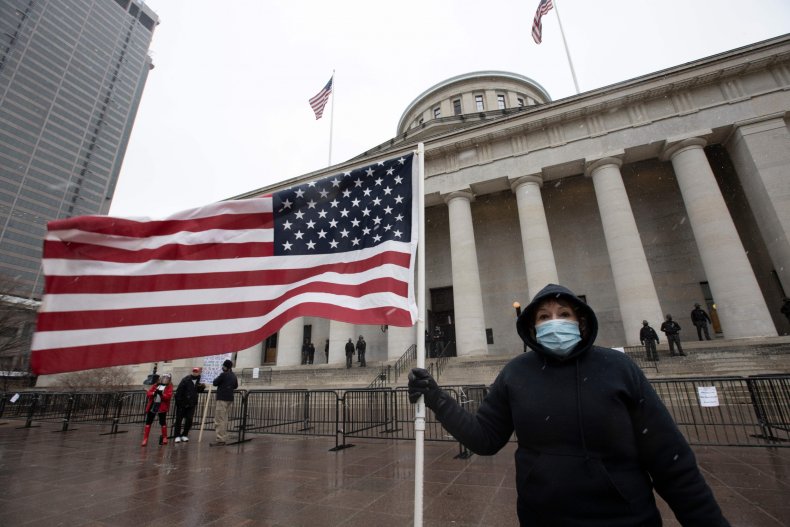 The wider picture
The novel coronavirus has infected more than 104.4 million people, including just over 26.5 million in the U.S., since it was first reported in Wuhan, China.
More than 2.2 million people have died worldwide and more than 58 million have recovered as of Thursday, according to JHU.
The graphic below, produced by Statista, illustrates U.S. states with the highest COVID-19 death rates.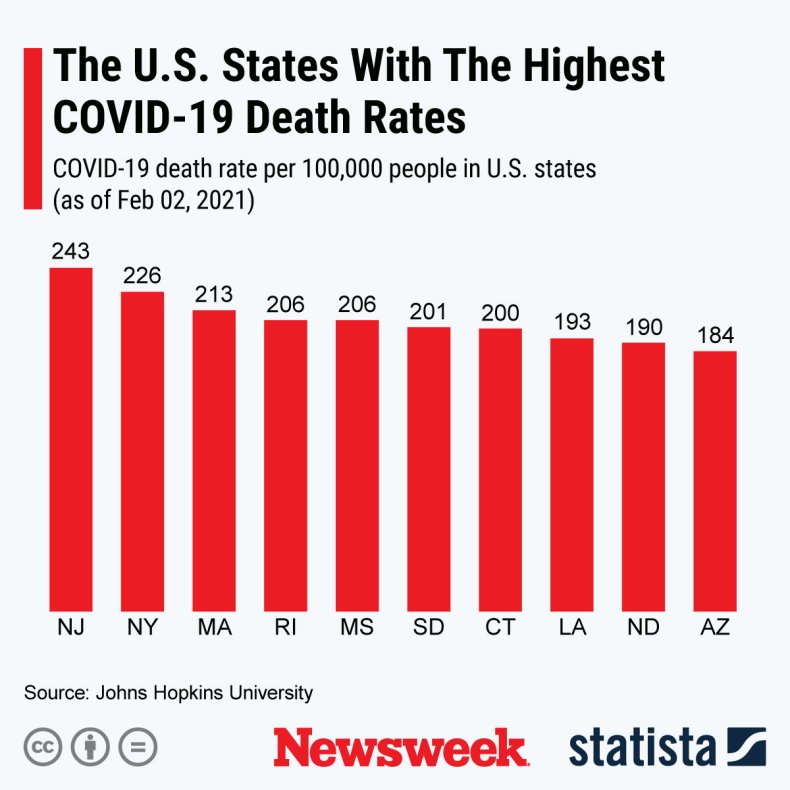 Newsweek, in partnership with NewsGuard, is dedicated to providing accurate and verifiable vaccine and health information. With NewsGuard's HealthGuard browser extension, users can verify if a website is a trustworthy source of health information. Visit the Newsweek VaxFacts website to learn more and to download the HealthGuard browser extension.