41 Kindergartners Quarantined After Oklahoma Student Tests Positive for Coronavirus
As coronavirus cases in the U.S. climb toward nearly 5.8 million, 80 students at Glenpool Public Schools (GPS) in Oklahoma—more than half of whom are in kindergarten—have been quarantined since schools were reopened from August 13.
Parents were notified by school officials on August 24 that 41 kindergartners at GPS were quarantined after a student tested positive for the virus. The 41 students form two of the 10 total kindergarten classes at GPS, Oklahoma's KTUL reported.
The latest quarantine follows 39 other students at GPS who were quarantined after school officials announced last week that a middle school volleyball player tested positive. The infected student was reported to have attended six classes earlier in the week, including athletics with the volleyball team, Oklahoma's Public Radio Tulsa reported.
"Those [quarantined last week] were our 7 and 8th-grade volleyball players, there were a total of 30 students, 9 other students them. You do the math, we are at 39 students then and 41 students now so," assistant superintendent at GPS, Mona Smith, told KTUL.
The 80 quarantined students form around two percent of the school district's total number of enrolled students, KTUL reported.
Two middle school teachers/coaches and two lower elementary school teachers were also reported to be in quarantine.
GPS does not have any plans of closing schools. "At this point, we don't have a plan of leaving the traditional school, as we all know those plans could all change tomorrow," Smith confirmed.
GPS reopened earlier this month with various safety guidelines issued.
"All bus riders K-12th grade will be required to wear a face covering due to inability to socially distance on every bus. Students in grades 3-12 will wear face coverings throughout the school day with the exception of lunch, recess, and designated mask free zones," the guidelines advised.
All staff members have been required to wear face coverings while at school and to "practice social distancing to the greatest extent possible," GPS said in the guidelines.
Hand sanitizers and wipes have been made available in hallways, classrooms and other common areas as well as offices, the guidelines noted.
The latest quarantines come as confirmed cases in Oklahoma approach nearly 54,200, according to the latest report Wednesday from Johns Hopkins University.
More than 5,600 infections were reported in the past seven days since August 25, according to the latest report Tuesday from the Centers for Disease Control and Prevention (CDC).
The three-day moving average of daily new cases in Oklahoma has been on a slight downward trend in the 14-day period from August 11 to 24. But average daily new infections rose on a sharp incline from late May to late July, according to the latest report Wednesday from Johns Hopkins University.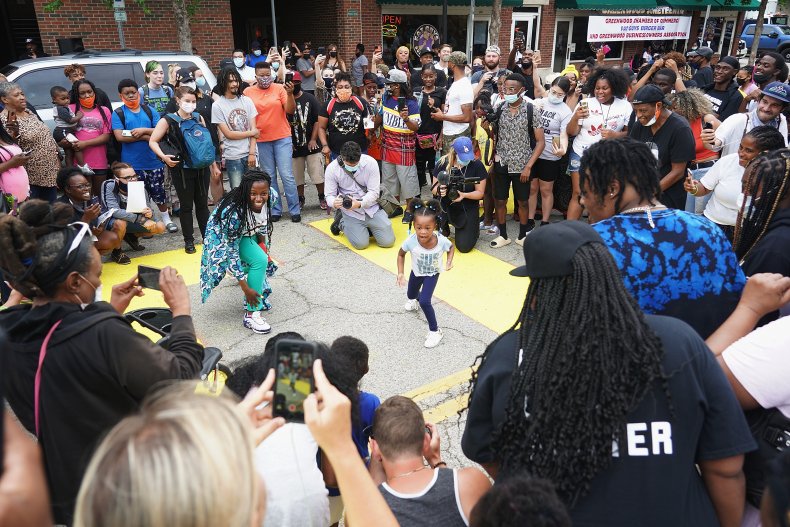 The novel coronavirus has infected over 23.9 million people across the globe since the virus was first reported in Wuhan, China. Nearly 820,200 people have died following infection, while over 15.6 million have reportedly recovered, as of Wednesday, according to Johns Hopkins University.
The graphic below, provided by Statista, illustrates the spread of COVID-19 cases in the U.S.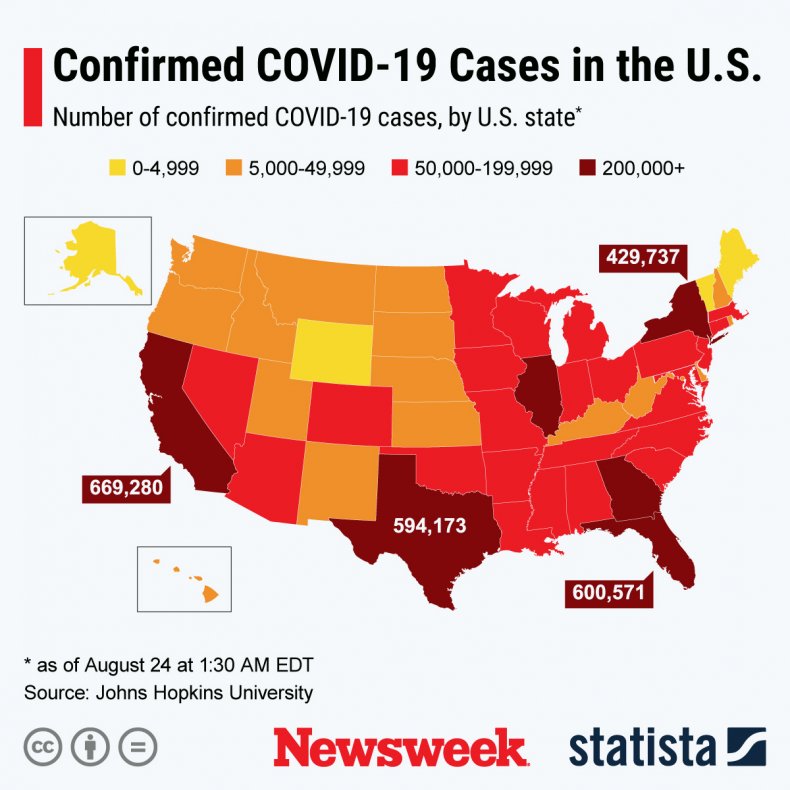 The graphic below, provided by Statista, illustrates the countries with the most COVID-19 cases.