Oklahoma Toddler Fighting COVID Sent to Hospital 50 Miles Away Amid State's Bed Shortage
As the U.S. sees record current COVID-19 hospitalizations, a local hospital in Oklahoma was forced to transfer an infected toddler to another hospital around 50 miles away to create more space amid a bed shortage.
After having a 101 degree fever and a "really bad coughing fit," one-year-old Alice Perkins was rushed to the Stillwater Medical Center in the city of Stillwater in northern Oklahoma.
Her oxygen levels were reported to be dropping fast before she tested positive for COVID-19, Oklahoma's KFOR reported.
Perkins and her sibling showed COVID-19 symptoms within days of their parents testing positive in late October. But two weeks later, Perkins had a scare.
Beth Pate, the child's mother, told KFOR: "I thought she was choking on her breakfast, but it was a really bad coughing fit. She was trying to gag, and she was trying to breathe.
"They [Stillwater Medical Center] had stations in the hallways. They had patients in the hallways with curtains trying to have privacy. It's like they were playing Tetris with the hospital equipment," Pate noted.
The child was eventually transferred to the Oklahoma Children's Hospital at OU Health in Oklahoma City, located around 50 miles from the Stillwater Medical Center, to free up bed space.
Perkins was reported to have finally tested negative for the virus and is recovering well at home, according to Pate.
The COVID-19 unit at Stillwater Medical Center remains at full capacity, with all 22 of its beds in use, according to the hospital's latest report Wednesday.
Shyla Eggers, the hospital's director of public relations, said: "We have been planning, planning and planning, and now we are scared.
"We are seeing some of our rural communities hit pretty hard," Eggers noted, adding "We have seen outbreaks in the rural communities like Perkins and Ripley and Cushing."
The hospital had to convert an office wing into patient rooms to help cope with the overwhelming number of patients. Patients have also been held in the emergency room area for hours while waiting for a bed to become available, the hospital's public relations team told KFOR.
As of Thursday, 467 intensive care unit (ICU) beds were reported to be available in Oklahoma, according to the Institute for Health Metrics and Evaluation(IHME) at the University of Washington.
On Wednesday, 447 people across the state were reported to be currently hospitalized in ICU with COVID-19, The Atlantic's COVID Tracking Project.
Total current COVID-19 hospitalizations in the U.S. reached 79,410 on Wednesday, marking a record number for the eighth day in a row, according to data compiled by The COVID Tracking Project.
Total confirmed cases in Oklahoma have surpassed 161,400, with 1,570 total reported deaths, as of Thursday, according to Johns Hopkins University.
Earlier this week, the state saw a record average daily case count of 2,762 on November 17, its highest seven-day average of cases since the outbreak began. The average count has been rising sharply since late October, according to data compiled by Johns Hopkins.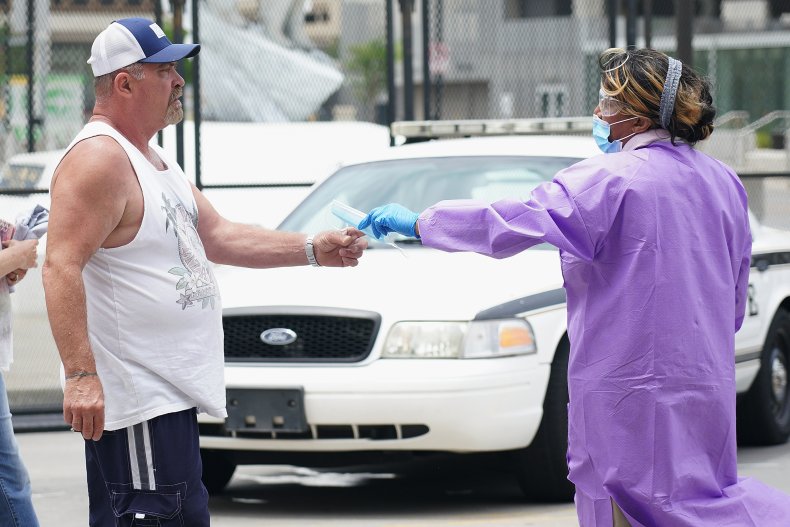 The wider picture
The novel coronavirus has infected more than 56.4 million people since it was first reported in Wuhan, China.
More than 1.3 million people have died worldwide and more than 36.2 million have recovered as of Thursday, according to Johns Hopkins.
The graphic below, provided by Statista, illustrates the number of COVID-19 hospitalizations from March to November.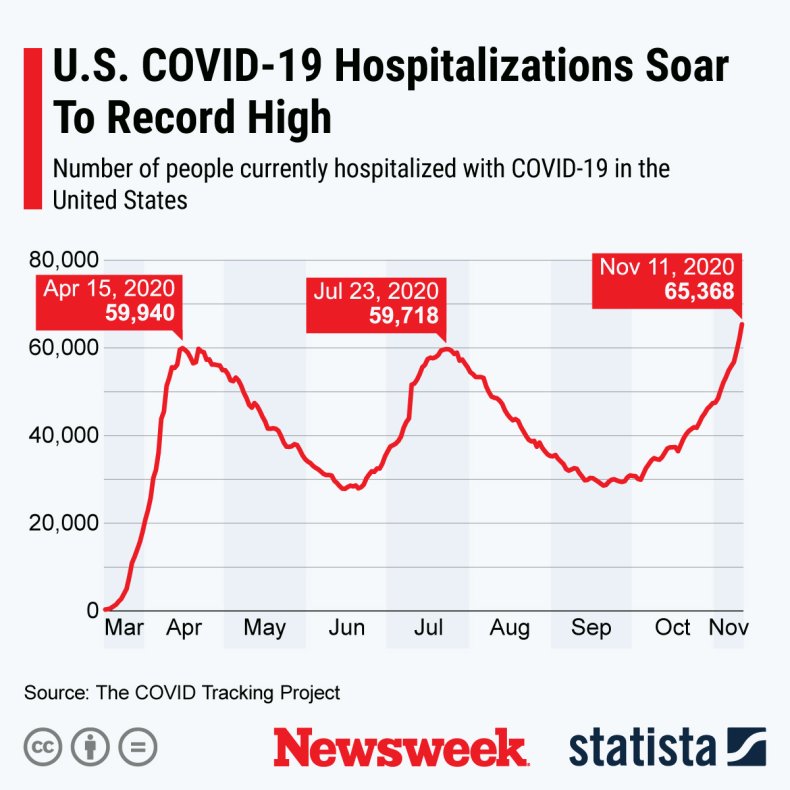 The graphic below, produced by Statista, shows the spread of COVID-19 cases across the U.S.