Trader Joe's Manager Stops Anti-Maskers Entering Store in Video Watched 7 Million Times
A video of a Trader Joe's manager in Oregon, where a statewide mask mandate is in place, preventing a group of "anti-maskers" from entering his store has received at least 7.7 million views since it was shared on Twitter.
Trader Joe's states on its website: "We require customers wear a face covering that meets the standards of applicable health authorities while shopping in our stores. Unless otherwise directed by local rule or law, this does not apply to young children and those with medical conditions who are not able to wear face coverings."
The video, posted by @davenewworld_2, a freelance reporter, had received 145,800 likes and 37,600 retweets at the time of publication.
"Trader Joe's manager in Oregon does a great job rejecting anti-maskers," @davenewworld_2 tweeted.
"This happened in Salem, OR. The full 8 minutes will kill your brain cells. You get the point after 30sec but I'm posting the whole thing because this staff deserves a raise," @davenewworld_2 noted in another tweet, posting a link to the full video of the incident shared on his Instagram account.
One person from the group told the manager: "We're here to shop...peacefully shop."
The manager replied: "No problem if you guys just want to shop, no problem if you guys just want to grab your groceries."
Another person was then heard saying: "We don't want special treatment, we just want to be honored as shoppers," to which the manager replies "I hear you, I understand all of that truly."
The manager continued: "Like I was telling your friends over there, I don't want to tell you guys what to think, what to do, what to believe or anything like that. I would ask kindly that you guys understand [that] here at TJ's [Trader Joe's] and what we're doing, we're just trying to work, make a living.
"The difference you guys are trying to make is not gonna be made with us. But it could be made with your government.
"I am not here to debate policy. Totally respect your freedom to think whatever you guys want to think. By all means, truly I believe that," the manager said.
When someone from the group began saying: "We're demonstrating so that..." another person from the group interrupted and said: "Actually we're not demonstrating, we're buying groceries, that's why I'm here."
The manager replied: "All I'm saying is my responsibility as the manager of this store is to enforce the mandate."
A person from the group then said: "It's not a law, you can't enforce non-law. You cannot deny somebody the right to commerce."
Pointing to other customers entering the store, one person from the group moved towards the entrance and the manager also moved to the entrance to block the person from entering the shop.
The manager said: "I just want to have a conversation with you and I'm just asking that you show me the same courtesy.
When the person said "We can do that inside," the manager replied "I'd prefer to have it outside."
In the full version of the video shared on the Instagram, as the manager and other workers continued to block the store entrance, a person from the group said: "The Civil Rights Act protects me to go in and shop like everybody else."
The manager replied: "The Civil Rights Act protects your religious freedom to practice. With all due respect, you're manipulating that constitution."
The person replied: "I am not. How dare you say that I am manipulating a law."
Another person from the group was later heard using a speaker horn to say: "Learn your constitution, we have rights, this is America," before the video ended.
The Oregon Health Authority states masks are required statewide at all times unless you are:
At your own residence.
"n your own personal vehicle.
Under five (5) years of age.
Eating or drinking.
Engaged in an activity that makes wearing a mask, face covering or face shield not feasible, such as when taking a shower.
Sleeping.
In a private, individual workspace.
Removing the mask briefly because your identity needs to be confirmed by visual comparison, such as at a bank or if interacting with law enforcement."
The incident came as total confirmed cases in Oregon surpassed 133,205, with 1,800 total reported deaths, according to Johns Hopkins University (JHU).
The state's seven-day average of cases rose sharply from late October, peaking at 1,541 on November 30. The figure declined through late December and rose again through January.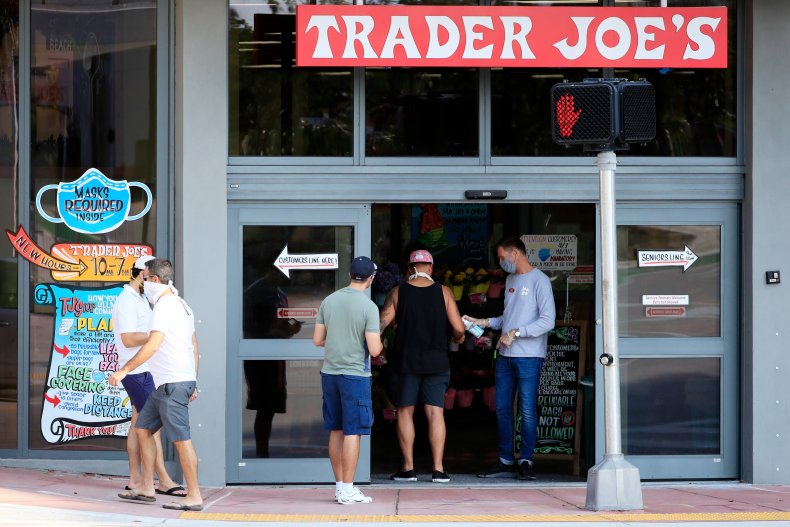 The wider picture
The novel coronavirus has infected more than 95.1 million people, including just over 23.9 million in the U.S., since it was first reported in Wuhan, China.
More than two million people have died worldwide and more than 52.4 million have recovered as of Monday, according to JHU.
The graphic below, produced by Statista, illustrates the spread of COVID-19 in the U.S.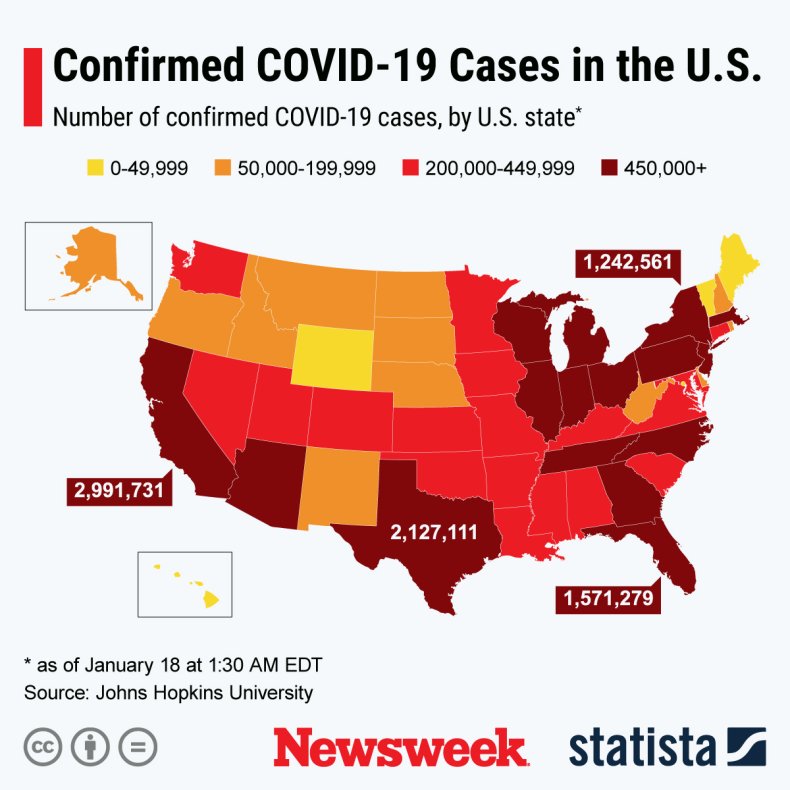 The graphic below, produced by Statista, illustrates the daily COVID-19 death toll in the U.S.