As America Grapples With Coronavirus Outbreak, Officials Must Prepare for Hurricanes, Tornadoes
Natural disasters don't care if a nation is dealing with a new coronavirus outbreak, and experts are warning that now is the time for people to prepare for hurricanes and tornadoes.
"There's a lot of uncertainty right now, and I think we're going to see a lot of good stories come out, but also a lot of challenges," said Becky DePodwin, a meteorologist and emergency management specialist at AccuWeather. "I think people need to go in with the recognition that this is not going to be a normal season."
The United States is grappling with the world's largest outbreak of the virus, and more than 337,971 people tested positive as of Monday. Projections see the outbreak going into August if social distancing measures are in place through May, potentially complicating evacuation plans for people who have to flee a natural disaster.
Viruses can spread rapidly among large groups of people, so mitigation measures have been focused on reducing the number of people in one space. If officials are still concerned about people being in close quarters when a tornado or hurricane strikes, public shelters may not be a feasible option.
Tornadoes can occur at any time, but they're typically most active in April, May and June. Several states, including Tennessee, Iowa and Arkansas, have already been hit. In Jonesboro, Arkansas, an EF-3 tornado leveled buildings and injured 22 people on March 28. The city's Mall at Turtle Creek sustained significant damage, but because of a shelter-in-place order, the usually crowded building was practically empty.
DePodwin noted that having fewer people on the roads when a tornado strikes is beneficial in preventing injuries and deaths. At home, people are also more familiar with where the safe places to shelter are, so telling people to stay home because of the coronavirus outbreak could result in fewer injuries and fatalities.
But problems arise when people, including those in mobile homes, aren't safe in their homes.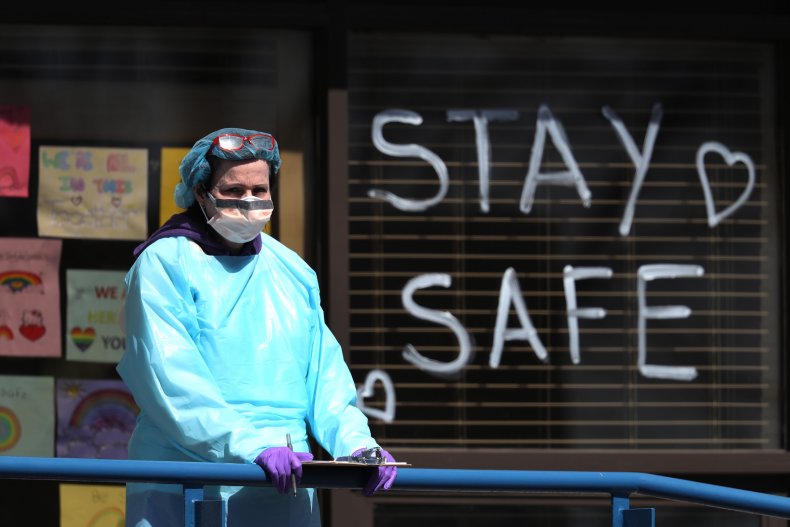 Some states, such as Kansas and Alabama, are advising residents to prioritize protecting themselves from a tornado over the virus but noted that shelters may not be open, as that decision falls on local officials. Residents in Newcastle, Oklahoma, where a shelter-in-place order is in effect, will be able to take refuge at the community shelter only in "very specific emergency situations," as it would put them at risk of being exposed to infected people.
Ruth McDermott-Levy, the director of the Center for Global and Public Health at Villanova University, told Newsweek that natural disasters complicating social distancing measures is a "real concern." Ahead of disaster striking, there needs to be special consideration to keep people separate in shelters.
While spearheading the response to the outbreak, the Federal Emergency Management Agency is preparing for additional events that may occur. A spokesperson told Newsweek the agency is coordinating with National and Regional Response Coordination centers to manage staffing needs and will reassign already deployed staff to other efforts as needed.
Atlantic hurricane season doesn't begin until June 1, according to the National Hurricane Center, and Dan Kottlowski, AccuWeather's lead hurricane and tropical storm expert, said the worst of the season tends to start in August. He estimated there'd be three to four major hurricanes but said right now conditions aren't very favorable for tropical development. At this point, storms that do occur are likely to stay out at sea because of cold water temperatures in the Atlantic, but there are always exceptions to rules, according to Kottlowski. So a preseason or early season tropical storm is possible.
Depending on how the coronavirus outbreak progresses, hurricane season could be even more complicated than tornado season. Unlike tornadoes, that are localized and affect a couple hundred or a thousand people. DePodwin said a hurricane could leave thousands of people needing to evacuate.
For those in Florida and North Carolina, two states known to be hit hardest by hurricanes, according to AccuWeather, leaving home for family or friends up north could increase a person's risk of being exposed to the virus. Compared with Florida and North Carolina, where there have been 13,324 and 2,870 cases, respectively, New York and New Jersey have a combined case count of 168,194.
"It's highly possible that evacuations may have to be different in a hurricane situation," Kottlowski said. "Emergency management officials have to think about that now. They shouldn't wait until 2-3 days before an evacuation is needed to make that decision."
Since schools and colleges are closed, unoccupied dorm rooms could be a way to provide people with a safe place to go in an emergency while maintaining social distancing, McDermott-Levy said.
On the bright side, Kottlowski and DePodwin said the way people are staying home because of the coronavirus is very similar to how someone should prepare for a hurricane. However, at a time when people are being laid off, furloughed and having hours cut, keeping water and nonperishable food on hand is a financial burden some may not be prepared to take on. Still, DePodwin said that preparatory measures cannot change, so it's important that people consider these supplies when budgeting for living on a potentially reduced income.
Even if the outbreak isn't as severe when these natural disasters occur, the stresses the virus put on the system won't be "completely gone," said Jeffrey Levi, a professor of health policy and management at George Washington University.
"We're layering these on top of the stresses of the system that the pandemic has introduced," Levi said. "Let's hope we're on the other side of social distancing at this time."