Coronavirus U.S. Outbreak Update, Death Toll Hits 41, With New Cases in Kansas, Georgia, New York
The COVID-19 virus outbreak in the U.S. has spread to more than half of the states in the country. It has affected over 1,200 people, including a death count which has climbed to 41. The first deaths have been reported in Kansas and Georgia, while Alaska has reported its first case.
The virus has spread to 42 states as well as Washington, D.C., according to the latest report by the U.S. Centers for Disease Control and Prevention (CDC).
The virus, which was first reported in Wuhan city of the Hubei province of China, has spread to over 137,000 people, with over 5,000 deaths and 69,000 recoveries, according to the latest figures from Johns Hopkins University on Friday.
Fears over the outbreak continue, with restrictions in place across the country in a bid to curb the spread. The most recent national measure saw President Donald Trump place a ban on travel from 26 countries of the European Union.
The outbreak appears to be slowing down in China but has been gaining ground in the U.S., which this week has been criticized for its reportedly inefficient testing system.
Washington state reports the most fatalities, with a death toll of 31, as well as the highest number of cases in the country, with at least 366 cases, according to the latest report by the CDC.
California previously confirmed four deaths, Florida has reported two deaths, and New Jersey and South Dakota reported deaths earlier this week.
The virus has spread to at least 42 states as well as Washington D.C., while Alabama, Wyoming, North Dakota, West Virginia and Maine are among the states that have yet to report any cases, according to the latest report by the CDC.
First deaths in Georgia and Kansas
The latest fatalities in the U.S. include thos of a man who died at a hospital in Kansas, according to the Kansas Department of Health and Environment (KDHE), the state governor's office confirmed in a statement on Thursday.
The patient was a man in his 70s who was brought to the hospital and died shortly after arrival. He was a resident of a long-term care facility in Wyandotte County. He reportedly was infected by a person at the care facility, KCUR reports.
The state has declared a state of emergency following the latest case and authorities are tracing the contacts of the man to identify those who are at risk of infections.
"We are working on identifying contacts right now," Dr. Lee Norman, KDHE secretary, said. "We understand the concern and encourage Kansans to remain vigilant."
"The safety and well-being of Kansans is our priority, first and foremost," state governor Laura Kelly said. "The landscape of COVID-19 is fast-changing. Today is evidence of that," she said in the statement.
The state has three other presumptive positive cases, which are cases that have been tested in a public lab but are awaiting confirmation from testing by the CDC.
Georgia also saw its first death of a person who contracted the virus, the state governor's office and health department confirmed in a statement on Thursday.
The 67-year-old male patient, who was hospitalized at WellStar Kennestone after testing positive for COVID-19 on March 7, had underlying medical conditions.
The state has 12 confirmed cases and 19 presumptive positive cases of the virus, Atlanta's WSB-TV reports.
Australian official who met with Ivanka Trump tests positive
Australia's home affairs minister, Peter Dutton, who less than a week ago met with Ivanka Trump, U.S. Attorney General William Barr and White House officials, has been infected, he confirmed in a statement.
Dutton was reported to have also met with Counselor to the President Kellyanne Conway and Director of the Domestic Policy Council Joe Grogan in the U.S., CNN reports.
It is unknown whether Trump or the other officials will be tested for the virus or quarantined. Newsweek has contacted The White House for comment.
Dutton noted that he had been tested after waking up on Friday morning "with a temperature and sore throat," in the statement. The Queensland Health Department advised him to be admitted to hospital and he confirmed he has "complied with their advice."
"I feel fine and will provide an update in due course," he added.
U.S. virus testing system not working
A U.S. medical expert, who is on the coronavirus task force appointed by Trump and led by Vice President Mike Pence, has publicly criticized the shortcomings of the current testing system in place.
"The system is not really geared to what we need right now... let's admit it," said the director of the National Institute of Allergy and Infectious Disease (NIAID), Dr. Anthony Fauci, at a hearing for the Committee on Oversight and Reform on Thursday, BBC reports.
"The idea of anybody getting it [testing] easily, the way people in other countries are doing it, we're not set up for that. I think it should be, but we're not," he said.
The CDC currently states it has tested more than 11,000 people in the country, but questions have been raised about the accuracy of the figure because the U.S. reportedly declined to use virus tests approved by the World Health Organization. The CDC uses its own virus testing, which initially reportedly had several manufacturing defects, BBC reports.
The latest criticism by Dr. Fauci follows a statement released earlier this month by the California Nurses Association claiming that a California nurse, who was quarantined after showing symptoms, was denied testing by the CDC. She claimed the CDC said "they would not test me because if I were wearing the recommended protective equipment, then I wouldn't have the coronavirus," the statement said.
New York City declares state of emergency, various venues closed
New York City, which has 95 confirmed cases, has declared a state of emergency, the city mayor Bill de Blasio announced in a statement on Friday. He predicts there could be 1,000 confirmed cases by next week, the Associated Press reports.
State governor Andrew M. Cuomo also announced a ban on all large gatherings of more than 500 people. He said: "The state will institute limits on mass gatherings, directing events with 500 or more individuals in attendance to be cancelled or postponed," he said in the statement on Thursday.
"Public health experts agree mass gatherings with people making sustained close contact are a place where the novel coronavirus can easily infect many people quickly and continue its spread.
"As such, events, gatherings, or places of business with less than 500 individuals in attendance will be required to cut capacity by 50 percent, with exceptions being made for spaces where individuals do not make sustained close contact, such as schools, hospitals, public buildings, mass transit, grocery stores and retail stores," he added. The new regulation will in effect from March 13 at 5 p.m. (local time).
De Blasio noted that New York City would also aim to get 10 percent (roughly 35,000 people) of its workers to "telecommute" and 20 percent (roughly 71,000 people) on staggered work schedules.
There are around 29 residents in New York City under mandatory quarantine, while 1,784 are under voluntary quarantine, the mayor's office confirms.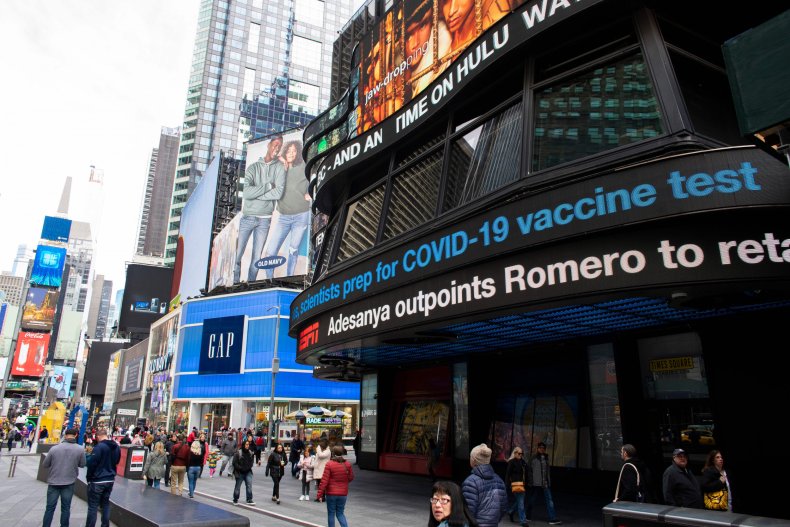 New York has seen 109 new cases across 14 counties in the state, bringing its current total to 325, the governor's office confirmed. The majority of the cases (148) are still in Westchester County, while New York City has seen 43 new cases as of Thursday.
New York City also announced, "The Department of Education will cancel or offer web-based alternatives of extracurricular activities such as athletic games and practices, school-wide assemblies, parent teacher conferences (available by phone), school field trips, school plays, and recitals," according to the statement from the mayor's office.
"After school programs, including DYCD [Department of Youth and Community Development] programs, currently remain unaffected, with the exception of some extended use permits that serve primarily adults," the statement said.
Many of the Big Apple's most popular cultural venues announced temporary closures on Thursday, including the Metropolitan Museum of Art, the Museum of Natural History, the Metropolitan Opera and Carnegie Hall, while Broadway theater closings began at 5 p.m. (local time) Thursday. Shows are expected to resume from April 13, according to a statement from The Broadway League, an organization of theater owners and producers, AP reports.
The graphic below, provided by Statista, illustrates the spread of the COVID-19 virus in the U.S. as of March 13.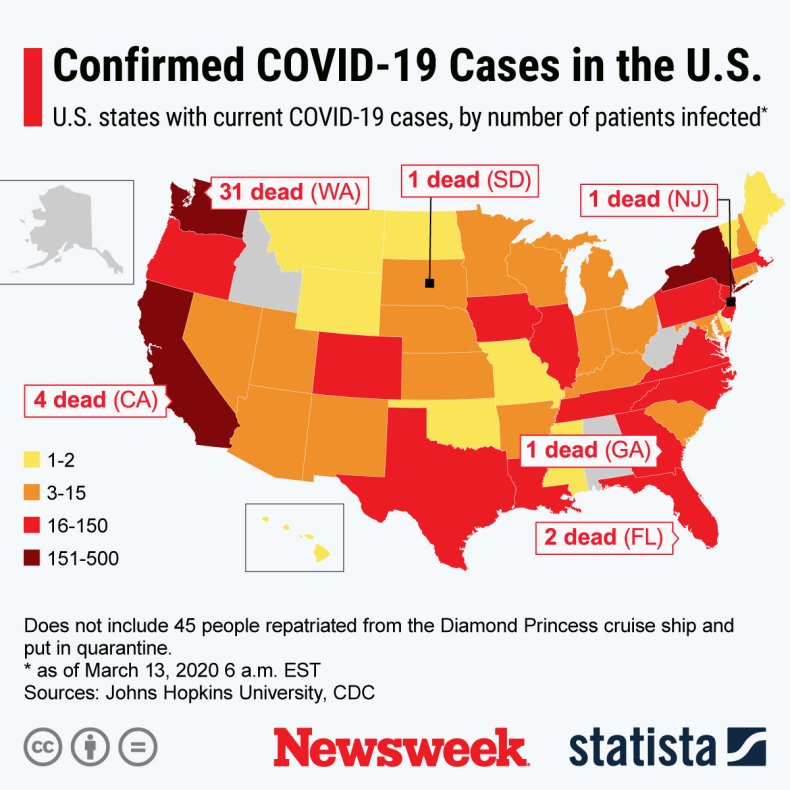 World Health Organization advice for avoiding spread of coronavirus disease (COVID-19)
Hygiene advice
Clean hands frequently with soap and water, or alcohol-based hand rub.
Wash hands after coughing or sneezing; when caring for the sick; before; during and after food preparation; before eating; after using the toilet; when hands are visibly dirty; and after handling animals or waste.
Maintain at least 1 meter (3 feet) distance from anyone who is coughing or sneezing.
Avoid touching your hands, nose and mouth. Do not spit in public.
Cover your mouth and nose with a tissue or bent elbow when coughing or sneezing. Discard the tissue immediately and clean your hands.
Medical advice
If you feel unwell (fever, cough, difficulty breathing) seek medical care early and call local health authorities in advance.
Stay up to date on COVID-19 developments issued by health authorities and follow their guidance.
Mask usage
Healthy individuals only need to wear a mask if taking care of a sick person.
Wear a mask if you are coughing or sneezing.
Masks are effective when used in combination with frequent hand cleaning.
Do not touch the mask while wearing it. Clean hands if you touch the mask.
Learn how to properly put on, remove and dispose of masks. Clean hands after disposing of mask.
Do not reuse single-use masks.
Coronavirus U.S. Outbreak Update, Death Toll Hits 41, With New Cases in Kansas, Georgia, New York | U.S.