Paris Could Be Put On 'Maximum Alert,' Lockdown as ICU Bed Occupancy Hits Critical Level
Paris could be placed on "maximum alert" from the beginning of next week as infections rise in the French capital and the occupancy rate of intensive care beds surpasses the critical level.
On Thursday, the French health minister, Olivier Véran, said new coronavirus measures could be implemented in Paris from as early as Monday, which will force bars and restaurants to close among other restrictions, France24 reported.
Véran said that the wider Paris region—which contains around seven million people—has now passed all three of the government's criteria for being placed on maximum alert.
Firstly, the rate of infection has soared to 259.6 per 100,000 people—with the government's threshold being 250.
Secondly, the percentage of intensive care hospital beds occupied by coronavirus patients has now reached 34 percent in the area, according to Aurelien Rousseau, head of the Paris region health authority—passing the critical level of 30 percent.
Finally, the rate of infection among people aged over 65 has also passed the government's threshold of 132 per 100,000 people.
"It is getting worse faster in Paris and the surrounding area," Véran told reporters. "We need a few days to confirm the trends, but if they are confirmed, we'll have no choice but to put it on maximum alert, from Monday. We're in a phase where the situation is worsening."
The health minister said the authorities would review the situation on Sunday and introduce restrictions if necessary.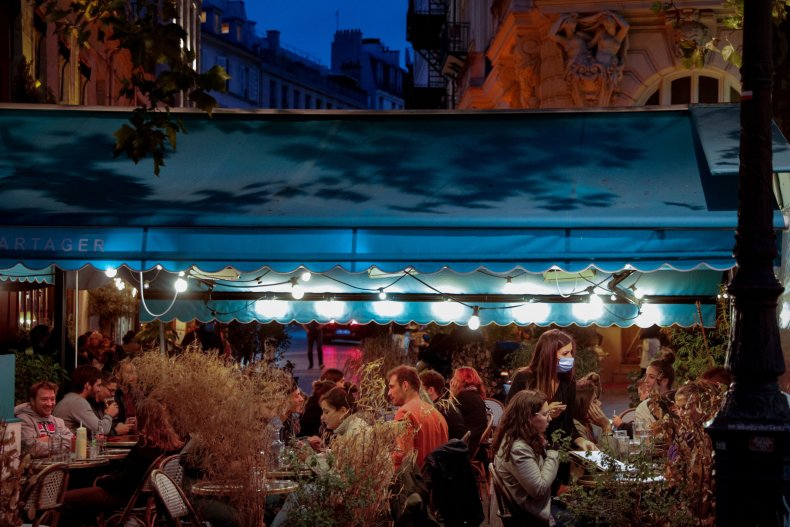 "We will take, collectively, the measures that are necessary and which we can already anticipate," Véran said.
The "maximum alert" status could force a total closure of bars and restaurants, as well as establishments such as cinemas and museums.
Currently, bars in the Paris region have to close at 10 p.m., while gyms have been shut since Monday.
If Paris is placed on maximum alert, it will join the city of Marseille in the south of the country, as well as the French overseas region of Guadeloupe in the Caribbean Sea.
Véran also said that five other cities could also be placed on maximum alert next week, including Lille, Lyon, Grenoble, Toulouse and Saint-Étienne. A "State of Health Emergency" is the only higher public health alert level at the disposal of the French authorities.
France has confirmed a total of around 578,000 coronavirus infections and over 32,000 deaths. On Thursday, the country recorded around 14,000 new cases, below a record of 16,096 that was set last Thursday. New daily cases have been steadily rising in August.