Coronavirus Patients Wait in ER as San Antonio Doctors Warn of Bed 'Crisis'
As cases of the novel coronavirus in Texas climb past 156,700, doctors in San Antonio fear hospital beds are running out, with nearly two dozen COVID-19 patients reportedly waiting in emergency rooms (ER) for beds to be available.
Doctors of San Antonio's Methodist Healthcare System, one of the area's largest health systems with nine hospitals and over 2,100 beds, are "very worried," noted the director of critical care at Methodist Healthcare System, Dr. Melo, News Channel 4 San Antonio reports.
"We're in a crisis," Melo said at a press conference Monday held by doctors from the health system.
Despite official reports presented at the press conference indicating that, as of Sunday, 27 percent of the 4,713 staffed hospital beds in Bexar County (whose county seat is San Antonio) were available, Melo claimed the situation was worse.
He noted there were 21 COVID-19 patients waiting in ER for beds either in or out of intensive care, San Antonio's KSAT reported Monday.
"This [COVID-19 patients waiting in ER] has been going on for the last three or four days, which is just the beginning of our crisis," Melo said.
Dr. Charles Burch, associate director of critical care at the Methodist Healthcare System, said: "It's all really changed over the last four or five days to where there are 20 patients just coming to our emergency room with COVID," News Channel 4 San Antonio reports.
"We started off with one intensive care unit [ICU] dedicated for COVID patients, people trained to take care of this and all the preventative measures in place to prevent spreading the infection, we're now up to three ICU's," Dr. Burch said.
While patients may get beds, "it's dependent on people recovering and being able to be discharged. So we're handling the situation now, but when we look at the daily numbers of COVID infections increasing so rapidly, that's going to lead to more hospitalizations," noted Burch, KSAT reports.
At a Monday press briefing, when San Antonio Mayor Ron Nirenberg was questioned about the difference between the officially reported number of available beds and the situation reported by doctors on the ground at hospitals, the mayor noted the number of available beds reported was counted from across the entire hospital system.
"From one facility to the next, that may not be the case. So we certainly would want to work with Methodist in their own load management in their own facility, but you know, in terms of the overall system capacity, that's what we're reporting each night," Nirenberg said.
Melo, however, claimed the waiting was happening "in all the ERs," and not just at the Methodist Healthcare System.
Hospital projection models reportedly estimate the number of COVID-19 patients in San Antonio will exceed the number of beds available in around three weeks, which Melo notes is a "very conservative" estimate, News Channel 4 San Antonio reports.
"It's [reaching hospital bed capacity] going to be sooner than that," he warned.
Bexar County Judge Nelson Wolff confirmed local officials are trying to increase the hospital capacity. Unused hospital space has reportedly been allocated for COVID-19 patients, while hundreds of critical care nurses have also been deployed with the help of the Department of Defense, Wolff noted, KSAT reports.
"You got a lot of physical beds, but we need more help," Wolff said.
Nirenberg confirmed a facility has been set up at the Freeman Coliseum sports venue with 250 beds on the floor ready to admit non-COVID-19 patients, including those recovering from surgeries, should hospitals reach full capacity. The facility has yet to be activated, KSAT reports.
The Monday press conference held by the doctors was reportedly organized without the knowledge or consent of the Methodist Healthcare System, a spokesperson for the health system claimed, KSAT reports.
According to the latest report Monday by the Texas Department of State Health Services (DSHS), in the San Antonio region, there are 1,271 hospital beds, 152 ICU beds and 554 ventilators available, with 935 lab-confirmed COVID-19 patients currently hospitalized.
Newsweek has contacted the Methodist Healthcare System, San Antonio's Metropolitan Health District, the Texas DSHS as well as the offices for Nirenberg and Texas Gov. Greg Abbott for comment.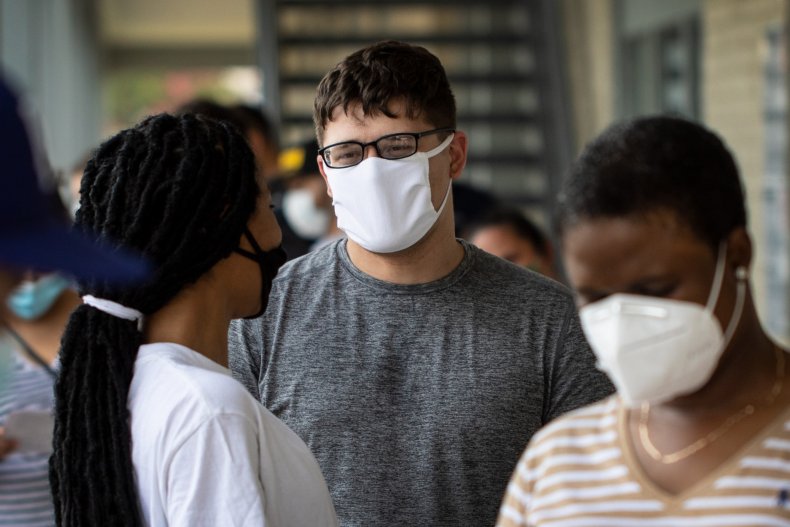 On Sunday, Abbott warned the outbreak has taken a "very swift and a very dangerous turn in Texas over just the past few weeks," at a press briefing.
Daily COVID-19 patient hospitalizations in Texas soared past 5,000 for four consecutive days from June 26 to 29, including 5,913 reported on June 29, the highest level reported since April 4. Hospitalizations have spiked daily from June 11 to 27, according to the Texas DSHS.
On Thursday, Abbott announced a "temporary pause" on further reopenings following the recent spike in new infections.
The governor also issued an executive order Thursday suspending elective surgeries at hospitals in the Texas counties of Bexar, Dallas, Harris, and Travis in a bid to ensure hospital bed availability for COVID-19 patients.
The novel coronavirus, which was first reported in Wuhan, China, has spread to over 10.4 million people across the globe, including over 2.6 million in the U.S. More than 5.2 million globally have reportedly recovered from infection, while nearly 509,400 have died, as of Tuesday, according to the latest figures from Johns Hopkins University.
The graphics below, provided by Statista, illustrate the spread of COVID-19 in the U.S. and the worst-affected countries.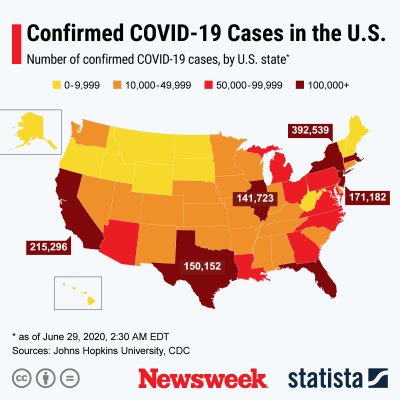 The graphic below, provided by Statista, illustrates the seven-day rolling average of new COVID-19 cases in the U.S. and European Union.