Coronavirus Peak Projections For New York, New Jersey, California and Massachusetts
New York, California and New Jersey, three states with some of the largest coronavirus outbreaks, are reaching critical moments within a week, according to projections, and Massachusetts is expected to follow later this month.
The new coronavirus isn't hitting every state in America with the same strength at the same time, but officials have warned that this week will be one of the toughest. The Institute for Health Metrics and Evaluation (IHME) projected that at least four states would hit their peak in deaths, as well as hospital resource use.
Of the 374,371 confirmed cases in the United States on Tuesday, 210,047 were identified in Massachusetts, New York, California and New Jersey.
New York has been hit hardest, with more than 138,000 cases and thousands of hospitalizations. The IHME, a global health research center at the University of Washington, projected peak hospital use would occur on Wednesday, with 22,627 patients needing beds.
The hospitalization rate in New York is moving downward, according to Governor Andrew Cuomo. He projected on Tuesday that the state is reaching a plateau in hospitalizations and added that the 90,000 beds were enough to meet patient needs.
Unfortunately, staffing shortages have been a problem, as health care workers are getting sick, under extreme stress and being overworked. To help fill gaps in staffing, 7,000 new medical professionals were hired from a pool of potential employees.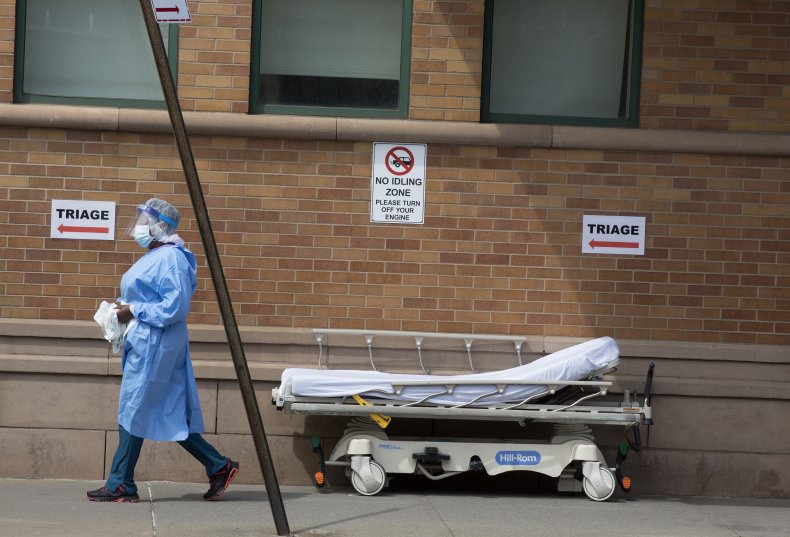 Among all states, New York has reported the largest number of deaths related to COVID-19. At least 5,489 people have died as of Tuesday, and deaths in New York are expected to peak on Thursday, according to the IHME.
New York's southern neighbor, New Jersey, has reported the second highest number of cases. As of Tuesday, 44,416 people in the Garden State have tested positive for the virus, according to Governor Phil Murphy. The IHME projects that hospital resource use will peak on April 11, when 13,335 beds will be needed.
As in New York, New Jersey's projected peak in daily deaths is expected to hit one day after use of hospital resources peaks. Murphy announced on Tuesday that 1,232 people have died in New Jersey, and the IHME projected 5,277 deaths by August 4.
On Monday, New Jersey saw signs that the curve may be flattening, but Murphy said the state can't be happy with "reaching a plateau." The effort to make it fall until it reaches zero cases will require strength, determination and "many more weeks" of social distancing, he said.
California had the first case of community transmission and has had 15,865 cases as of Tuesday. Peak resource use wasn't expected to occur until April 13, but state officials appear to be confident that they're going to be able to handle the outbreak.
Governor Gavin Newsom said Monday that the state is "aggressively preparing" for a surge and that the state had a "long road ahead." But he announced that the state will be loaning 500 state-owned ventilators to the Strategic National Stockpile. Those ventilators would then be distributed to some of the states, including New York, that need them the most.
"We're meeting this moment with compassion," Newsom said in a statement. "I know that if the tables were turned and we were experiencing a hospital surge, other states would come to our aid and provide ventilators just as we are today."
The California Department of Public Health has reported only 374 deaths as of Tuesday, and the IHME projected the peak in deaths will occur April 15. Despite being one of the first states to be hit with the virus, the IHME projected a comparatively low number of deaths. By August 4, the IHME said, the state will have 1,611 deaths related to COVID-19.
Massachusetts, the state with the sixth highest case count, is projected to reach the peak in hospital resource use on April 20, according to the IHME. The state health department has already reported 15,202 cases and 356 deaths. The peak in deaths, the IHME said, is projected to come on April 18.
On Tuesday, Governor Charlie Baker announced the state would invest $800 million to support health care providers affected by and responding to the virus outbreak. Funds will be distributed through July and include more than $400 million for hospitals.
The administration has been working with epidemiologists from Harvard University, the University of Guelph and Northeastern University to develop Massachusetts-specific modeling. Those Thursday models, according to Baker, were based on the experience in Wuhan, China, where the outbreak began, and show that hospitalizations would peak between April 10 and 20.
IHME projections for states have been "substantially revised" because of an increase in data, according to Dr. Christopher Murray, director of the IHME. Instead of relying on data from China's peak, researchers can now use data from seven locations in Europe, as well as data from the early days of the epidemic in each state.
"Our projections are strengthened by the new downturns in more regions," Murray said in a statement. "This is evidence that social distancing is crucial. Our forecasts assume that social distancing remains in place until the end of May."
Projections are always done with a level of uncertainty, and Murray noted that all estimates could change for the worse if people lighten up on social distancing.
"If social distancing measures are relaxed or not implemented, the U.S. will see greater death tolls, the death peak will be later, the burden on hospitals will be much greater, and the economic costs will continue to grow," Murray said.