Pennsylvania COVID Cases Soar as Crucial Swing State Sees Highest Daily Rise since April
Pennsylvania was reported to have 1,376 new coronavirus cases, as of 12:01 a.m. local time Thursday. The figure was the state's largest daily case count since April 30, when the state saw 1,397 new infections, according to the Pennsylvania Department of Health.
The latest rise comes as Democratic presidential candidate Joe Biden was reported to have a 12-point lead over President Donald Trump among registered voters in Pennsylvania, a crucial swing state in the upcoming election, and anywhere from an eight-point to 11-point lead among likely voters, according to the results of a Monmouth University poll reported Tuesday.
"Overall, 52 percent of Pennsylvania voters trust Biden more to handle the coronavirus pandemic and just 32 percent give the edge to Trump on this issue," according to the recent telephone poll conducted by the Monmouth University Polling Institute in New Jersey.
The Monmouth University poll was done from September 30 to October 4 with 500 Pennsylvania registered voters.
A recent Reuters/Ipsos online poll of likely voters in Pennsylvania (including responses from some who cast their ballots ahead of election day) conducted from September 29 to October 5 showed 51 percent believe Biden would be better at handling the pandemic, while 41 percent said Trump would be better.
The poll was conducted among 1,000 adults, including 605 likely voters and had a credibility interval of five percentage points, Reuters reported.
The latest daily case tally in Pennsylvania marks the state's third consecutive day of more than 1,000 daily new infections, with hospitalizations reported to have also increased, according to the department.
An increased spread of infection among university and college students was reported by health officials. Penn State University has nearly 3,000 positive tests at its main campus in State College, while the surrounding Centre County has the highest number of infected people per capita in the state, the Associated Press reported.
It should also be noted the state has also conducted an increasing amount of virus tests in recent weeks, which could also contribute to the uptick in confirmed cases. Last Thursday, the state recorded its largest ever daily count of PCR (polymerase chain reaction) test results, with 34,709 PCR results reported on October 1, according to the latest report Thursday by the state health department.
At a Thursday press conference, Pennsylvania Gov. Tom Wolf noted: "I am very concerned."
He warned: "I think that there is concern, generally, that we're going to see an upsurge as we get into the flu, and flu season, and colder weather, and that's what we're doing. So, I think that might be part of it.
"I think part of it is Pennsylvania has a lot of universities and colleges, and they're back in session, and so some of the hot spots have been in fact around the areas where there have been big concentrations of college students," Wolf said.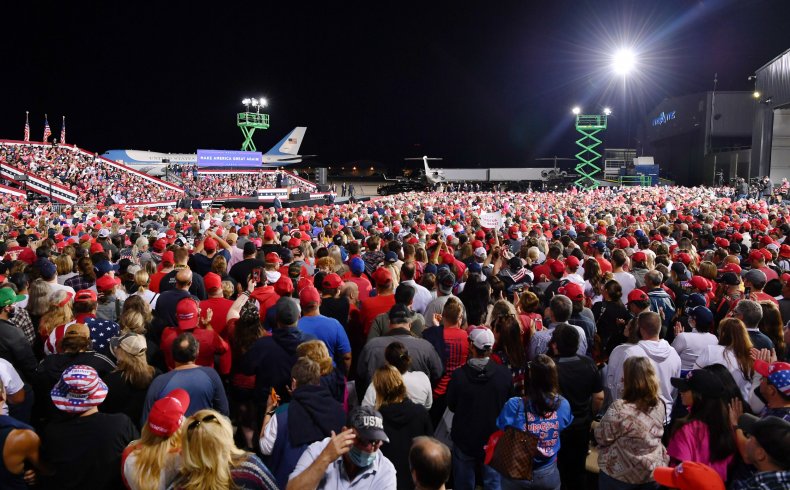 Confirmed cases in Pennsylvania are approaching nearly 173,000, including 8,268 deaths, as of Friday, according to Johns Hopkins University (JHU).
Average daily news cases in the state were reported to be on an upward trend in the latest two-week period from September 25 to October 8, according to data compiled by JHU.
The average count began rising on a sharp incline from late September, after declining sharply from early April, when it peaked at 1640 on April 7, and increasing from mid-June to late July. The figure then dipped again through late August before rising through late September, according to JHU.
The wider picture
The novel coronavirus has infected more than 36.5 million people across the globe since it was first reported in Wuhan, China, including over 7.6 million in the U.S. Globally, more than a million have died following infection, while more than 25.4 million have reportedly recovered as of Friday, according to JHU.
The graphic below, produced by Statista, illustrates a survey of U.S. adults concerned about catching COVID-19.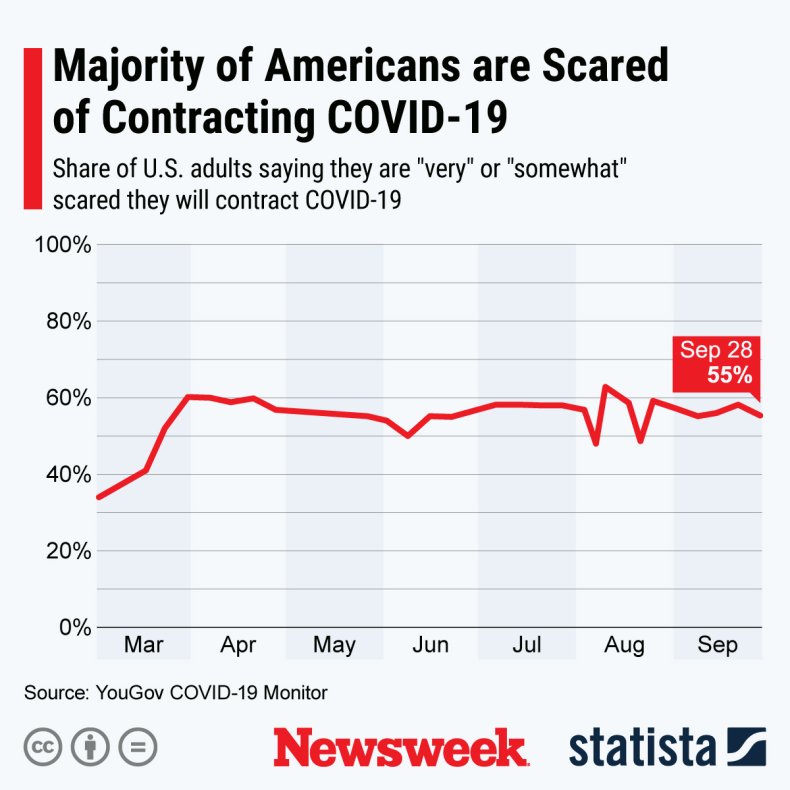 The graphic below, also provided by Statista, illustrates U.S. states with the most COVID-19 cases.