Coronavirus Pennsylvania Updates: COVID-19 Case Numbers, Death Toll and More
Pennsylvania confirmed 1,579 new COVID-19 cases on Tuesday, the most substantial increase in diagnoses over a 24-hour period the state has seen so far.
The latest figures followed seven consecutive days of similar reports, which illustrate a consistent rise in positive test results by at least 1,000 per day since March 31. During a Monday press conference, Governor Tom Wolf called on local manufacturers for support as officials worked to manage the virus' accelerated impact.
"We're asking everyone to do their part to mitigate the spread of COVID-19, including ensuring that our health care system is prepared to care for patients and that there is access to critical personal protective equipment and products as more individuals and businesses take preventive measures," the governor said, introducing the state's new Manufacturing Call to Action Portal, an online submission form that state officials hope will help identify which companies are capable of producing supplies or offering resources to mitigate the virus' spread. It also intends to forge connections between manufacturers and distributors in an effort to meet "specific supply chain needs" effectively.
"We must take every step to protect our health care workers and frontline responders from COVID-19," he continued, noting a growing demand for equipment and ventilators across the state. Since Pennsylvania's previous request for 1,000 ventilators from the United States' federal stockpile was put on hold, Wolf urged manufacturers to do what they could to fill the gap.
"We cannot rely on the federal government alone to provide us with necessary equipment," he said. "We must tap our own valuable resources, including our manufacturing sector, to help our health care workers save Pennsylvanians' lives."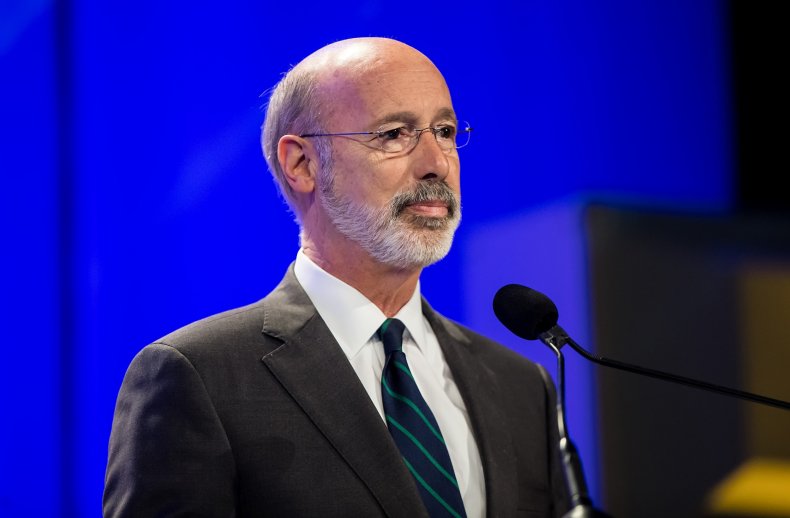 Pennsylvania has confirmed 14,559 COVID-19 cases among residents since early March, and nearly 250 people have died as a result, according to a Tuesday afternoon report from the state's Department of Health. Overall, it has reported the eighth-most cases of any U.S. state—behind New York, New Jersey, Michigan, California, Louisiana, Florida and Massachusetts—according to Johns Hopkins University's latest statistics. The U.S., at the epicenter of the global COVID-19 pandemic, has confirmed more than 378,000 cases and 12,000 deaths, as well as roughly 20,000 recoveries.
As of Tuesday afternoon, Philadelphia has confirmed 4,012 positive cases and 58 deaths from the new coronavirus. Several outlets, including The Philadelphia Inquirer, reported the third death of a Southeastern Pennsylvania Transportation Authority (SEPTA) employe due to COVID-19 infection earlier on April 7. The news came after its Monday report saying 52 Philadelphia police officers, as well as an additional 46 firefighters and paramedics, had tested positive for the virus.
Coronavirus Pennsylvania Updates: COVID-19 Case Numbers, Death Toll and More | U.S.