New York to Allow Takeout Alcohol to Help Bars, Restaurants During Coronavirus Shutdown, Cuomo Says
To help bars, restaurants, wineries and distilleries survive without in-person business during the coronavirus outbreak, New York Governor Andrew Cuomo announced that they'd be allowed to offer alcohol for takeout orders.
Restrictions going into place on Monday require all bars and restaurants to stop serving people inside the establishment indefinitely. The goal is to limit the number of human interactions, thereby reducing exposure to the new coronavirus and curbing the outbreak.
"However, there is a silver lining for these establishments, because we're also very aware of the economic consequences for these establishments," Cuomo said Monday.
Normally, bars and restaurants are able to sell alcohol on premises only during specific hours, according to State Liquor Authority rules. However, Cuomo said the SLA would be announcing changes to its regulations by 5 p.m. Monday to try to lessen the economic burden of the outbreak policy.
The changes will include allowing restaurants, bars, wineries and distilleries to sell their alcoholic products to patrons who order takeout.
"Whatever you could order in the bar or restaurant or distillery or winery you can purchase through takeout, and we hope that goes a long way towards alleviating any economic hardship," Cuomo said. "We will only allow it during this period of closure, but I think it will help those businesses."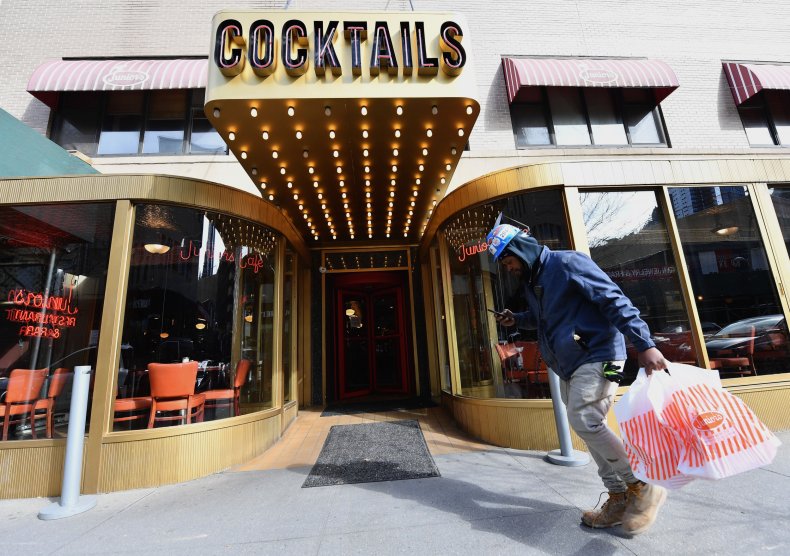 Given the expected economic toll on restaurants and the potential for layoffs, Cuomo said there is "no doubt" that tax revenues for the state are going to be "way down."
New York Mayor Bill de Blasio acknowledged that eateries, as well as entertainment venues, are the "heart and soul" of the city and "part of what it means to be a New Yorker." However, with the city facing an "unprecedented threat," the mayor said, it was necessary to respond with a "wartime mentality."
"We will come through this, but until we do we must make whatever sacrifices necessary to help our fellow New Yorkers," de Blasio said.
De Blasio originally said New York City's takeout/delivery-only policy would go into effect Tuesday morning. But Cuomo announced an override of de Blasio's timeline, declaring that the measures would go into effect on Monday at 8 p.m.
New York has had 950 cases of a new coronavirus and seven deaths, as of Monday. This puts New York as the state with the largest outbreak, followed by Washington, where there have been 676 cases and 42 deaths.